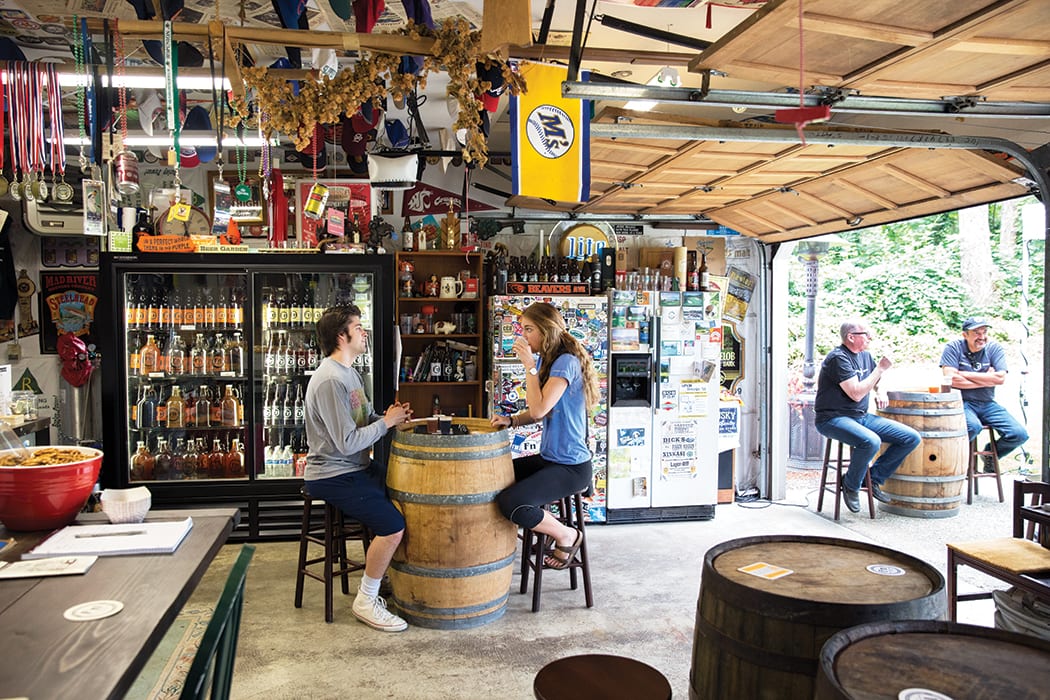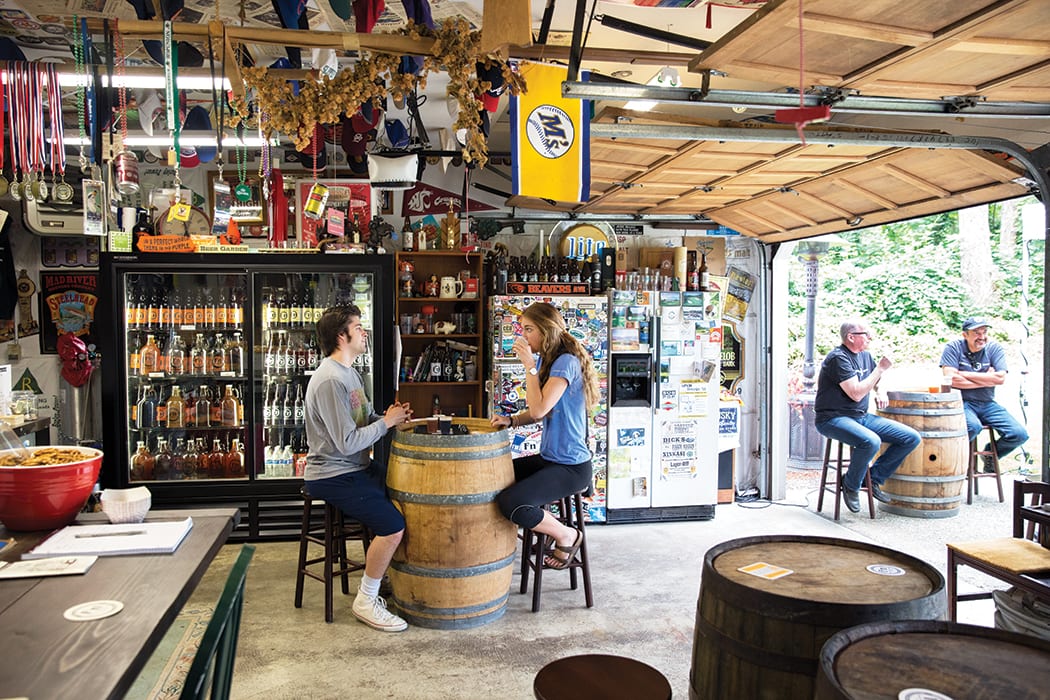 Jim Jamison might have Washington state's busiest suburban garage. On weekends, scores stream to his subdivision outside Bothell, 25 minutes northwest of Seattle, arriving on foot and Harley, Vespa and bicycle, car and John Deere tractor. "We haven't had a hot-air balloon land in our backyard—yet," jokes Jamison, founder of Foggy Noggin Brewing. The family-run brewery fully embraces its domestic duties: English-style ales are made in his property's pip-squeak shed (his sons and daughter brew and clean kegs; his wife, Kim, oversees accounting and merch), while the two-car garage doubles as a taproom abuzz with newcomers, regulars and neighbors sharing Bit o' Beaver bitter pints and conversation.
"People tell me, 'It feels like I'm at my best friend's place,' " says Jamison. Since opening in 2010, he's seen Foggy Noggin become a municipal epicenter, favored for church groups, job interviews, work meetings and romance. "There's even been a proposal," Jamison says, "and another guy asked for permission to marry someone's daughter. It's a place where people want to meet."
Beer has historically been communal, consumed with friends and to make new ones. For most of the 20th century that meant mass-market lagers, crushed at bars and bashes, stadiums and backyards. Then along came small, independent brewers, their bitter IPAs and bourbon-barreled stouts setting tongues wagging. Breweries placed production facilities inside cities' forsaken factories and cavernous warehouses, and in dusty storefronts in downtowns that'd seen better decades. Taprooms and brewpubs created jobs and everybody's-welcome hubs, pouring pints of hometown pride. Small wonder that earlier this year The Atlantic magazine identified craft breweries as essential signifiers of a city's success.
Today's breweries are bellwethers of good beer and goodwill, community pillars with impact beyond last call.
For Detroit's Batch and Colorado's Twisted Pine, that means earmarking a portion of taproom sales to rotating charitable organizations, while proceeds from Green Flash's bottled Treasure Chest pink IPA contribute to breast-cancer charities. Weyerbacher's bottled Last Chance IPA aids animal-rescue organizations, and Dallas' Community Brewing hosts monthly pet adoptions.
Durham's Bull City and Philadelphia's Crime & Punishment step up to the plate by sponsoring Little League teams. Moreover, cooperative breweries such as Austin's Black Star, New Mexico's Bathtub Row Brewing and Dayton's Ohio Fifth Street Brewpub use crowdfunding to become crucial squares in the local quilt. "We started with a community of people who were invested, quite literally, in the concept of a cooperatively opened brewery," says Minneapolis-based Fair State Brewing Cooperative president and CEO Evan Sallee. "Minnesotans see breweries as the ideal community meeting ground."
Come in, the Beer's Cold
Not too far back, brewery business plans read like manifest destiny: send beer nationwide, engulf open tap lines and coolers, plant a triumphant flag. This worked when America's brewery count required an abacus and a couple fistfuls of fingers. Now, 4,300-plus breweries have swarmed stores and bars, each seeking their spot at the craft-beer picnic. With beer drinkers increasingly pledging allegiance to local brews, casting broadly for customers won't always net profits. Instead, today's smart move is to nurture a native clientele, encouraging taproom visits and neighborly congregation. Turns out, what's good for the community is also great for the bottom line. "My model is, we make money selling pints directly to customers," Jamison says.
Jamison aims for 80 percent of income flowing through the taproom. That's crucial for beer makers that barely tilt the economies of scale. (Foggy Noggin brews 15.5 gallons at a time.) Moreover, restricting distribution to taprooms puts maker and consumer face-to-face. "I'm there and I talk to people," Jamison says. "It's good to get connected."
Visit Denver's Ratio Beerworks on an average workday afternoon to see the sunny, stylish space (marquee-style beer menu, vaulted wooden ceiling, eye-catching geometric artwork) swell with workers from the River North neighborhood's advertising and design agencies. "I see people with their headphones in, doing a video conference," says co-founder Zach Lowery. "They're making Ratio a meeting spot but also drinking a beer."
Ratio pumps out sizable quantities of Repeater Extra Pale Ale and Dear You Saison—20 barrels at a time—but 90 percent of sales remain on-premise. "We wanted to build the brand by having people come and hang out," Lowery says, noting that Ratio sponsors local art shows and hosts comedians, bands and locals lounging in the courtyard with canine companions.
"The idea was to start with a large taproom and patio and be a part of the community."
The difficulty of debuting a brewery in saturated Denver is individualization. In Braddock, Pennsylvania, it's being first. Located just outside Pittsburgh, Braddock was once a booming steel town, home to Andrew Carnegie's first library and 20,000 people. Today's population is a tenth of that, and Braddock has been crippled by drugs, gangs and declining industry. "When we opened, Braddock had a much worse reputation, especially with an older generation that lived through its heyday and decline," says Asa Foster, co-founder of Brew Gentlemen. "We saw opportunity where other people saw a very outdated idea that was dangerous. We had to say, 'It's not a bad area; it's a quiet area.' "
The brewery opened in spring 2014, serving civically named beers such as General Braddock's IPA and Carnegie Premium blonde in a rustic-industrial taproom befitting the blue-collar town. "We get folks from a wide swath of geography, shapes, sizes, colors and walks of life," Foster says.
While there's buzz about Brew Gentlemen's juicy double IPAs, great beer is not the brewery's sole contribution to bettering Braddock. "Since the town is a census-designated food desert, there's nowhere to get a prepared meal in town for a fair price," Foster says. The solution is hosting food trucks serving gyros, BBQ and Mexican fare. "We solve that problem five days a week, for at least one meal a day."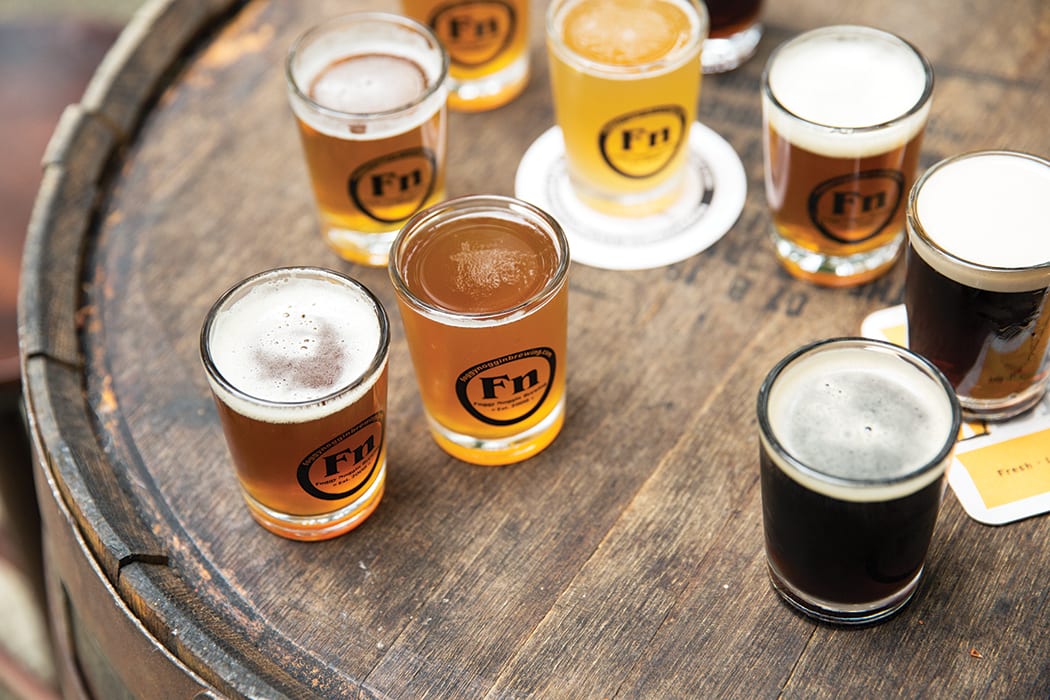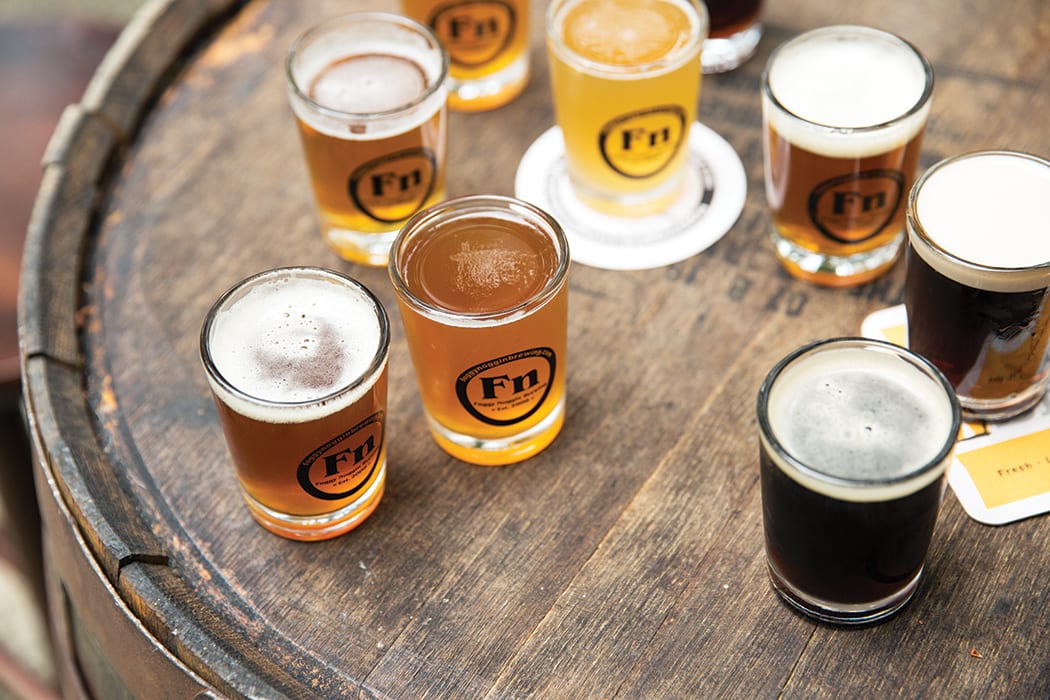 Jump Into the Pool
Opening a brewery is not for the faint of funds. Factor in property, build-out, equipment, staff and raw goods, and costs easily crest six or seven digits. In lieu of loans or cashing in a 401(k), startups are soliciting community members for seed money.
The movement began with Austin's Black Star Co-op. The snowflake notion of a neighborhood-owned beer bar snowballed into a nearly $500,000 buy-in, used to create a worker-managed cooperative brewpub that opened in 2010. Pint discounts are just the start: Member-owners serve on the board of directors and help design beers like Elba, a spiced wheat ale that grabbed bronze at 2013's Great American Beer Festival.
Minneapolis' Sallee stumbled across Black Star while visiting brewer bud Niko Tonks in Austin. Its ethos lit his bulb. Minnesota has the most cooperatives in America, including food, insurance, telephones and cheese. Why not beer? "It felt like an easier sell to bring the idea to a place where people support co-ops," Sallee says. Along with Tonks, the twosome tested the waters by throwing a party and serving homebrew. "We said, 'This is our idea. Want to join?' " Fifty people signed up, tossing in $200 apiece, and they were soon joined by several hundred other early members.
"People were joining because of the power of the concept of community-funded beer," he says.
Good faith became Fair State, located in a cooperatively owned building across from the Eastside Food Cooperative. "I like to call it Coop-ception," Sallee jokes. It opened in September 2014, benefitting from a Minnesota law change permitting taprooms. "It allowed the idea of a cooperative to make sense—a place where the community can truly meet and talk," Sallee says.
For Fair State's 800-plus members, benefits include happy-hour discounts, priority access to beers (the sours are highly acclaimed) and contests to brew with head brewer Tonks. Moreover, the Fair State Cooperates program benefits local nonprofits via beer sales and volunteer events. "It's our endeavor to further integrate with the community," Sallee says.
Back in 2010, neighbors in and around Dayton, Ohio's St. Anne's Hill historic district chipped in $1,000 to $1,500 apiece to buy an eyesore grocery store, gussied up for a to-be-determined business. After visiting Black Star (sense a pattern?) in 2012, the 1600 Group, as it's known, opted to open a cooperative brewery, laying Fifth Street Brewpub's framework. More than 850 members joined in the first month or so, their $125 dues helping the nonprofit retrofit the property's 170-year-old shack into a brewery.
From 1600 Kölsch to Cure-All Cream Ale, some 80 to 90 percent of beer is consumed on-premise, the tables precious weekend real estate. "Demand is very much outstripping supply," says brewmaster Darren Link. He credits the brewery's success to the cooperative model ("There's a built-in demographic of more than 3,000 members") and location. "St Anne's Hill is the reason why this place started and why it continues to thrive," Link says. "Having a place where everybody knows everybody or isn't afraid to talk to a neighbor helps create a hyper-local community pub." No wonder Icebreaker IPA is the best seller.
Fifth Street pulling droves of Dayton drinkers might be the most visible benefit, but neighborhood-centric breweries can have other, deeper impacts. Link and his family recently bought an 1866 home in St. Anne's, part of a trend. "My real estate agent said he's sold five houses—including mine—in the neighborhood because of the brewpub," Link says. "And property values are going up. Residential properties don't last very long in the St. Anne's Hill neighborhood."
Adds Foggy Noggin's Jamison, "When we have houses for sale in the neighborhood, that first weekend they sell. People ask us, 'Are you open every Saturday?' 'Yes, all year-round.' 'We're buying that house. We need a place we can walk to.' "
Do Good, Drink Better
There's no blank slate for a brewery location. Empty buildings have histories, neighborhoods are filled with residents alive long before session IPAs were a thing. In short, breweries best find a way to fit into a community, especially if it's named Brewerytown.
At its pre-Prohibition height, the Philadelphia neighborhood boasted 21 breweries in a five-block radius, down to zero when local elementary school counselor Mike Wambolt and friends decided to stick Crime & Punishment brewpub in the gentrifying, predominantly African-American neighborhood in 2015. "We didn't want to be seen as the neighborhood invader," Wambolt says, so before opening, Crime & Punishment worked with Give and Go Athletics—the brewery assumed its former storefront—to raise money for Little League uniforms. "It was cool to give them T-shirts and caps so that they were not just wearing blank shirts," Wambolt says. (Team name: the Brewers.) Now that Crime is paying the bills with sour and smoky porters, its long communal tables facilitating mingling, the brewery hosts cookouts for the elementary school and makes special one-offs such as Jesus Wept, a salty gose that garnered $755 for a Catholic charity.
Rob Tod founded Portland, Maine's Allagash to resonate with Maine residents. "I never thought we'd sell beer outside Maine," Tod says. The first 10 years were economically touch-and-go, but after Allagash and its White witbier rounded the economic bend, it began brewing up philanthropy.
It started with a board member at Portland's Victoria Mansion inquiring about making a beer to support the architectural landmark. Allagash created the Chardonnay grape–infused Victoria, the first in Allagash's Tribute series including Hugh Malone, a Belgian-style IPA supporting sustainable agriculture; Fluxus, a strong golden ale that funds a pediatric nursing scholarship; and Sixteen Counties, colonized with indigenous oats, barley and wheat. "The more of that beer we sell, the more we support Maine," Tod says. Allagash donated $300,000 to the local charities and nonprofits in 2015, the same year it started summer's now-annual Allagash Street Fair.
"It's kind of about embracing the whole community," Tod says. The event unites top-flight breweries with child-friendly activities such as face painting, a Cub Scout–run Pinewood Derby race and a scavenger hunt. "Many people couldn't attend the event had they been unable to bring their kids. That was a huge component of its success."
At New Holland Brewing's Hatter Days street party, bands and circus acts entertain all ages, a story repeated at New Belgium's roving, costumes-encouraged Tour de Fat festivals. Instead of kids, Dallas' annual Pup Crawl pairs owners with pooches and plenty of pints of Community Beer. "As the name implies, it was chosen intentionally," says founder Kevin Carr. The Texans host marathons and monthly pet adoptions, and brew special beers for charities like CancerBlows. On weekends, hundreds of customers flow through the taproom, drawn by a welcoming environment.
 "When you get together with friends and families and acquaintances, beer is a part of that," Carr says.
Home in Brooklyn, I've spent countless Saturday afternoons at the low-key Strong Rope Brewery along with my two-year-old whirling dervish, Violet. I'll order a JJ Bollerack's Brown Ale, brewed in-house on a teensy two-barrel system, and chitchat with brewer-owner Jason Sahler in between chasing Violet and commiserating with other parents—hey, we need a beer at 2 p.m. My intent isn't riding the interstate to inebriation. Instead, I'm seeking easy avenues for communication. Brewery taprooms serve as a singular third place between workplace and home, a convivial land where guards crumble, strangers reveal names, stress vacations, and conversations and beer go round and round. If we judged breweries on that metric alone, they'd be massive triumphs, area all-stars that aren't another chain coffee shop. Breweries could roll up the gate, tap fresh kölsch and call it a day—yet civic duty compels many breweries to go beyond. Brewing good beer is just the first step of doing good.
As Jamison says, "To be part of the community, you have to give back to the community."