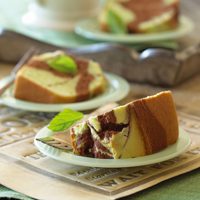 When you work at a national news show, you can find inspiration in some unusual places. Melissa Gray, producer for National Public Radio's All Things Considered and author of All Cakes Considered, came up with the idea for her Naughty Senator pound cake after two sex scandals involving members of Congress hit the airwaves almost (pardon the term) back to back. "I settled on peppermint, chocolate and rum," she writes. "Peppermint, because the senators and congresspeople I've met over the years at NPR always seem to smell of mint. It's a public speaking thing.… Chocolate, because it's rich and so are most senators. Rum, because, well, rum means debauchery to me. Or at least a sizeable impairment of judgment."
2 cups sugar
¼ cup unsweetened cocoa powder
2 sticks (1 cup) unsalted butter, at room temperature
4 large eggs
3½ cups sifted cake flour
3 tsp. baking powder
½ tsp. salt
1 cup milk
2 tsp. peppermint flavoring or extract
2 tsp. rum
Center a rack and preheat the oven to 350 degrees F. Coat a 12-cup Bundt or 10-inch tube pan heavily with butter or cooking spray.
In a small bowl, combine ½ cup of the sugar and all of the cocoa. Set aside.
Cream butter with a mixer at medium speed, gradually adding the remaining 1½ cups of sugar. Add the eggs, one at a time, beating well after each addition.
In a separate bowl, dry whisk the flour, baking powder and salt together.
With the mixer on low speed, add 1 cup of the flour mixture; beat, then add ⅓ cup of the milk and beat again. Repeat until all of the flour mixture and milk are blended into batter. Beat on medium-high speed for an additional 2 to 3 minutes.
Pour half of the batter into a clean medium bowl.
Add the peppermint flavoring and a couple drops of green food coloring (just enough to turn the batter pastel green) to one bowl of batter. Pour two-thirds of the green batter into the bottom of the cake pan. Set aside the remaining green batter.
Clean off your mixer beaters, dry, and return them to the mixer. Add the cocoa-sugar mixture to the yellow batter and add the rum. Beat until smooth.
Using a rubber spatula, pour the chocolate-flavored batter over the green batter in the cake pan. Layer the remaining third of green batter over the chocolate batter. Marble by taking a small rubber spatula or plastic knife and cutting through the middle of the batter ring to the bottom of the pan. Bring the spatula or knife toward you and then up toward the side of the pan. Rotate the cake pan with your other hand and repeat. You'll do 2 rotations total, no more.
Bake for 1 hour. When the cake tests done (i.e., an inserted toothpick comes out clean), cool for 15 to 30 minutes in the pan, then unmold onto a cake rack.