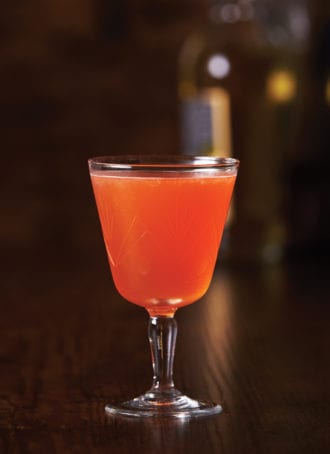 New cocktails are often born as riffs on old classics, but the genealogical chart of the Naked & Famous reads more like a soap opera plotline, combining elements of a classic cocktail, a modern favorite by acclaimed bartender Sam Ross, and an unexpected base spirit. Joaquín Simó, who created the drink during his tenure at New York's Death & Co, has called the cocktail "the bastard love child of a classic Last Word and [Ross's] Paper Plane, conceived in the mountains of Oaxaca."
Using the four-equal-parts structure used by these two cocktails, Simó incorporates Chartreuse from the former and Aperol from the latter to complement the drink's key ingredient, mezcal. "The botanical intensity of the two liqueurs gives such great length to the drink that it manages to be simultaneously crushable and complex," says Simó. "There's just enough sugar to balance the tart lime and funky, smoky mezcal, but not so much that it gets cloying. It's a great balancing act that gives the cocktail enough structure to let all its complex ingredients speak in turn, rather than all at once."
¾ oz. mezcal
¾ oz. yellow Chartreuse
¾ oz. Aperol
¾ oz. fresh lime juice
Tools: shaker, strainer
Glass: coupe
Combine all of the ingredients in a shaker with ice and shake until chilled. Strain into a chilled coupe.
Joaquín Simó, Pouring Ribbons, New York City
---
Did you enjoy this recipe? Sign up for our newsletter and get our favorite drink recipes of the moment in your inbox every month.