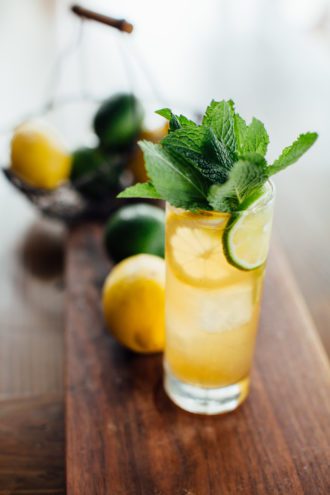 Sunday is Mother's Day, and instead of trying to squeeze in last-minute brunch reservations, why not wow her with your own homemade food and drink spread? From a New Orleans-style Bloody Mary to bourbon-spiked French toast, any combination of these cocktail, mocktail and food recipes should make mom's day. Don't see what you're looking for here? Head over to our Pinterest page for more brunch ideas.
Drinks
Porch Punch (pictured)
This porch punch will become a perennial party favorite, with fresh mint, Earl Grey tea, orange flower water, lime and Bourbon.
Campari Acai Brunch Punch
Aim for springy and bright with this mix of rum, Campari, fresh herbs and juices.
Bee's Breakfast
With fresh berries, honey and yogurt, this just might be the perfect brunch cocktail.
Homemade Pimm's
Bottled Pimm's is a classic brunch favorite, and this recipe lets you create your very own version of the English classic.
Cochon Bloody Mary
Quite possibly the best Bloody Mary you'll ever make. The secret lies in pork juice, olive brine and a few other surprise ingredients.
Sparkling Ginger Lemon Mocktail
Lemony and bright, this ginger-spiked mocktail is a great option when you're looking for an alcohol-free drink.
The Anthony Hopkins
This mocktail's balance of sweet floral syrup and bright citrus is as smooth and refined as its famous namesake.
Bites
Caramelized Pineapple Shortcake
A good glug of rum and spoonfuls of caramelized pineapple define this rich treat. Serve it with a ice cream and dollops of whipped cream for a confection that takes the cake.
Bourbon French Toast
Bourbon for breakfast is perfectly acceptable when it comes in fork-ready form like this recipe for buttery, boozy French toast.
Chamomile Vanilla Cupcakes
Bake mom a batch of these boozy cupcakes for a sweet treat she'll love.
Pilsner Waffles & Beer Caramel Sauce
Who doesn't love beer with breakfast—especially when splashed into a waffle batter and caramel sauce?