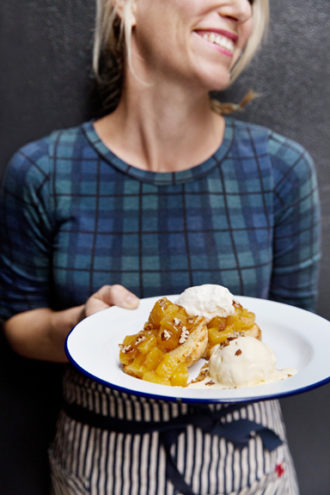 At Bar Amá in Los Angeles, shortcake is the darling of the dessert tray, thanks to a good glug of rum and spoonfuls of caramelized pineapple. Serve it with a ice cream and dollops of whipped cream for a confection that takes the cake.
Biscuits
2 cups flour
2 Tbsp. baking powder
2 Tbsp. sugar
1 tsp. kosher salt
¼ lb. butter, frozen
1 cup half & half, chilled
1 egg yolk
¼ cup cream
Pineapple Confit
¾ cup sugar
1 lb. unsalted butter
½ tsp. kosher salt
¼ cup aged rum
1 pineapple, peeled, cored & cut into 1″ chunks
To make the biscuits, combine the flour, baking powder, sugar and salt in a food processor and pulse to mix. Cut the frozen butter into chunks and add to flour mixture, then pulse until the butter is reduced to pea-size lumps. Transfer to a stand mixer fitted with a dough hook, and slowly add the chilled half & half while mixing at medium-low speed until combined.
Place the dough on a lightly floured surface and gently knead just until the dough comes together, about 30 seconds. Use a rolling pin to roll the dough to 1¼-inch thickness. Cut the biscuits into rounds with a 3½-inch cutter.
Preheat oven to 400 degrees F. Add the egg yolk to the cream and whisk to combine, then brush the top of each biscuit with the yolk-cream mixture. Place the biscuits on a buttered baking sheet and bake until golden and the internal temperature is 205 degrees (about 12 minutes). Remove from oven and let cool.
To make the pineapple confit, place the sugar in a large, dry pot over medium-low heat and stir constantly with a wooden spoon until the sugar melts and turns a pale golden brown.
Add the butter, salt and rum, and stir to combine. Add the pineapple chunks and simmer until cooked through, about 10 to 15 minutes. Transfer to a shallow container and let cool. (This can be covered and stored in the refrigerator for about 1 week.)
To assemble the shortcake, split a biscuit in half and butter each side. Top the bottom half of the biscuit with 3 tablespoons of pineapple confit. Add a scoop of vanilla or pecan praline ice cream and a dollop of whipped cream, and top with the other half of the biscuit. Serve immediately.
Makes 4 assembled shortcakes.
Bar Amá, Los Angeles