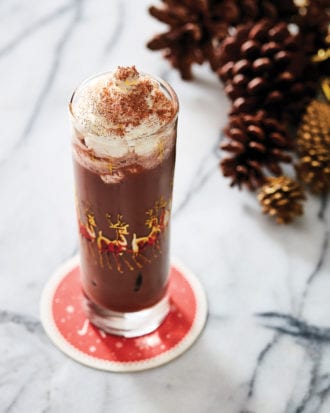 In this drink from the 2017 Miracle pop-up menu (the same name is used for a different drink on the current menu), the richness of chocolate and coffee are countered by the brightness of blanco tequila.
1½ oz. blanco tequila
½ oz. coffee liqueur
6 oz. cold hot chocolate
Tools: barspoon
Glass: Collins
Garnish: fresh whipped cream, cinnamon-cocoa dust
Combine all the ingredients in an ice-filled Collins glass and stir to mix. Top with fresh whipped cream, then sprinkle with cinnamon-cocoa dust.
Cold Hot Chocolate: In a dry saucepan over medium heat, toast 1 cinnamon stick, 2 whole cloves, 1 long pepper (available at spice shops or online), and ¼ tsp. of paprika until aromatic. Add 6 oz. of water and bring to a boil, then add 1 single-serving packet of hot cocoa powder (Miracle uses Swiss Miss Milk Chocolate dry mix); reduce heat to low, and simmer for 2 minutes, stirring occasionally. Remove from heat and let the mixture cool, taking care not to let the spices steep too long. Once cool, strain through a mesh strainer to remove spice sediment. Makes one serving.
Cinnamon-Cocoa Dust: Combine 2 tsp. of cocoa powder with ½ tsp. of ground cinnamon.
Joann Spiegel, Miracle, New York City
---
Did you enjoy this recipe? Sign up for our newsletter and get our favorite drink recipes of the moment in your inbox every month.