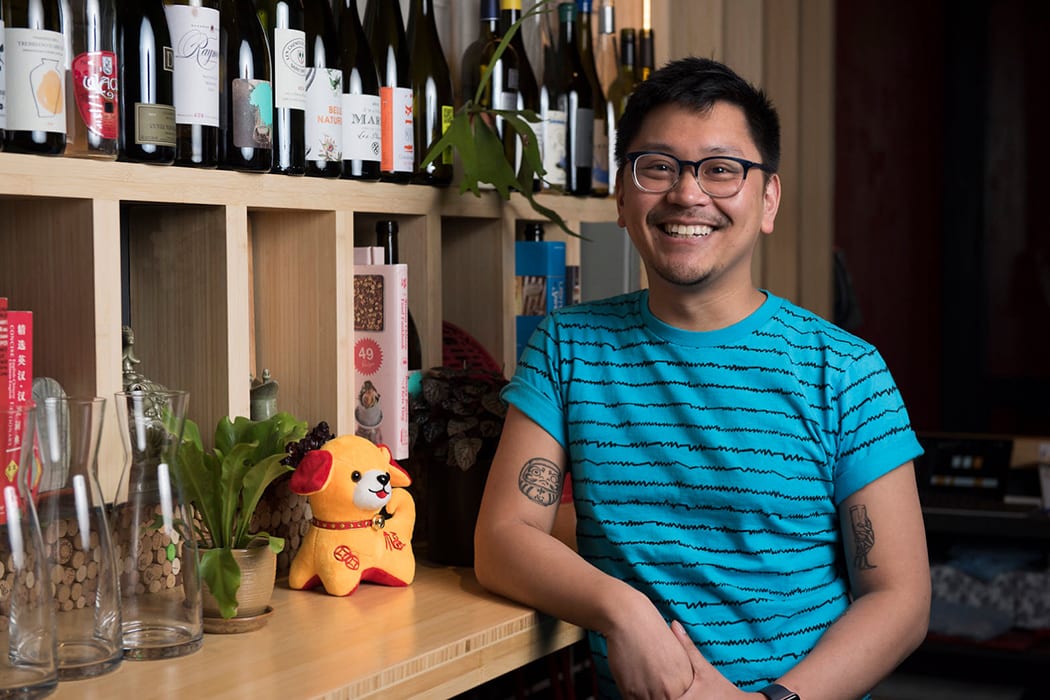 The first time sommelier Miguel de Leon (Pinch Chinese, Chez Panisse, Per Se, Momofuku) tasted a red wine chilled to below room temperature, it was in the dead of winter. That burst of flavor he discovered in his glass of Beaujolais Nouveau was a revelation that's stuck with him throughout the seasons. "It was a moment where wine like that had unbridled joy—not to mention broad appeal—that I realized wines like that could bring a lot of people together," he says.
Many somms will be quick to explain that some styles of red always taste more expressive when served chilled, and there's no better time to test this out than during the height of summer's swelter. "The chill highlights a wine's fruity character and evens out the 'sting' one might feel in terms of higher alcohol wines," de Leon says, adding that wines made in the vin de soif or glou-glou style are especially delicious with a little chill. Carignan, Nerello Mascalese, Cabernet Franc, Valdiguie and Merlot can also work well at cooler temps. "For sparkling or lightly sparkling reds (think Lambrusco or red pet-nat), I'd serve them cold and keep them over ice," he says. "And for still red wines, a chill in the fridge to about 40-45 degrees is more than plenty."
For summertime sipping, de Leon suggests pairing chilled red wines with barbecue. "Anytime there's a grill, these reds can stand up to the food and the sauce a little more robustly; plus, their softer tannin quality usually makes you reach for another sip (or gulp!)," he says. "Another application for chilled red is for any fattier cuts of meat or game; they're also much more versatile in terms of pairing for an entire meal rather than courses. [At Pinch], for example, we pair chilled reds with dumplings, shrimp, pork and duck, all in the same meal. The name of the game is quenching thirst while delivering on intensity without sacrificing any fun!"
Here, in his own words, de Leon shares his top recs to check out this season.
Wind Gap Wines | Soif
North Coast, California
Made with Valdiguie, Zinfandel, and a host of other unsung California old-vine varieties, this wine is sure to please with its bright berry character and beautiful floral notes. The wine's name, "soif," alludes to the French idea of vin de soif or wine for thirst—it will quench and quench as you gulp and gulp. $24, wine.com
Broc Cellars | Valdiguie 
North Coast, California
Here comes that grape again: Valdiguie, once typed as Napa Gamay, is enjoying a wonderful revolution with some skilled and curious California winemakers like Broc. It shows its strength and its charm in this wine, which sees some carbonic maceration, emphasizing the wine's carefree nature. $26, wine.com
Henry Marionnet Domaine de la Charmoise | Terres Blondes Gamay
Loire, France
Gamay, the spiritual ancestor of these glou-glou styles, is so friendly and unassuming. It won't even dare to impress since it's so unpretentious, but with wine that seems so simple, there's no room to hide, and this wine delivers so much for its price. Bet this wine will make you smile from the moment you uncork! $10, astorwines.com
Eminence Road Farm Winery | Elizabeth Vineyard Cabernet Franc
Long Eddy, New York 
Delicate but structured, this wine has a lot going for it; bring it along for a picnic rife with charcuterie and cheese. Its deep complexity brings out the best in food, and chilled, it's a refreshing, floral, and cheerful addition to any outing. Savory at its best. $27, astorwines.com
Donkey & Goat | Gallivanter
Berkeley, California
Don't fret about the lack of specificity for the fruit's origin when the wine is this delicious! Talk about a perfect companion for the grill. Unfined, unfiltered, juicy, dark, sensual, electric—it's all the adventure you never knew you wanted in a glass of wine. A natural, and a natural stunner, to boot. $25, astorwines.com
---
Like what you see? Get more of the best of liquid culture when you sign up for our bi-monthly magazine. Subscribe now and save up to 59%—it's just $21.95 for one year or $32.95 for two years. Click here for details.