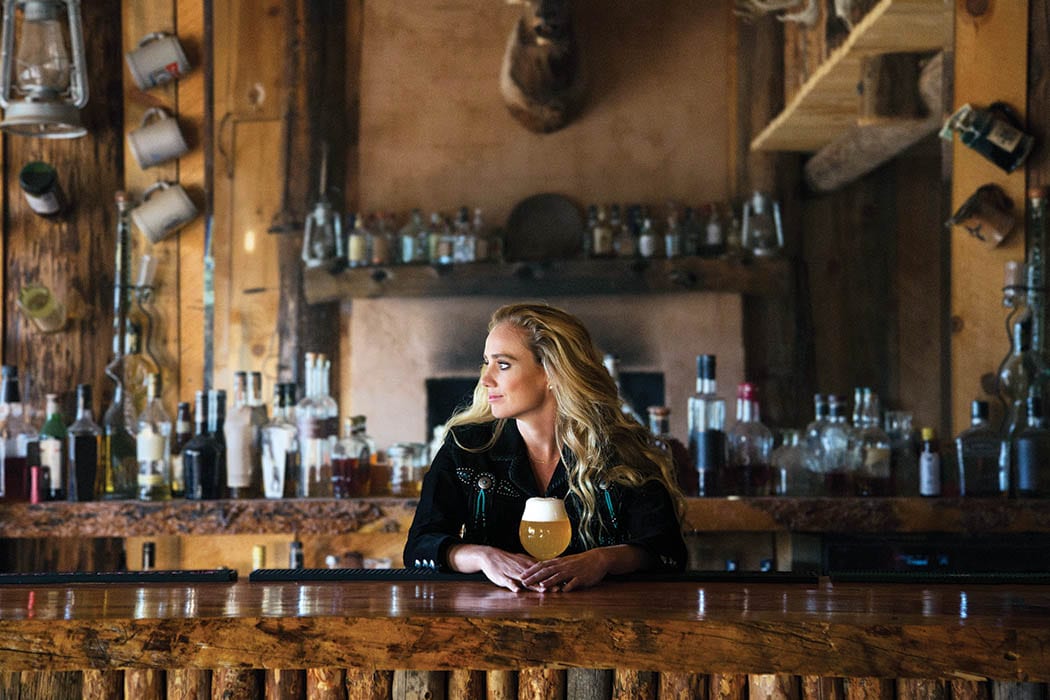 In the span of about four years, Meg Gill went from being a Yale grad and competitive swimmer with her eye on the Olympics to becoming a regional sales manager at Colorado brewery Oskar Blues, and then the youngest female brewery owner in the country when she opened Golden Road in 2011 with Tony Yanow. In 2015, they sold the Los Angeles brewery to AB InBev, and today Gill serves as Golden Road's president, tackling the continued development of the business and exploring new markets, all of which gives her the perfect opportunity to continue doing what she loves—talking about (and drinking) beer. So it's fitting that her newest project, the TV series Beerland, produced by Viceland, sees her doing just that as she travels the country to meet homebrewers, explore their communities and drink their beer. One brewer from each of the five destinations she visits will compete to have their beer brewed and distributed by Golden Road. Gill chatted with us about life after the brewery's sale, the strangest things she witnessed on the road and the unifying power of beer.
Imbibe: We've heard that you weren't planning on a career in beer; what hooked you on the industry?
Meg Gill: The magic words that got me into it [are from] Dale Katechis, the owner of Oskar Blues, when he said, "If it ain't fun, I ain't doing it." I was right out of school at Yale and I had taken a path less traveled; I wanted to be an athlete and just keep swimming after college, rather than quit and go work on Wall Street or go to law school. I didn't really know that you could love what you did every day and have fun and make it a career. When I met Dale, that's what changed the course of my life—I realized I could do what I loved. Just like I love swimming, I've always loved beer. To realize I could turn it into a profession was amazing.
How did the concept for Beerland come together?
Beer shows typically haven't worked before. When you look at a cooking show, you have this product at the end that looks so good that you can almost taste it. But with beer, it doesn't vary that much in appearance … you can't make the brewing process that sexy. You can add wild flavors or whatever, and that's kind of been done on TV already. So we thought about what was the most interesting part of beer, and for me it was always the people—the question of why they're brewing beer. We found characters who had really interesting backstories to tell about why they were brewing beer, and that's what drove the show's narrative and highlighted how their brewing impacted the community. We were out there investigating how beer is bringing people together in unique ways. I had been interested in doing something for TV, but the fit was never right until now. With Vice I was able to be a producer, a storyteller and a creator.
What were some of the most surprising moments during filming?
Some of the stuff in New Mexico was really wild (watch the episode here). We went to a place that was a couple hours from any type of civilization down these crazy dirt roads. They're not on a map, there's no cell phone service or even fire and rescue. These people are intentionally living away from civilization within the Unites States and had made a choice—some for political reasons, some philosophical reasons—for why they wanted to be alone. But they had each other, and beer. It was amazing to watch people choosing to live where they have to do everything for themselves—like finding access to water and making their own irrigation systems—and then making beer. Another moment was in New York (episode here); one of my favorite homebrewers that we met was a guy named Dailey. He's a self-proclaimed anarchist and decided to start brewing because he didn't want to pay the government taxes on beer. When I heard that, I thought this guy was going to be off his rocker. But so much of what he has to say is so smart and well thought-out, and he is such an intellectual guy. The process of brewing to him is truly an art and science combination, but it's also so much of his heart and his philosophy. Those were some of my favorite memories from doing the first season.
What were you looking for when deciding who should move forward in the competition?
It wasn't necessarily about the beer that I liked the most, although all the beers that went on to the next round I did really like. It was more about the execution of their vision; did they brew what they said they were going to brew? And what would moving forward mean to them and do for their lives—how would this positively impact them?
Can commerical brewers learn something from homebrewers?
Absolutely. I think there's a sense of innovation that homebrewers have. Commercial brewers tend to think about how you scale something [for production], or how you can't scale it. And oftentimes when you can scale it, you just need to figure out what the homebrewer was trying to get at with the flavor, and then you can figure out a way to create it. I think it has brought back imagination, for me at least, and that's the beauty of it and the fun part of it. I'm around stainless steel a lot these days, so getting out to people's homes and seeing and feeling the imagination and the heart that they are putting into beer, and how it affects their homes and broader communities, was touching.
You came across so many different kinds of people—what characteristics have you found unite them?
That's the beauty behind beer—it's any man's and any woman's drink. That was part of my motivation for doing this. I'm sick of the holier-than-thou attitude about craft beer. Beer is something that unites a lot of people and should be viewed as such, so I hope that the adventures of the show are seen in that light.
---
Like what you see? Get more of the best of liquid culture when you sign up for our bi-monthly magazine. Subscribe now and save up to 59%—it's just $21.95 for one year or $32.95 for two years. Click here for details.