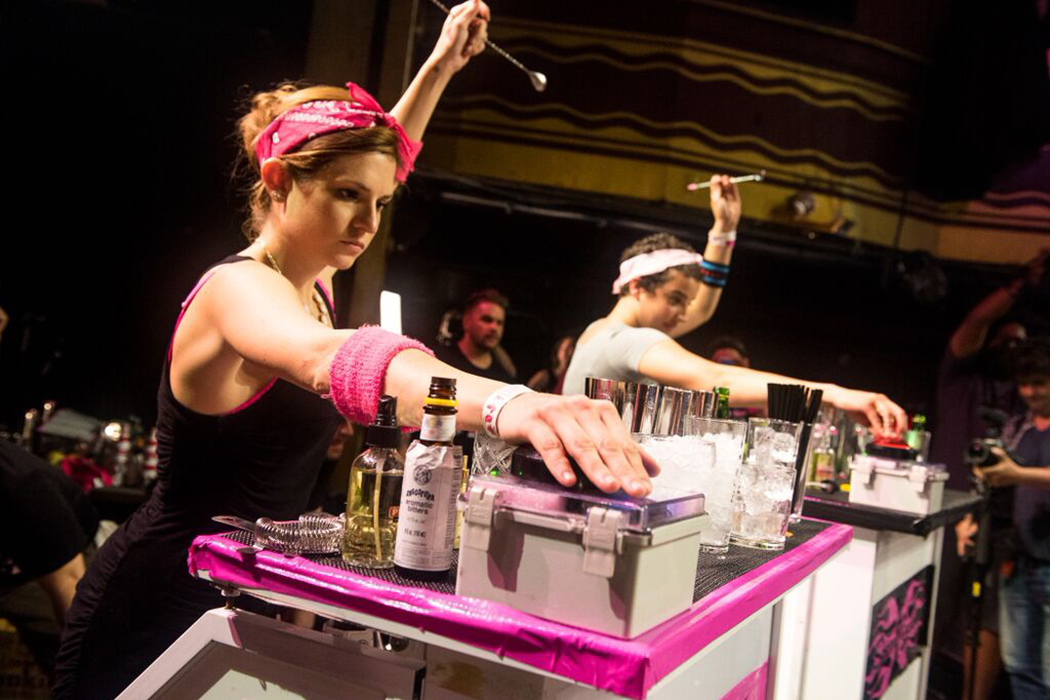 The annual Speed Rack competition—a national bartending tournament featuring the most talented lady bartenders in the country pitted against one another in a challenge of speed and accuracy—recently wrapped its fourth season with a bang at the national finals in New York City. We caught up with this year's winner Brittini Rae Peterson (from LA's Melrose Umbrella Company and Collectif 1806), to hear more about how she mixed her way to the top and what her future holds now that she's taken the Speed Rack title.
When and how did you first get into bartending?
I first started bartending at the ripe ol' age of 21 in NYC. I went to bartending school (gasp!), and yes, I am aware of the negative connotation it has, but that's just the truth. Worked at a few nightclubs and bars there before moving to Los Angeles. It wasn't until LA, age 24, did I start bartending in the "craft world," and I never looked back.
How long have you been at your current gig?
I started at Melrose about 10 months ago as a full time bartender and then scaled back to part time.
What prompted you to become involved with Speed Rack?
Honestly, a good friend and Co-Worker Gabby Mlynarczyk (that time we were working at i.n.k. Restaurant on Melrose) convinced me to do it. It was never something I intended to compete in.
What's been the most exciting aspect of participating?
Meeting new people and seeing how far you can push yourself.
How did you prepare for the finals?
Wow, that's a hard one. Once you get to the finals it's a whole new ballgame, and this was my first year getting the opportunity to be in the finals. I attacked it the same way I did back home in LA for the pre-lims: flashcards and practice. My mom and boyfriend also helped me train by watching old Speed Rack videos online and looking to see where I can improve. Lastly, Karen Grill of Sassafrass and I had a "Speed Rack Challenge" evening where we invited our friends to come and give us time-trials.
Advice for others who want to compete next year?
First off, it's for charity. So, no matter what happens, you are bartending for a great, great cause. Second, be prepared. The girls that make the Top 8 KNOW those drinks. And you have to practice, practice, practice (cliché right?). Third, just breath and focus (that includes not drinking too much).
With Speed Rack so focused on fast cocktail mixing, how do you balance timing with technique?
Technique is first, and once you have your technique down and you trust it, speed will come. For example, I knew going into this that I would always build the hardest drink first (so that way I wouldn't forget how to build it 45 seconds into the round), then if there were similar ingredients in other drinks I would add the same to the corresponding tin to reduce time. Lastly, stirred cocktails on my right, because that's my dominant hand and I do it better. That was my technique, and it worked, (almost) every time. If girls are entering this competition they already know they are fast, but technique and quality are more important and will get you farther.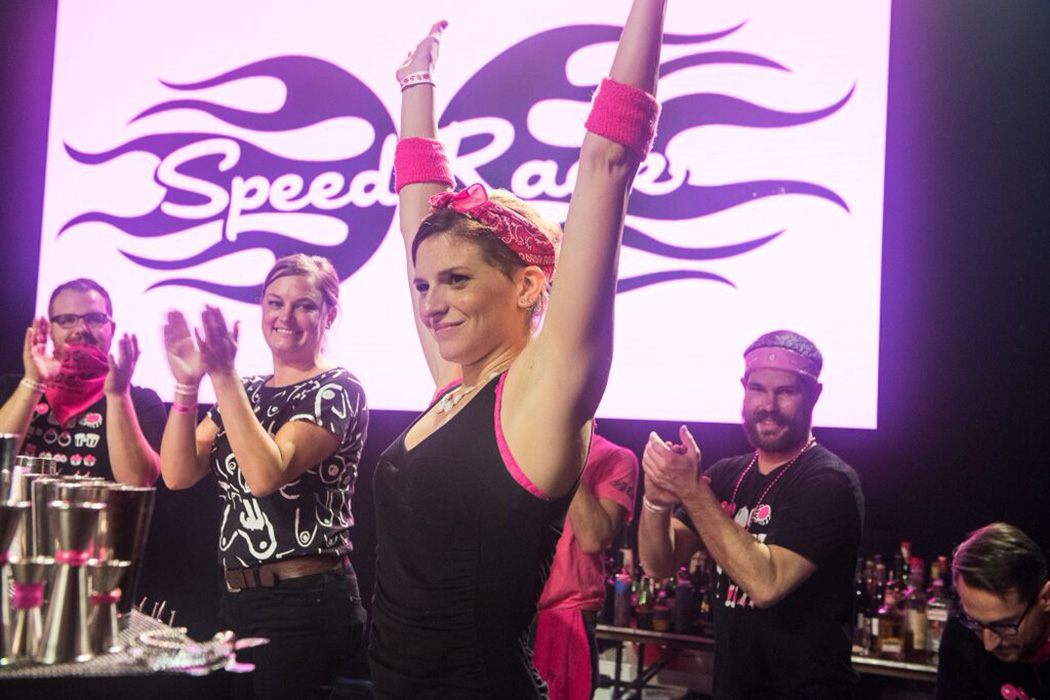 Do you have a favorite drink to mix? Why?
I think my favorite of all time would be a Rye Old Fashioned made with a sugar cube, there is something about making the perfect Old Fashioned that gives me great pleasure and pride. It's a very simple cocktail, however can very easily be served incorrectly.
What's your favorite thing about the LA cocktail scene right now?
The people. The people. The people. We support each other as a community, it's not a competition or a challenge to see what bar is better, if one craft cocktail bar succeeds, it feels like a success for all of us. I think people should come visit the Southern California cocktail scene because every bar you walk into will feel like you're with friends and family, and that's our goal. Yes we are doing great things; building great bars, creating delicious cocktails, and even making our very own cocktail week. But at the end of the day, it's the people behind the bar you want to visit, all of them.
What do you think is the most common misconception about lady barkeeps?
If you asked me that 5 years ago I would say that a lot of consumers don't think that females are going to make the drink as good as a male. When I ran my first bar (The Tar Pit, may it R.I.P.) gentlemen would come into the bar all the time and specifically ask for the "male bartender." I don't feel that separation anymore, well, at least not as much. Due to the continually increasing number of successful females in the industry all over the country that perception is changing.
Who do you look up to in the bartending industry?
That's a really hard question, I look up to a lot of people for very different reasons and I wish I could name them all here. Of course, Lynnette & Ivy from NYC (co-founders of Speed Rack) for really thinking outside the box and creating a global phenomenon. On a more local level, it would have to be Chris Ojeda who taught me the art and rules of classic cocktails and Giovanni Martinez, who taught me how to break those rules. Without them, I wouldn't be in this industry.
What tips can you offer to help someone become a better bartender whether at the professional level or just for home entertaining?
It's okay to read a book and look up recipes, no one will fault you for it and you'll probably make a better cocktail. Also, is you really want the drink to taste good, use good ingredients, don't take short cuts; it won't help you at all. Use fresh juices, real sugar, good to high quality liquor, and nice ice. You'll be happy you did.
What's up next for you?
I'm happy where I am right now—working with Collectif 1806 and bartending part time, it's the best of both worlds. That's not to say that I'm not working on things to come in the future here in Los Angeles.