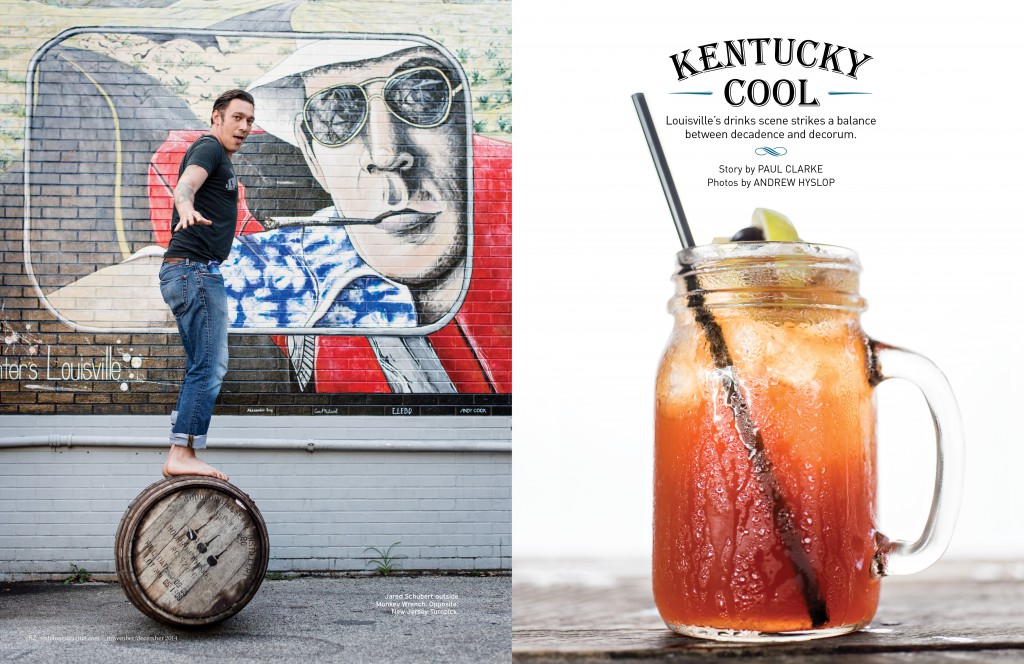 The river-front town of Louisville has always been many things: the portage point and stopover for boats headed down the Ohio River on their way to the Mississippi; the gateway between the sprawling Midwest and the gently rolling South; and a center of commerce and industry in the otherwise rural heartland. "We have this wild spirit, almost like a raucous Dukes of Hazzard country attitude—but at the same time, there's a refined, river-town, Southern city feel," says Jared Schubert, a longtime Louisville bartender. "There's decadence and there's decorum, and it's a healthy balance between the two. Everybody keeps a black suit around because you never know when there'll be a formal affair, but you also keep a pair of cutoffs in the closet, because that's just how we live our lives." Today, Louisville continues to strike a balance, between its role as the capitol city for America's most venerable spirit, and its 21st century position as one of the most exciting places in the country to eat, drink and explore. Here are a few of our favorite picks for Kentucky's distinctive river city.
Kentucky Cocktails
Quality cocktails took their time to show up en masse in Louisville—but Jared Schubert says there was never any hurry. "We've been a bit slower to hone in on cocktails, but that's not a bad thing," Schubert says. "We're progressing at our own pace, and developing our own approaches in a really disciplined and healthy way."
Schubert helped plant the first seeds of the city's cocktail culture around 2006—along with bartenders including Silver Dollar owner Larry Rice, bar consultant Josh Durr and Brooks Reitz, now a restaurateur in Charleston—and that scene is now in full flower. A veteran of now-defunct pioneering bars, including 732 Social and Meat, Schubert currently tends bar at The Monkey Wrench, a Highland restaurant with an ambiance he describes as "contemporary hillbilly," serving classics like the Jack Rose alongside original spins like the New Jersey Turnpick to guests who may be new to the cocktail experience. "It has that honest, upper-South, working-man quality to it, and I dig that blue-collar look and aspect," he says. "I like bringing good things to people who wouldn't always be exposed to it."
Today's Louisville cocktail scene is anything but sleepy. A night out might now entail visiting the gastropub Rye to sip a Butchertown Crown (with unaged brandy, apple-infused vermouth and sparkling wine); tapping into an amaro-laced Sicilian Storm at Volare, an upscale Italian restaurant; or trying a house-prepared vin maison or a Versailles cocktail (with bourbon, ginger liqueur and blanc vermouth) at the French-inflected La Coop.
Proof on Main, in the 21C Museum Hotel, has long boasted one of Louisville's more ambitious bars, with a selection of more than 75 Kentucky bourbons and a cocktail list leaning to bold drinks such as the Death's Grip, made with 100-proof bourbon, hazelnut-aromatic bitters and a jam made with Bluegrass Brewing Company's Dark Star porter. Across the street is St. Charles Exchange, which occupies an airy 3,800-square-foot space in one of downtown's oldest buildings. True to the restaurant's Kentucky home, assistant general manager Sean Thibodeaux put together a bourbon-rich menu, with drinks such as the Take Nothing Less, with bergamot marmalade and amaro, and the Greeting Dawn, with Punt e Mes and coffee liqueur.
Larry Rice, who helped launch Louisville's cocktail scene, is now a partner in two bars that currently define it: Silver Dollar and El Camino. The Silver Dollar is a cutting-edge whiskey bar and outpost of creative-comfort Southern cuisine masquerading as a '50s-style Bakersfield honky-tonk, its selection of classic country music on vinyl as extensive as the vintage bourbons that line the back bar. The bar, managed by Susie Hoyt (an alumnus of Chicago's Violet Hour who also helms the bar at El Camino), serves serious yet approachable cocktails, such as the Gold Rush, with bourbon, honey and lemon.
El Camino tracks a different time and place, reflecting Southern California's surf culture and the punk scene of the '80s and '90s. Fish tacos and tortas accompany classic tiki drinks like the Nui Nui and the Donga Punch—a trifle surprising, considering Kentucky's bourbon-country culture, but perfectly appropriate for the city's still-developing drinks scene, Rice says. "Tiki is a way to serve something very approachable without sacrificing quality," he says, noting that it's easier to get someone accustomed to drinking in college bars to try a drink with rum and pineapple than it is to switch them to Manhattans. "This is definitely fun, and it takes the pretense away," he says. "You may not know you like a Painkiller—but you will."
Bourbon Country
Local legend has it that this uniquely American style of whiskey was born on the banks of the Ohio River in what today is downtown Louisville. Legends are frequently embellished, and this one may be no different, but there's no questioning bourbon's role in Louisville's culture.
When the first settlers pushed through the Cumberland Gap into Kentucky in the late 1700s, they found corn better suited to the region than cold-climate crops like barley or rye, and the local grain quickly found its way into the local drink. Corn is at the core of bourbon—at least 51 percent of the whiskey's mashbill must be corn, as required by federal law—and smaller amounts of rye or wheat are typically deployed for flavor and character, along with a touch of barley to benefit fermentation. Unlike Scotch and Irish whiskies, which are made using old-fashioned pot stills, most bourbon is made using column stills and is distilled to a maximum of 80 percent alcohol (and must be diluted to no more than 62.5 percent before aging).
To be labeled "straight bourbon," this whiskey must be aged in new, charred-oak barrels; two years of maturation is the bare minimum required to earn the "straight bourbon" designation, though anything less than four years requires a notation on the label. Most straight bourbons, though, are much older—many feature a mélange of whiskey ranging from four to eight or more years in age, and while bourbon's quality can start to decline after eight years in oak, some barrels yield exceptional whiskies after 12, 18 or even 23 years.
Located in the American-whiskey equivalent of Bordeaux or Napa Valley, Louisville has a host of bars exceptionally well suited for bourbon exploration. The Urban Bourbon Trail features more than 30 Louisville bars that have a minimum of 50 bourbons on their list (and some stock more than 150), ranging from old standards like the Seelbach Hotel and Bourbons Bistro to more recent additions, such as the Silver Dollar and St. Charles Exchange, and a few unexpected stars, such as the Vernon Club, a concert venue and bowling alley that adds a Big Lebowski spin to a Louisville bourbon adventure.
Distillery Trips
Nearly all of the nation's bourbon is made within a 90-minute drive of Louisville, with distilleries spread across an inverted triangle with Louisville at its northwestern tip, stretching to Lexington in the east and the Bardstown area to the south.
Follow Interstate 64 toward Frankfort and Lexington for a bonanza of bourbon distilleries. Frankfort is home to the Buffalo Trace Distillery, a National Historic Landmark covering 119 acres and occupying more than 100 buildings, and producer of whiskies including its eponymous bourbon, Blanton's, Sazerac Rye and the current must-have-it bourbon, Pappy Van Winkle. In nearby Versailles is another historic distillery, Woodford Reserve, with its oldest stone structures dating to 1838. Lawrenceburg has two notable distilleries—Four Roses and Wild Turkey—and Lexington is home to one of Kentucky's newest, the Town Branch Distillery, which opened in 2012.
If Louisville is the capital of bourbon country, the Bardstown area is its heartland, with bourbon a defining factor in the region's history and culture. Heaven Hill Distillery's Bourbon Heritage Center in Bardstown underscores this connection with rickhouse tours and tastings of Elijah Craig and Evan Williams bourbons, and the Maker's Mark Distillery in nearby Loretto introduced the "destination distillery" idea to bourbon country.
A newcomer of sorts is the Willett Distillery; housed in a formerly defunct distillery built in 1937 and operated by a family with nearly two centuries of bourbon heritage, Willett began distilling again in 2012. And between Louisville and Bardstown is the Jim Beam Distillery's American Stillhouse in Clermont, which demystifies the process behind such bourbons as Booker's, Basil Hayden's and Knob Creek, as well as Beam's signature brand.
The Kentucky Bourbon Trail website has details for self-guided tours of bourbon country, or join one of the organized trips from Mint Julep Tours.
While most bourbon distilleries are located outside of Louisville (Heaven Hill's Bernheim Distillery, based in Louisville, is not open to the public), projects from Angel's Envy and Michter's are in the planning and construction stages, and will eventually bring whiskey production back to Louisville's downtown. But Kentucky's bourbon-lovers also have a taste for brandy, and Copper & Kings Distillery, in the Butchertown neighborhood, began making the grape-based spirit on its copper alembic stills in April. It'll take a couple of years for the first of its brandy to fully mature to amber glory, but until then, its white, unaged eau de vie can be spotted in Louisville bars and liquor stores.
Louisville's Other B
The 19th century saw a wave of German immigrants sweep into this stretch of the Ohio River Valley, and the beer culture they brought with them is still bubbling today. Louisville-area breweries include local favorites, such as the Bluegrass Brewing Company and Falls City Brewing (an historic but long-defunct brewery that reopened in 2010), and nearly a dozen new craft brewers are expected to be operational by the end of the year.
Since its 2011 debut, Holy Grale has proved itself one of the best places in Louisville to drink beer. Occupying a former Unitarian Church that was built in 1905, the restaurant and pub features 26 taps stocked with beers ranging from the semi-local (such as a cocoa porter from Lexington's West Sixth Brewery) to the global, such as Mikkeller Draft Bear from Denmark, and Birrificio del Ducato Baciami Lipsia, a wine barrel–aged Italian sour ale brewed with pink sea salt. Rare and specialty beers are featured upstairs in the choir loft, where you can sit and sip in the light filtered through the church's stained-glass windows, or find a seat at the bar downstairs and settle in for an evening.
Holy Grale's owners, Lori Beck and Tyler Trotter, also operate Louisville Beer Store, a bottle shop and taproom that's the city's go-to place for craft beer. Nachbar, in the Germantown neighborhood, may have a dive-bar feel, but the tap list (as well as the bourbon selection) is anything but downscale; grab a Schneider Aventinus and a shot of Old Fitzgerald, and take a seat near the cat asleep on the bartop. Serious beer fans should also head for Sergio's World Beers, a warren of bottles and more than 40 taps pouring some of the world's most sought-after beers.