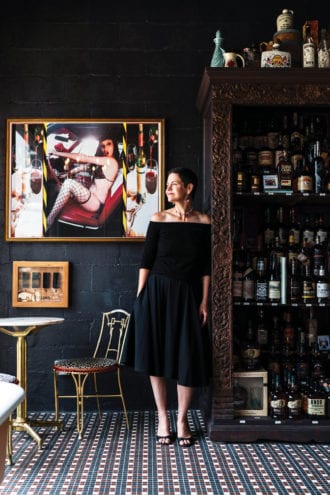 In 2003, a woman named LeNell Smothers opened a wine and spirits shop in Red Hook, an isolated, under-popuated, borderline dangerous neighborhood in Brooklyn underserved by public transportation. She stuffed her store with unusual and hard-to-find wines, spirits, liqueurs and bitters, the sort of things only bar professionals and epicures were after. It was an improbable business proposition. People doubted her judgment and marveled that she didn't have bulletproof glass. But within a year it was a success, a destination storefront. Soon it became a model for similar boutique spirits shops across the country.
In 2018, the same woman, now named LeNell Camacho Santa Ana, opened a similar store. This time she chose Norwood, a once-struggling neighborhood of Birmingham, Alabama. Once again, a group of well-meaning people questioned her choice, but if the first few months of the shop's life are any indication, they'll soon eat the same crow the naysaying Brooklynites once did.
"She has chosen to be an urban pioneer in Birmingham, too," says John T. Edge, an influential food writer and director of the Southern Foodways Alliance. Edge was introduced to the Red Hook shop by food writer (and now New York Times restaurant critic) Pete Wells, and he was one of the first to pay a call on LeNell's 2.0. "The location is off the beaten path," Edge says. "But I think what she's done is create a place of pilgrimage."
LeNell—it's easier and more natural to call her by her first name; besides, everyone does it—doesn't see much difference between the two locations. "Norwood has given me a sense of community like Red Hook," she says. "It's a small neighborhood like Red Hook was."
Those who visit the new store—its full name is LeNell's Beverage Boutique—will recognize some of the same idiosyncratic touches that made the Brooklyn shop so memorable. She still uses the same old cabinet to display her impressive bourbon collection. There's a bathtub full of bottles of gin. And the fountain she calls "pee-pee boy" is back. But the most unique thing about LeNell's is, and always was, LeNell herself, a feisty, opinionated Southerner with moxie to burn and a highly sensitive bullshit meter. During her Red Hook years, stories of her volatile run-ins with customers, journalists and liquor reps were legion and legendary. But she was equally famous for her knowledge of spirits and wine, and her tireless dedication to quality and esoteric products. Bartenders made regular trips to Red Hook the way chefs hit the Union Square farmers' market at dawn. "Like a lot of New York bartenders, my eyes opened to a lot of different spirits when I visited her store," says Abigail Gullo, today the head bartender at Compère Lapin in New Orleans; she tended bar in New York for a time, including a stint at Fort Defiance in Red Hook.
LeNell made regular trips to Kentucky, where she bought barrels of rye whiskey and bottled it at barrel proof under her own name, at a time when no one was sourcing private barrels, no one drank barrel-proof whiskey and no one cared much about rye. Called Red Hook Rye, the liquid is now as fabled and rare as unicorns. But, if you couldn't afford the rye—it was pricey even then—there were many other unfamiliar liquids she could turn you on to. "She's the first person I ever saw, in the same way an independent bookseller hand-sells you a book, she hand-sold you a bottle that she carried," recalls Edge.
LeNell moved to New York to meet up with a long-distance beau (it didn't work out; she stayed anyway), as well as to escape the South, and she's as surprised as anyone that she's landed back in Alabama, where she grew up. "When I left to move to New York, I said I would never move back here," she says. "Birmingham carried a lot of heavy energy. But when I came back in 2011 to check out the market here, there was a whole different feel to the city. It seemed like the city was ready to heal and move forward. I think a lot of folks like me had moved away and come back, or a lot of people had moved in and brought a new energy."
Her journey back to Alabama began with the closing of her Red Hook store in 2009, after her landlord refused to renew her lease. A search for an affordable new space proved fruitless. In typically dramatic fashion, she left not only the city but the country. With Demián Camacho Santa Ana, she opened Casa Cóctel, a cocktail-oriented bed-and-breakfast, in La Paz, near the tip of Mexico's Baja California Sur peninsula. The two later married and had a child together.
But she never lost hope that her little liquor store might be reborn. In 2011, she started thinking of opening a place in Birmingham, the city where she had earned her undergraduate and master's degrees and had lived for a decade. But this time she was determined to own whatever property the shop might call home. "I think she was really traumatized by the experience with her landlord and her lack of control," Gullo says.
Though she bought the property for cash, raising funds for the build-out and working capital took longer than expected. "I couldn't get a business loan; you had to have a business for so long," she says. "Living in Mexico for two years, my credit got shot. I got pregnant, had a baby and went through a divorce. There was a lot of slowdown."
Seven years after first scoping out Birmingham, however, LeNell owns not only her store but an actual mansion. The store itself is a modernist black box with a big show window out front; it looks a bit like an auto body shop. Lending the store a surreal aura is its neighbor, a weathered, gothic 1905 structure everyone in the area calls the Copeland Mansion. LeNell owns that, too, and plans to renovate it and open it as the Copeland Café & Bar.
Opening day for the new store was June 9. She enjoyed Christmas-level sales all day, and business remained brisk the following day. For LeNell, it felt like picking up where she'd left off in Red Hook. "Birmingham was so ready for this," she says.
Still, there've been challenges. Alabama is a control state, and the authorities don't make it easy for her to carry the brands she wants. She has to go to a state warehouse to pick up her spirits, but bottle battle by bottle battle, her stock has grown. Just as in Brooklyn, she sells items you're not going to find anywhere else in the city, such as the Rainbow Cuvee from Sonoma vintner Iron Horse and absinthes from Jade Liqueurs. Red Hook Rye will not return, but the LeNell tradition of private bottlings will. She's working with an Alabama distiller that impressed her. She won't say what her first new label will be, except that it won't be a rye or a bourbon. "I'm going to continue to be cheeky and do whatever I want to do, not what people expect me to do," she says.
Aiming to bring awareness to the underrepresented, she's ever on the lookout for spirits and wines made by women and people of color. As a single mother sympathetic to the plight of busy parents, she installed a changing table and child's toilet in the store bathroom. "I got questioned on that," she says. " 'A changing table in a liquor store?' Yeah! Mamas and dads shop here!" She's also reignited the LeNell tradition of stirring up dust. In July, she planned to host a master class on cachaça with a prominent brand. On her Facebook page, she promised the class would cover the subject warts and all, including the role slavery played in the early production of sugarcane distillates. When one of the brand's owners gave the page a sanitizing edit without LeNell's permission, she cancelled the event, pulled the brand from her shelves and posted a video of herself pouring the juice down the sink, saying, "We'll find a better cachaça."
"Perhaps you saw that video," she says a month later, knowing full well that everyone had seen the video. "Back to hell-raising as always."