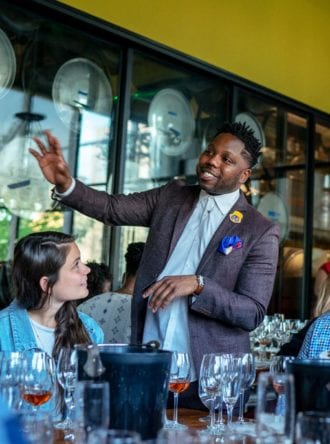 "For a long time, magnums of wine have been frowned upon by wine drinkers. My speculation is that's because a lot of cheaply made bulk wine has historically come in the magnum or larger format," says sommelier Derrick C. Westbrook, who is also the owner of 1340 Beer, Wine & Spirits in Chicago. This is changing, though, as winemakers have started to embrace the larger format, filling bigger bottles with quality wines. "What I love about large-format bottles, especially magnums and double magnums, is that they're perfect for the holidays," says Westbrook. "They make great gifts, easily stuffing even the largest stockings, and you'll be a great dinner guest by bringing the one wine that everyone can undoubtedly share!"
Here, Westbrook offers some large-format bottle recs and also suggests investing in a good vacuum pump, just in case there's any wine left over by the end of the party.
Antech | "Cuvée Eugenie" Cremant de Limoux 2016
"I love fun wines that are inexpensive," says Westbrook of this bottling from Antech winery in Languedoc, France. This wine is made in méthode champenoise style with a blend of 50% Chardonnay, 40% Chenin Blanc and 10% Mauzac grapes. "It's a great value and has a bright liveliness that implores you to drink as much as possible." $29.99, klwines.com
Willi Schaefer | Graacher Domprobst Riesling Spätlese #5 2009
Mosel is one of the most renowned wine regions in Germany, and Willi Schaefer has been making respected wines there since taking over as winemaker in 1971. "Often people say they don't like sweetness or rieslings, but this wine has a touch of sweetness with good acidity and complexity," says Westbrook. "Older vintages of riesling typically over-deliver for the price, and this wine is a great example." $99.99 klwines.com
Fèlsina | "Fontalloro" Toscana 2016
For fans of big, bold Tuscan reds, Westbrook recommends this Sangiovese from Fèlsina, an Italian winery known for their traditional Chianti bottlings. "This wine has a good amount of weight and tannin with some acidity," he says. Look for notes of leather and smoke, weaving together with ripe red fruits. $134, klwines.com
Château Labégorce | Margaux 2018  
From the heart of Bordeaux in the Margaux appellation, comes this full-bodied blend of Cabernet Sauvignon, Merlot, Cabernet Franc and Petit Verdot. "It's from one of my favorite wine regions, but the best part of this wine is that it's in a three-liter bottle," Westbrook says. "This is the perfect wine to splurge on during the holiday season, plus it's a sure-fire way to make new friends quickly!" $139.99, klwines.com
---
Did you enjoy this article? Get more of the best of liquid culture when you sign up for a print or digital subscription to Imbibe Magazine. Click here for special savings!