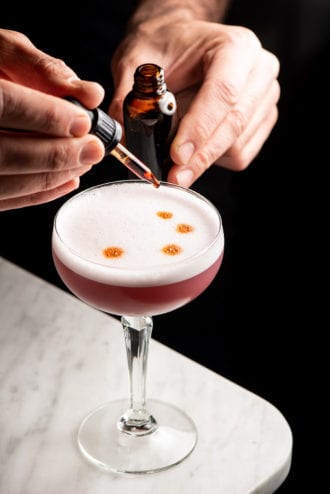 In this homage to Italy, Vincenzo Marianella merges two of the country's most beloved beverages: grappa and Lambrusco.
2 oz. grappa
1 oz. Lambrusco syrup
¾ oz. fresh lemon juice
¾ oz. fresh egg white (pasteurized, if you like)
Tools: shaker, strainer
Glass: cocktail
Garnish: Angostura bitter drops
Shake all the ingredients together with ice in a shaker tin. Strain into a cocktail glass and garnish.
Lambrusco Syrup: Combine 1 cup of granulated sugar and 1 cup of Lambrusco wine. Shake to combine. Store in the refrigerator when not in use.
Vincenzo Marianella, Rossoblu, Los Angeles
---
Did you enjoy this recipe? Sign up for our newsletter and get our favorite drink recipes of the moment in your inbox every month.