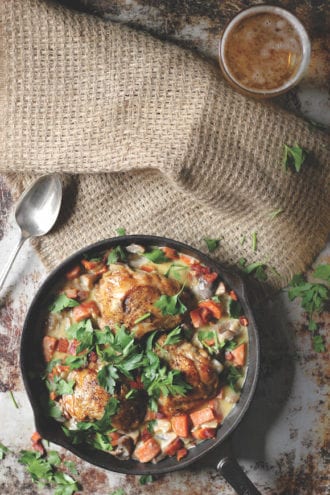 Proving that beer makes everything taste better, these lager-simmered chicken thighs from Kristy Gardner's book Cooking with Cocktails make for an hearty winter meal.
3 slices thick-cut bacon, chopped into quarter-inch pieces
4 chicken thighs, bone in and skin on
1 medium onion, chopped
2 large carrots, halved lengthwise and chopped into half-inch pieces
2 garlic cloves, thinly sliced
8 oz. button mushrooms, cleaned and quartered
2 cups lager beer
½ tsp. grated nutmeg
⅔ cup heavy cream
2 Tbsp. roughly chopped fresh parsley
Coarse sea salt and freshly ground black pepper
Heat a large frying pan over medium-heat. Add the chopped bacon and cook until crispy, 12 to 15 minutes. Remove from the pan with a slotted spoon and set aside. Season the chicken amply with salt and pepper. Arrange, skin side down, in the pan of bacon fat and cook until browned and crispy. Flip to brown the bottom and then remove from the pan and set aside with the bacon. Discard all but 4 tablespoons of the fat. Add the onion and carrots to the pan and sauté until soft. Add the garlic, stirring for about a minute, and then the mushrooms. Stir and continue to cook until the mushrooms begin to brown just slightly.
Raise the heat to high and pour in the beer. Sprinkle with the nutmeg. When the mixture comes to a medium boil, put all the chicken (skin side up, to keep it crispy) and about three-quarters of the bacon back into the pan, reserving the rest of the bacon to finish the dish. Lower the heat to medium-low. Simmer, uncovered, until the chicken is cooked through and the sauce has reduced, about 45 minutes.
Remove the chicken from the pan. Add the cream, stirring constantly until warm, and boil until the sauce is somewhat thickened. Return the chicken to the sauce. Taste and adjust the seasoning, if necessary. Add the parsley, sprinkle with the reserved bacon, and serve.
Reprinted with permission from Cooking with Cocktails by Kristy Gardner. Copyright 2017, Countryman Press.