No. 35: January/February 2012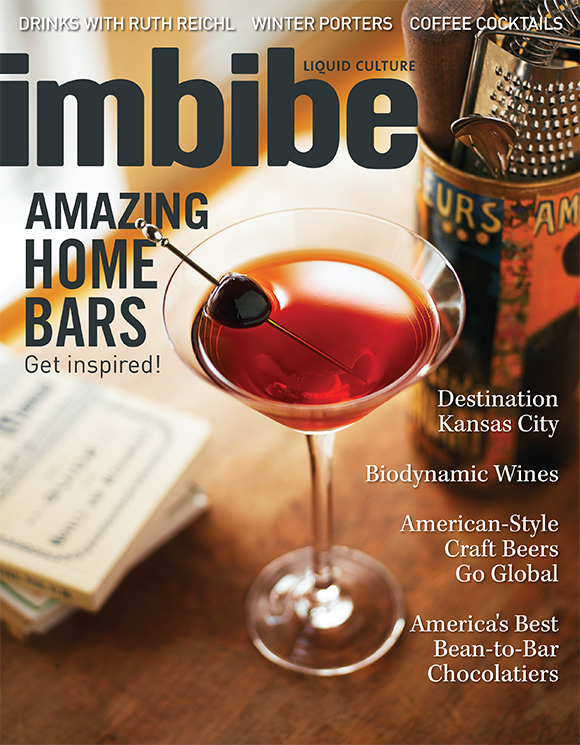 Recipes

Cocktails

Doctor Cocktail, Joe Redding's Julep, Dark Horse, Johnny Hammersticks, Occam's Razor, Girl From Cadiz, Bitter Old Coot, Marauder of 15th Street, Homemade Vermouth

Cravings

Chocolate Mousse Jar Pie

How-to

Homemade Vermouth
Features

Where Everybody Knows Your Name

There's no place like these seven inspiring home bars.

Kansas City Here We Come

An ever-evolving drinks culture awaits in the Paris of the Plains. Read More »

The Birds and the Bees

In biodynamics, the moon, the stars and a flock of sheep have everything to do with your glass of wine.

As American as IPA

With brews as bold as their business plans, U.S. brewers are inspiring a new breed of international beer makers. Read More »

Heart of Darkness

Bean-to-bar chocolate makers are putting the craft back in cocoa.
Departments

Uncorked

A Swedish punsch, where to go for steamy hot toddies, and Ruth Reichl on memorable meals and the perfect Martini.

Old Fashioned Read More »

Taste-Test

Bowing to barrel-aged porters.

Gear

Stir like a pro with our favorite barspoons.

Elements

Wake up and smell the coffee cocktails. Read More »

Characters

Phil Farrell wears his eccentricity—and his rubber chickens—on his belt, but his love for beer is no joke.

Mix It Up

Easy homemade vermouth makes a splash in cocktail and wine glasses.

Scene Scout

Philadelphia's bean scene is on a roll with Rival Bros Coffee.

Cravings

A chocolate mousse pie gets dosed with coffee and rum.

Quench

Plying the uneasy earth with an offering of wine in a post-earthquake Chile.
Bonus Articles

Get tips for picking a great biodynamic wine. Read More »

Learn about the journey of cacao from bean to bar. Read More »

See the delicious results of collaborations between boutique chocolate makers and coffee roasters. Read More »

Check out a few more amazing home bars. Read More »