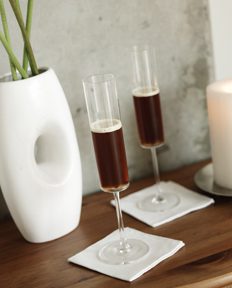 This drink has a deliciously nutty chocolate stout flavor—particularly when it's made with a sweet, caramelly coffee from El Salvador. It looks the part too, pouring a pretty medium-brown color with a nice tan head.
2 oz. chilled coffee (hot- or cold-brewed)
1/4 oz. Bénédictine
1/4 oz. maraschino liqueur
Tools: shaker, strainer
Glass: flute
Shake ingredients with ice and strain into a chilled flute.