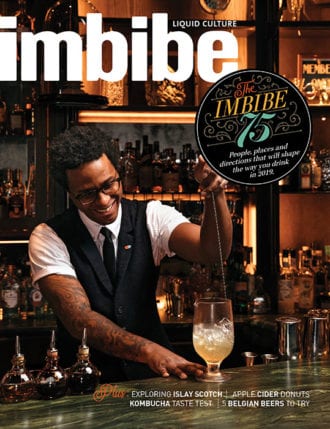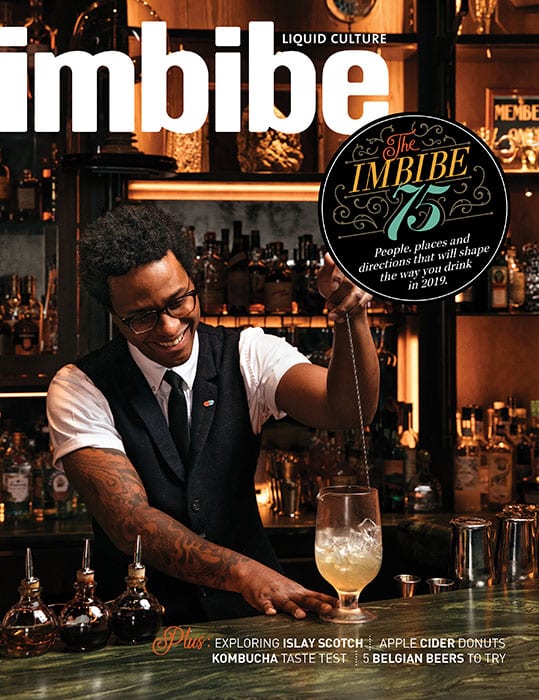 Show of hands—whose favorite month is January? Yeah, that's what I thought. After December's nonstop celebrations, January can feel like a downer as winter's realities sink in. But that's where we've got your back. There's a grand new year ahead of us, ripe for exploration, and our annual Imbibe 75 issue has everything you'll need to start 2019 right.
Since our first issue in 2006, Imbibe's signature has been "Liquid Culture," and this year's Imbibe 75 doubles down on the cultural equation. Love coffee? So do Sean and Paul Henry, the brothers behind Houndstooth Coffee and our Coffee People of the Year. Read about how they're changing Texas coffee culture, and make it a point to visit one of their cafés the next time you're in Austin or Dallas. Or, if you're headed to New York City, stop by Smith Canteen in Brooklyn, our Coffee Bar of the Year, to see how owner Kerry Diamond is aiming to substantially reduce the café's environmental footprint.
In New York, you'll also want to check out Harlem Hops, our Beer Bar of the Year, which is bringing excellent beer, culture and education to the community surrounding its Harlem home. Boston is another city to put on your must-visit list this year—that's where you'll find Nathálie, our Wine Bar of the Year, which specializes in small-operation, natural and female-produced wines. Meanwhile, in Baltimore, our Beer Person of the Year, Hollie Stephenson, is making the venerable Guinness brand feel right at home in its new U.S. digs. And have you ever tried to find a good cocktail at the mall? Search no more, because our Cocktail Bar of the Year, Raised by Wolves, brings a big slice of cocktail culture right to San Diego's Westfield UTC shopping center.
In New Orleans, Ashtin Berry, our Bartender of the Year, is launching a new pop-up project and bringing conversations about race, gender and intersectionality into the bar community. The challenges faced by female winemakers prompted Amy Bess Cook to found WOW Sonoma (for Women Owned Wineries) in 2017, earning her our pick as Wine Person of the Year. And Caroline Rosen, one of our People to Watch, is not only helping to turn around the scandal-rocked Tales of the Cocktail and put more of a focus on the organization's charitable endeavors, but also bringing the festival to a spring event in hurricane-devastated Puerto Rico, one of our Destinations for 2019.
Whether it's discovering a new style of beer, an intriguing cocktail, coffee or wine, or a deeper insight into drinks culture, our picks for this year's Imbibe 75 will provide plenty of avenues for exploration. Head to our Imbibe 75 online HQ for plenty of extra stories and recipes, and be sure to pick up a print issue to see the complete list of people, places, trends and destinations. Here's to an inspiring 2019.