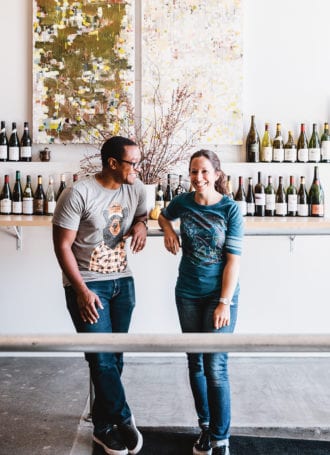 "We don't subscribe to trends," says master sommelier Rebecca Fineman about her philosophy at Ungrafted, the wine shop and restaurant in San Francisco's Dogpatch district that she opened with her husband, Chris Gaither, in late 2018. And to an extent that's true. Her list may not come with the flashy bells and whistles of a themed wine list; unlike some of its Bay Area counterparts, it's not dogmatically all natural, all classic, or made up of all one region. In fact, it's refreshingly balanced. "You can get a Picpoul from Napa—and a Cabernet, too," Fineman says. And she didn't want to leave out favorites by getting too rigid on the selection criteria. "We try to reward the category that covers the most territory, not the more rigid one simply because it's a hot topic," she says.
Fineman and Gaither met while waiting for results from a sommelier certification test, and between them, they have years of experience on the floor in both casual and fine-dining restaurants, such as Gary Danko, Spruce, and The French Laundry. At Ungrafted, they wanted to find a way to merge the two: high-quality food and service, but no fussy white tablecloths. With high ceilings, exposed ductwork, and hanging pendant lights, the spare-yet-warm space gives off a vibe of hanging out at a friendly loft party—albeit a party where the hosts really know their wine.
The front-of-house staff is composed entirely of experienced sommeliers, which means no one is caught flat-footed on a wine question. While the food menu—primarily New American, with references to ingredients from around the globe—may seem eclectic, count on it all to go well with wine, and the sommeliers are well- equipped to handle recommendations. The emphasis on personalized sommelier attention even extends to the wine club: Fineman hand picks the monthly selections, tailoring her suggestions for each customer. "We wanted to bring back the spirit of hospitality that we both feel is fading away," she says.
---
Did you enjoy this article? Get more of the best of liquid culture when you sign up for a print or digital subscription to Imbibe Magazine. Click here for special savings!