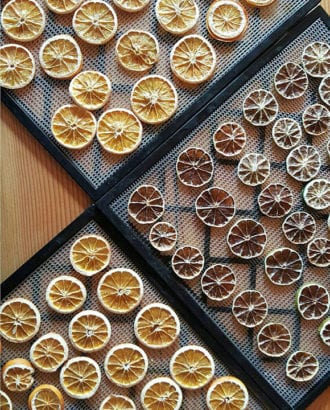 We've all been there at some point: a recipe—say, and Old Fashioned or Martini—calls for a citrus peel garnish, so you slice up a few spirals and the remaining fruit goes unused. Or maybe a drink requires  a ½ oz. of juice, and the leftover lime sits in the fridge, drying out by the day. It's also a common scenario in bars. "Most bartenders will cut lemon and lime wedges and those are really only good for a day or two before they start to oxidize, change color and become disgusting and slimy," says Rob Hamic, bar director at Perennial.
At the San Francisco bar, the goal is to create as little waste as possible. For citrus, they turn leftover fruit and into shrubs, marmalades or salt-cured wedges. They also dehydrate citrus wheels for future garnish needs—a practice that can be easily replicated at home. "We're really into learning about preservation methods in order to extend the life our ingredients," says Hamic. "Instead of cutting a bunch of wedges that we'd have to throw away in a couple days, we dehydrate the garnishes so they last for months."
Hamic uses a professional dehydrating machine at the bar, but he says all you need to do this at home is a working oven. "Dehydrating is really easy—it's something you just start and walk away," he says. To begin, turn on your oven as low as possible (this will be 200 degrees F for most ovens). Cut your citrus into thin wheels, and place the wheels on parchment paper on a baking sheet. Hamic estimates the process will take about a day, but it's wise to check in every few hours to make sure the wheels don't over-dry. "If you're doing it in the oven at home, don't open the oven door too often, for the same reason as if you're making cake or bread. Leave it alone and let it do what it does," he says. "You can tell when they're done because they will be dry and won't feel tacky anymore."
Hamic says dehydrated wheels can be stored in a glass jar and left at room temperature and will keep for about a month. They can also be rehydrated when needed. "If someone wants to have hot water with lemon, or a wedge with their drink, by cooking these low and slow you can put one of those into a drink, and in a few minutes it rehydrates and infuses that drink with flavor." 
---
Like what you see? Get more of the best of liquid culture when you sign up for our bi-monthly magazine. Subscribe now and save up to 59%—it's just $21.95 for one year or $32.95 for two years. Click here for details.