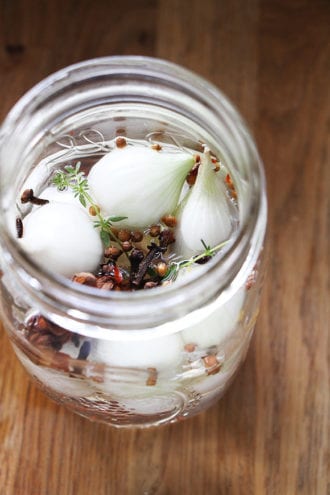 "The perfect pickled onion should be a balance of briny and sweet," says The NoMad Hotel bar director Leo Robitschek. "It should be fully pickled while still retaining a slight crunch." To achieve this,Robitschek creates a pickling liquid that preserves and elevates the flavors of the onion and adds some extra spice, which he says brings out the umami notes and brininess. Make a batch for your next round of Gibsons.
1⅛ cup water
¾ cup white balsamic vinegar
1 Tbsp. + 1 tsp. kosher salt
1¾ Tbsp. white sugar
1¾ tsp. brown sugar
4 garlic cloves, smashed
⅓ cup black peppercorns
1 small piece of canela
⅛ tsp. red chili flakes
¼ tsp. fresh thyme
1 fresh bay leaf
⅔ tsp. juniper berries
⅓ tsp. cloves
1 star anise pod
1 pinch coriander
Small pinch fennel seed
2 cups peeled pearl onions
Combine all the ingredients except the onions in a pan. Bring to a simmer, then remove from heat and allow the liquid to reach room temperature. Once cooled, pour the liquid over the onions in a large jar and cover for 2 weeks.
Leo Robitschek, The NoMad, New York City