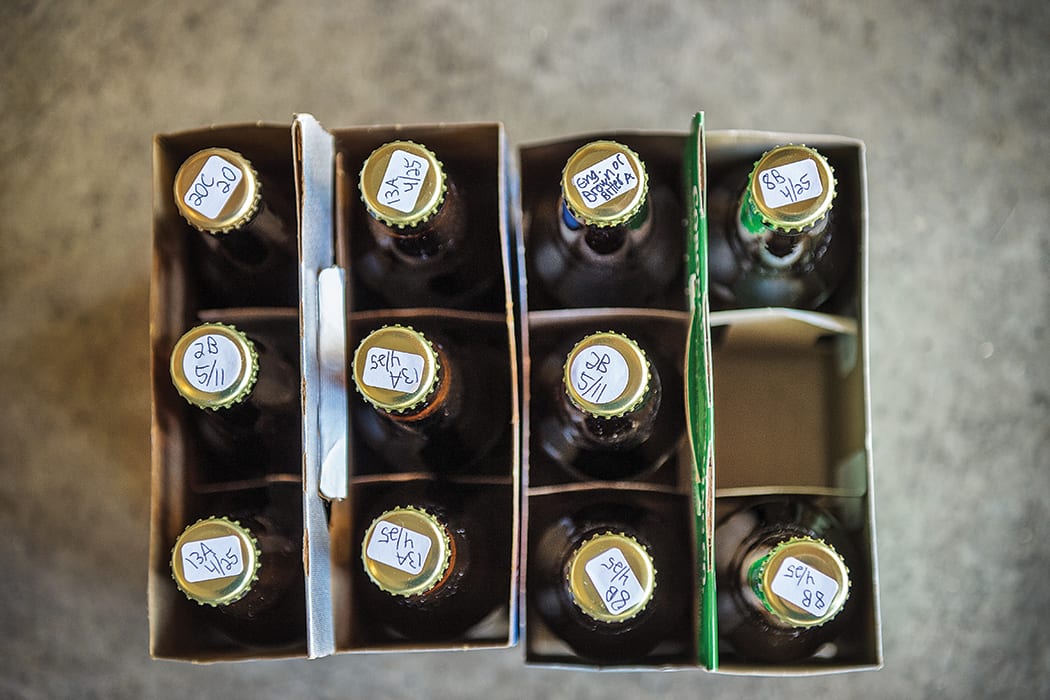 "Much of modern brewing's rainbow swirl of scent and taste can be traced to homebrewers' experimentalism," says Imbibe contributing editor Joshua M. Bernstein in his recent look at what keeps homebrewers ticking in today's saturated craft beer market (pick up a copy of March/April for the full feature). Indeed, as America's commercial brewery tally has topped 6,000, homebrewers are the ones continuing to push the envelope as they put years of experience towards opening full-scale operations. Bernstein features many of these start-ups in his new book, Homebrew World, so we asked him to pick a handful of brewers he thinks are primed to make waves with their recently opened (or soon-to-open) endeavors. "These brewers didn't wait until they went professional to make a huge impact on the brewing scene," he says. "They've been breaking new ground in their basements, kitchens and backyards for years."
Crane Brewing 
"Most folks start brewing because, well, they like drinking beer—and lots of it. Despite a low tolerance for the stuff, Michael Crane dove headlong into the craft, more in pursuit of perfection than a homebrewed buzz," says Bernstein of this award-winning homebrewer from Kansas. More interested in the mechanics, process and communal aspects of making beer over drinking it, Crane joined forces with a crew of experienced homebrewers to open Crane Brewing in Raytown, Missouri in late 2015. "You don't open a brewery to make money. You do it to share what you love. You do it to see the happiness and enjoyment in others," says co-founder and vice president Chris Meyers. "Michael wasn't a big beer drinker, so it was this attitude of brewing a lot of beer only to share it with people that impressed us, and we thought it was the epitome of what a brewer should be."
Brewery Silvaticus
Mark Zappasodi (who was also featured in the 2018 Imbibe 75 issue) left the hustle of New York City for rural Massachusetts to pursue his dream of turning homebrewing into a full-time job. Together with partner Jay Bullen, he opened Brewery Silvaticus in nearby Amesbury in late 2017. "They're using the estate-grown hops in rustic farmhouse ales like the Tamarack Saison, while farm-plucked spruce tips season lagers," Bernstein says. "The brewery, currently the only one in Amesbury, has quickly become a local hub, the taproom free of TVs and filled with locals clinking fresh lagers by the half-liter."
Fifth Hammer Brewing 
Queens is home to the pet project of Chris Cuzme and Mary Izett, whom Bernstein calls "the ideal brewing couple." After moving to New York to pursue a career in music but eventually landing behind a desk at Merrill Lynch, homebrewing quickly became Cuzme's creative outlet. When he met Izett, a pharmaceutical sales rep and president of the Malted Barley Appreciation Society and New York City Homebrewers Guild, a slow romance blossomed over their mutual hobby. Fifth Hammer opened in 2017, and the couple has since been building a reputation for "Cuzett Libations," an array of fermentables from cider and mead to tart sour beers. "Cuzme is not afraid to waltz into flavorful new frontiers wherever they may be found, filling his luggage with electrifying Sichuan peppercorns on trips to Hong Kong and buying Polish tea at a Brooklyn shop, the ingredients earmarked for his always fascinating ferments," Bernstein says.
North Park Beer Co. 
Long-time homebrewer Kelsey McNair has always wanted to open a brewery, but winning Stone Brewing's annual homebrew competition in 2010 provided the impetus to draft a business plan. Fast-forward to the summer of 2016 when the doors opened to North Park Beer Co. The brewery and taproom is known for award-winning beers like Hop-Fu!, their flagship West Coast-style IPA that's bursting with tropical fruit and citrus flavors. "From obsessively treating his water to trailblazing with hopping techniques that deliver high aroma and low flavor, McNair has been a step ahead of most brewers even when he was cranking out beer at home," Bernstein says.
Sapwood Cellars 
In Columbia, Maryland, friends Scott Janish and friend Michael Tonsmeire plan to open Sapwood Cellars sometime later this year. Janish brings a scientific and academic approach to the table (read his musings over at ScottJanish.com), and Tonsmeire is known for his own writing at The Mad Fermentationist blog (he's also the Advanced Brewing columnist for Brew Your Own Magazine and has written a book on American sour beers). "Few folks are as well versed in sour and wild beers as Tonsmeire, who has proven all he can on the amateur level. I'm psyched to be able to sip his beers for real, instead of simply reading about them," says Bernstein. "Combined with Scott Janish's genius hand at IPAs, Sapwood has the potential to be brewing's ultimate one-two punch." Expect a wide range of beers made with a focus on mixed-fermentation, barrel-aging and, of course, plenty of hoppy brews.
---
Like what you see? Get more of the best of liquid culture when you sign up for our bi-monthly magazine. Subscribe now and save up to 59%—it's just $21.95 for one year or $32.95 for two years. Click here for details.