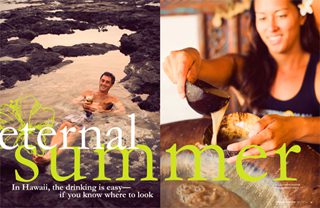 In 1948, a tanned man with a pencil-thin moustache stepped onto the white sands of Waikiki Beach.
Born some 40 years previously as Ernest Raymond Beaumont-Gantt, he'd long since changed his name to Donn (sometimes spelled "Don") Beach, the name under which he'd built his successful chain of Don the Beachcomber bars selling tropical-themed drinks like Navy Grog, the Zombie and that most famous tiki drink of all, the Mai Tai. He'd lost those bars in a divorce settlement that forbade him from starting any new Don the Beachcombers in the U.S., so here he stood on the sands of Hawaii—still a decade away from statehood—ready to bring his ersatz vision of island culture to the islands themselves.
Six decades later, the sands of Waikiki are as beautiful as ever, but the tiki craze that Beach helped spark on the islands has all but burned out, replaced by bars churning out Technicolor, syrupy-sweet, prefab cocktails to tourists who regularly come and go. But in a state so abundantly rich with natural resources—fresh fruit, thriving agriculture, coffee and sugar—it's hard to believe a good drink would be hard to come by. So where's the real Hawaiian drinks culture? It's there; you just need to know where to look.
Paper Umbrellas
Talking with professional bartenders, it becomes clear that Hawaii faces some challenges in getting its cocktail scene up to speed. For starters, because of the high-volume tourist settings, bartenders have traditionally favored efficiency over quality on the islands, and it's hard to break that habit. "A lot of old-school Hawaiian bartenders who've been pouring the same old drinks the same way for decades don't necessarily understand that throwing off a pour by even one-eighth of an ounce can mess with the volatility of a cocktail," says cocktail consultant Ryan Magarian, who is based in Portland, Oregon, but was recently called upon to step up the cocktail program at the Fairmont Kea Lani on Maui.
Another challenge comes from customers. "People are still thinking blended instead of well-balanced when they order cocktails, and there's less scrutiny when you're in a vacation state of mind," he says. Plus, how many tourists will be able to discern the difference between fresh and frozen passion fruit juice?
Even so, Magarian is upbeat about Hawaii's potential as a cocktail destination, likening the scene to that of Los Angeles three years ago. "All it takes is one bartender to think, 'Holy crap, this is awesome!'—to open a really smoking cocktail bar chock full of deliciousness," he says.
That hasn't quite happened yet, though there are a few spots that, if not smoking, are pretty darn good. A perfect place to begin exploring is where Donn Beach got his start: Waikiki Beach, a wide, two-mile swath of white sand packed with sandcastles, sun worshippers and high-rise hotels. Surprisingly, many of the more carefully constructed cocktails come from major hotel bars, like the Japanese-owned Halekulani, where tourists enjoy fruit-laden cocktails and live hula dancing each sunset at the casual House Without a Key (the setting and namesake of a 1925 Charlie Chan mystery). The real cocktail find, however, is hidden inside the hotel; its Lewers Lounge is a quiet, grown-up jazz bar serving classic Manhattans as well as modern inventions like the Ginger-Lychee Caipirissima, plus all the tropical standards.
Like other hotel bars on Hawaii, Lewers has upped its game by bringing in a cocktail consultant to transform the bar's drink menu. In 2005, the Halekulani hired bartending legend Dale DeGroff to revamp the place, tossing out bottled sour mix for fresh citrus and adding some classic cocktails onto what had been a purely tropical list. He also began hosting classes, luring locals in to discover the joys of quality cocktails. "With the locals came bartenders," he says. "They took [the lessons] back to their own bars. It had an impact on the community that was pretty profound. Now they're developing a really interesting cocktail culture."
Of course, the original cocktail bar of Hawaii—Don the Beachcomber—no longer exists, but in 2006, a restaurant of the same name opened at the Royal Kona Resort on the Big Island. "Growing up, there were two people I wanted to be: Jimmy Buffet and Donn Beach," says director of food and beverage Jeff Isbister, who first visited Hawaii in the early 1960s as a kid and fell in love with "the lifestyle, the sun, the people, the beach and the waves." And today, Royal Kona's "Don's Original" Mai Tai would certainly make Beach proud.
But for the full Mai Tai experience, head back to Honolulu to a place named after the classic tiki drink: the Mai Tai Bar at the Royal Hawaiian, an exuberantly pink and rococo hotel dating back to the 1920s, when Hawaii was the playground of wealthy Prohibition-fleeing Americans. Here, at the open-air beachside bar, Joey Gottesman presides over a menu that includes four versions of the cocktail, as well as a flotilla of original recipes that rely heavily on fresh fruits and herbs. He and his staff craft more than 900 Mai Tais a day, à la minute, always with fresh-squeezed juices and garnished with the traditional paper umbrella. Along with Isbister, Gottesman is one of the staunchest proponents of quality cocktails on Hawaii; he's also become something of a Mai Tai expert and will even make interested patrons versions of recipes from both Donn Beach and Trader Vic's Victor Bergeron, for comparison's sake. "Traditionally the Mai Tai is a punch in the mouth," he quips. "It takes five minutes to drink and another two hours to get the smile off of your face."
Island Spirits
Another Gottesman specialty is the herbaceous Chi Cocktail, combining local pineapple, basil, coconut milk and Ocean Vodka. The Maui-made vodka is crafted from organic sugar cane and desalinated Hawaiian deep seawater. "On its own, it has a brackish-like finish, but when mixed in cocktails, it opens up the flavor in fruit," Gottesman says. (Ocean isn't the only Hawaiian-made vodka: Pau Maui Vodka is made from Maui Gold pineapple juice. Since bottles go for about $100 each, though, it doesn't wind up in a lot of cocktails.)
Hawaii is currently undergoing a small renaissance of new spirits producers, but the history of Hawaiian distilling stretches back to the 1790s. According to Jeff "Beach Bum" Berry's tiki primer, Sippin' Safari, that's when Australian fugitive William Stevenson showed Hawaiian natives how to ferment the roots of the local ti plant (a broad-leafed evergreen that's also been used to create everything from hula skirts to surfboard polish) with sugarcane and rice into a sweet, fiery spirit called okolehao ("iron bottom") after the iron blubber-boiling pots taken from whaling ships that were used to cook the first batches of the stuff. "Oke," as it's nicknamed, became a popular beverage for visiting sailors and locals, and during Prohibition, oke distillers kept the islands pleasantly wet. When alcohol became legal again, however, law enforcement cracked down on local moonshiners, and today okolehao has virtually vanished. (That may change, as a local businessman has been working to create a commercially available oke, though it has yet to make it to the market.)
Greg Schredder pursued a different part of Hawaii's past glory to create his own local spirit—namely, its sugar farms. Sugar has been grown in Hawaii since the 1800s (and grew wild long before then), and during the industry's heyday in the 1930s, it employed one out of every five working Hawaiians. But today, high labor and shipping costs have made sugar cane dwindle to less than 1 percent of the state's gross domestic product. And until now, it hasn't been used to create much commercially available rum. "It is sacrilegious to have so many Hawaiian drinks using Caribbean and Puerto Rican rums, and we plan to put an end to that," says Schredder, who spent eight years navigating the red tape required to start Koloa Rum on his longtime home island of Kauai.
The reason rum never took off in such a sugar-rich setting has to do with a different kind of sacrilege. "The missionaries did not want the natives drinking; they wanted them in church and to be saved," explains Schredder, a tanned, relaxed guy in his 60s who spends much of his time off surfing the waves of Kauai. "The missionaries and their families were the law as well, and they taxed rum so high that it was impossible to compete internationally, so a rum industry never took root."
Schredder is out to change that, sourcing all his sugar from locally grown cane. Koloa Rum Co. recently opened its tasting room and gallery at Kilohana Plantation, the residence of a former sugar baron. The site features a tasting room with a hand-carved Balinese bar and a custom, handcrafted still forged by Colonel Vaughn Wilson, an Arkansas craftsman who made Boss Hogg's still in the 2005 Dukes of Hazzard movie. The rums—available in light, dark, gold and spiced varieties—are smooth and nuanced, with hints of vanilla and a subtle earthiness. They're made to sip solo, though they can work well in cocktails. For now, bottles (all priced under $30) are available only at the tasting room. Orders just started shipping in September to Kauai bars, hotels and restaurants (including Duke's Kauai, the Hanalei Dolphin, and Scotty's in Kapaa).
Coming 'Round the Mountain
To most outsiders, Hawaii's defining beverage is coffee—particularly Kona coffee, named for the mountain on the Big Island where it's grown. Home to about 750 coffee farms as well as the annual Kona Coffee Cultural Festival, Kona is certainly still the star of Hawaii's coffee scene, but in fact, the state's largest coffee operation is not on the Big Island; it's on Kauai.
Kauai Coffee Company's 3,000-acre estate produces an annual average of more than 20 million pounds of cherries using hydroelectric power from its own dam located high in the foothills above the estate. Kauai Coffee also operates a second hydro on the north shore of Kauai in Wainiha Valley, making the massive operation not only self-sufficient, but able to provide up to 6 percent of the entire island's electricity through a renewable energy source. The sprawling estate is open daily and is a good place to get a basic intro to Hawaiian coffee, complete with videos, a scenic walking tour through coffee trees and a tasting room.
Back on Kona, most coffee farms are much smaller endeavors. "A lot of them can hardly be called farms at all—they're backyard lots," says Miguel Meza, roaster at Kona's Hula Daddy Coffee. "We also have a lot of hobby farmers. And then there are a few larger farms, like us—that's maybe 50 to 75 or so farms with, say, 15 to 100 acres each."
Meza moved to Hawaii in 2008 after making his reputation at Minnesota's Paradise Roasters, which he founded with his parents. Besides his day job at Hula Daddy, he also maintains a few experimental projects with partner growers, mostly in Ka'u, an emerging coffee region on the mountain's east side (the official Kona region is on the sunnier, seaward western slope). Slim, dark-haired and forever clad in his trademark fedora, the 27-year-old Meza has been characterized as everything from wunderkind to enfant terrible. Either way, he's doing his best to shake up a coffee culture he views as dangerously complacent. "There's kind of this mystique that somehow this region magically makes the best coffee in the world," he says. "There's this belief that Kona is inherently good, that you don't have to do anything to make it good. … But out in the world, Kona's seen as overpriced and overhyped, a joke. It doesn't have to be a joke. There really is the potential to produce great coffee here."
It might be easy to discount Meza's criticism as the brash talk of a newly arrived outsider, but he has the track record to back up his words—in 2008, Hula Daddy's "Kona Sweet" became one of just four coffees to ever receive 97 points from the influential Coffee Review. Ken Davids, the review's founder, has called Meza a "visionary"; the coffee itself he described as "extraordinarily complex, lush yet pure, cleanly and delicately wine-like."
Producers like Hula Daddy may be just what Hawaii needs to re-energize a coffee scene that has been increasingly surpassed in quality by other coffee origins around the world. And, after all, the region is magical—lush and gorgeous, with near-perfect growing conditions for coffee. "We get morning sun, afternoon clouds, a lot of rain, and we've got good drainage in our soil," points out Gary Strawn, who started his 13-acre Kona Earth farm about five years ago after  visiting his mother in Hawaii while reconsidering his life as a computer programmer in Los Angeles.
Strawn, 41, has been active in the Kona Coffee Council, a local group focused on protecting Kona's good name and training farmers how to produce better beans. It's an ongoing process because many of the casual hobby farmers give up and sell their farms after a few years. "They realize it's a lot of work," says Strawn, who puts in about 50 to 60 hours a week on his own farm. Strawn sells most of his coffee online, getting orders through word of mouth. It's a far cry from his old career on the mainland, but he says he loves the work, which involves everything from tractor repair to teaching visitors about the virtues of his small-scale, organic farming practices. "I'll get tourists who say, 'I had Kona coffee and it wasn't any good,' " he says.  "Then I'll serve them my own beans, fresh from the roaster, and they get it."
As always, the trick with Hawaii is that quality is there; it just may not be where you expect.