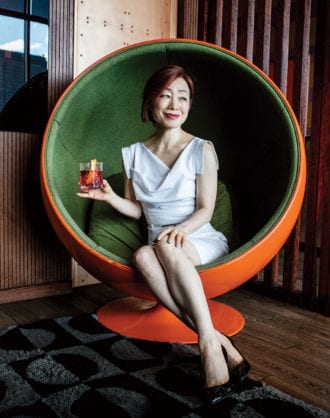 When Sean Muldoon and Jack McGarry were preparing to open Dead Rabbit, their ambitious Manhattan cocktail bar, in 2011, they interviewed several publicists. As two Irishmen attempting an homage to the drinking dens of 19th-century New York, they knew they'd need a savvy agent to communicate their vision to the press. Among the candidates was Hanna Lee, a Korea-born woman who'd moved to New York in 1999 with one suitcase. Though she'd never represented a cocktail bar, Muldoon and McGarry were impressed by her belief in and understanding of their unusual concept. They arranged for Lee to meet their three American partners, including one who was highly iffy on the need to hire a publicist at all. "When Hanna walked away, he said, 'Well, if you're going to have PR, she's the one,' " Muldoon recalls.
If you write about cocktail bars in New York, or own them, you've likely met Lee. In addition to Dead Rabbit, her clients have included Meaghan Dorman's Dear Irving on Hudson; the Major Food Group's tiki palace The Polynesian and the Pool Lounge, their remake of the Four Seasons' former event space; Existing Conditions, Dave Arnold and Don Lee's laboratory of experimental mixology; Katana Kitten, Masahiro Urushido's American take on the Japanese- style bar; and restaurateur Danny Meyer's Porchlight and Cedric's. And recently, Lee has branched out to other cities, handling the press for Polite Provisions and Raised by Wolves in San Diego, as well as for Portland Cocktail Week.
If you haven't met Lee and want to, all you have to do is hang out at one of the bars she reps. Lee ventures out nearly every night—sometimes to her clients' venues, sometimes to other restaurants and bars to stay abreast of the competition.
Though small in stature, Lee is easy to spot in a crowd. She's usually the best-dressed person in the room, always outfitted in a stylish dress and high heels. Ever at her side is her partner in life and business, Michael Anstendig, as quiet and owlish as Lee is animated and chatty. "She and Michael genuinely enjoy going out to eat and drink," says Meaghan Dorman. "They pop out all the time."
Lee will also represent Dead Rabbit's new location in New Orleans, though she isn't presently under contract with their New York flagship. But that doesn't mean she's abandoned the bar. "She's still at Dead Rabbit," Muldoon says with a wry grin. "She's always at Dead Rabbit."
"I used to joke with her, 'It's my business, not yours,' " says Mark Maynard, co-founder of Porchlight. "She's always working. Her wheels are always turning." Lee makes no apologies for her ubiquity. "Once a client," she says, "forever a client."
Lately, she's begun to diversify in ways that go beyond the typical purview of public relations. Beginning in 2014, she started hosting holiday book fairs, gathering cocktail and spirits authors to sign and sell copies of their works. (Full disclosure: I've participated in two such events.) "We see our journalist friends come up with books and they're beautiful, but after they launch, it gets quiet," she explains. "I also see authors themselves spending their own money to support their books. I know they need support."
This support has recently been extended to bartenders through the Global Bartender Travel Scholarship, in which $15,000 will be divided among 15 bartenders to help fund trips to cocktail conferences around the world. Lee is both providing the funding for the annual grants, and selecting the committee of mentors who'll designate the recipients. "Bartenders are the professors, trendsetters, educators," she says. "They're the center of the universe between the consumer and spirit brands. If you go to a restaurant and there's no bartender, there's no business. If you go to a bar: no bartender, no business. If you go to a hotel: no bartender, no business. To me, the bartender is giving us the jobs."
"We want to represent the clients who have a vision to change the world, the way we eat, the way we drink, the way we live."
In 2020, Lee and Anstendig will combine their passions for books and bartenders by collaborating with Katana Kitten's Urushido on a book titled The Japanese Art of the Cocktail. Lee packaged the book deal, with Anstendig serving as co-author, and she shopped it around to publishers. Houghton Mifflin Harcourt bit. Lee plans to pursue more such book projects, which as a publicist she'll shepherd through the release and promotion process.
Beyond these recent projects, Lee has long-term plans to make two documentaries, one on the career of bartending and one on the history of alcohol marketing. The only thing she doesn't want to do, it seems, is own a bar. "Never," she says. "Never. We like to support bars from the PR side. We'll stay a customer."
Lee grew up in Seoul, South Korea, the youngest of six and, the way she tells it, publicity has been in her blood since she landed a spot in the marketing department at United Airlines after college. Six years later, she jumped to the Korean division of the global advertising firm Ogilvy & Mather. After three years, she was ready to explore new horizons—the skyscraper-punctuated ones found in New York. "My family wasn't happy," says Lee of her decision to move. "My mother wasn't happy."
Lee finally swayed her mother by promising to pursue her father's wish that she become an academic. But after she graduated from New York University with a master's in English education, she still had not shaken the PR bug. She struggled to find anyone willing to hire her and sponsor her visa, until a journalist friend finagled an introduction at Dentsu, the Japanese advertising conglomerate. Given her experience, Lee expected a management position, but was instead offered an entry-level job. She saw it as an opportunity.
"I just wanted a desk and a phone and a chair," she says. "I knew I could prove myself." Indeed, in two years, she was a manager. Just a year later, in 2004, with the support of several clients—one of whom even took over sponsorship of her work visa and later sponsored her green card—she struck out on her own with Hanna Lee Communications.
By this time, she and Anstendig were constant companions. The two met at a marketing conference in 2000. Anstendig was a fan of cocktails and suggested she meet the celebrated bartender Dale DeGroff. "I said, 'Who's Dale DeGroff?' " Lee recalls."He said, 'You can't say that in front of anybody, because it's embarrassing.' "
Lee first gained attention in drinks circles with the 2007 U.S. launch of Sobieski, a value vodka brand from Belvedere. (DeGroff had recommended her for the gig.) At a time when the pricing and packaging of premium vodkas was increasingly over the top, Sobieski had a simple bottle that cost $10. The subsequent "Truth in Vodka" campaign, which emphasized quality and value over flash, caught the public's attention. Within a year, the brand was the official vodka of Madison Square Garden and had sold more than 200,000 cases.
Today, Lee manages a staff of 12 full- and part-time employees (including herself and Anstendig) with an office near Columbus Circle and a roster that typically includes around 15 clients. Before she'll even meet prospective clients, they must field a long list of questions about their business model. "They really force you to answer why you did things, what the philosophy is behind a menu or a particular drink," Dorman says. "It forces you to have a cohesive answer."
This all helps Lee discern whether a potential client is of the variety she describes as, wow, wow, wow. "We want to represent the clients who have a vision to change the world, the way we eat, the way we drink, the way we live," she says. "When you look at our clients, they're pretty special people."
Lee has strong workaholic tendencies, but she does find time for a few outside pursuits. She takes lessons in Argentine tango, something she says has taught her to follow, not lead, for a change. "Whenever I'm stressed, Michael says, 'Maybe you should go take a tango lesson.' " She also swims—a hobby, Dorman points out, that Lee shares with Olivia Pope, the D.C. crisis manager in the television series Scandal. "That's the only place I can't take my cellphone," says Lee. "It's good for me to know that the world didn't change during that half hour."
---
Did you enjoy this article? Get more of the best of liquid culture when you sign up for a print or digital subscription to Imbibe Magazine. Click here for special savings!