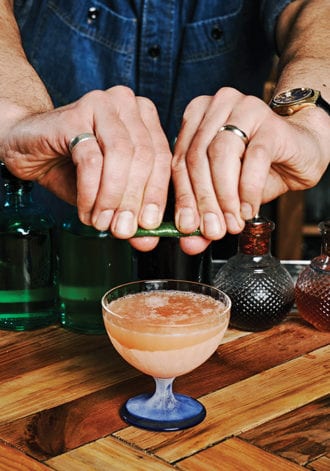 A generous dose of bitters bolsters this version of the Bennett cocktail, which is itself a twist on the classic Gimlet.
2 oz. London dry gin
¾ oz. fresh lime juice
¼ oz. lime syrup
1 tsp. superfine sugar (also sold as caster or baker's sugar)
1 tsp. Angostura bitters
Tools: shaker, barspoon, strainer
Glass: cocktail
Garnish: lime twist
Combine all of the ingredients in a shaker and stir to dissolve sugar, then shake with ice until chilled. Strain into a chilled glass, then twist a piece of lime peel over the drink and discard.
Lime Syrup: Use a microplane or fine grater to zest 4 limes. In a blender, mix the zest with 2 cups of sugar and 1 cup of boiling water, and purée (alternately, purée in a mixing bowl using an immersion blender). Pour the syrup through a fine-mesh strainer, and keep refrigerated for up to 6 months.
Miles Macquarrie, Watchman's and Kimball House, Atlanta
---
Did you enjoy this recipe? Sign up for our newsletter and get weekly recipes and articles in your inbox.