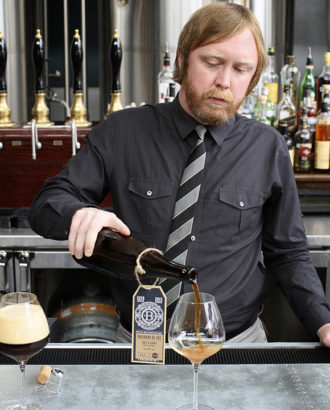 Known for his award-winning beer lists at popular spots like Birch & Barley, ChurchKey and Rustico, Washington D.C's Greg Engert (Imbibe's 2014 Beer Person of the year) has been hard at work curating a thoughtful Belgian beer lineup for his latest project The Sovereign (one of our Places to Watch in 2016).
The bar recently opened with 50 beers on tap and an expansive menu of more than 200 choices with an emphasis on "celebrating the brewers who sustain and evolve the culture and traditions of Belgian beer, imbuing each of their offerings with the flavor-driven, craft-brewed complexity upon which the reputation of Belgian brewing was originally built."
The beer program showcases the work of traditional breweries like De la Senne, Blaugies De Dolle, De Struise, Rochefort, Cantillon, 3 Fonteinen and De Cam plays, but Engert also celebrates the influence those brewers have exerted on America's booming craft beer culture as well—featuring stateside breweries that honor and continue the conversation of Belgian brewing traditions.
We asked Engert for a list of his favorite beers from American producers who focus on Belgian-style beers—here are his top four picks.
Jester King Brewery Le Petite Prince
Austin, TX, 2.9%
"At a mere 2.9% ABV, this homage to the table beers of Belgium is as full-flavored as it is sessionable," says Engert. "Relying on healthy hop additions and a long, mixed-yeast fermentation (including some wild, naturally-occurring Texas Hill Country yeast), Le Petite Prince is an aromatically-evocative ale that's deliciously dry."
Jolly Pumpkin Artisan Ales La Roja
Dexter, MI, 7.2% ABV
"Based on the red ales of Flanders and produced for the first time in 2004(!), La Roja is blended from a host of oak barrel-aged amber ales to create a complexly vinous, tantalizing tart brew that has itself inspired many American brewers of barrel-aged wild ales," says Engert.
Prairie Artisan Ales Prairie Hop
Tulsa, Oklahoma 8% ABV
"A pronounced hop character has long been a hallmark of authentic Belgian ales, and Prairie Hop celebrates this tradition by dutifully dosing this Belgian-style Saison with potent Simcoe and Citra hops grown in the American Pacific Northwest," says Engert.
Allagash Brewing Company Interlude
Portland, ME, 9.5 % ABV
"Strong, complex and refined, this annual Allagash release shows complex finesse," says Engert. "Fermented with a classic blend of Belgian Farmhouse yeast Brettanomyces, then partially-aged in Red Wine barrels before being beautifully bottle-conditioned, Interlude has long linked the best of the American and Belgian brewing traditions."