Birch Coffee co-founder and head roaster Paul Schlader has been sourcing coffee for his New York-based company since day one, but he didn't discover gesha until a recent trip to the central valley of Costa Rica. "I cupped 60 coffees in those two days, and this was one of the last ones I tried," he says. "The floral fragrance of lavender and honey blossom in the flavor was so tea-like, and it was unlike anything I've ever tasted. There were so many complexities going on with the coffee that I wanted people to try it."
With roots tracing back to the origins of coffee itself, the gesha coffee varietal—or geisha as it's also called—and its meteoric rise in the U.S. isn't new. But as more and more specialty roasters offer special-edition geshas, it begs the question—can such a prized, expensive coffee make it in the mainstream?
For anyone unfamiliar with gesha, it originally hails from the wild forests of Ethiopia and was eventually transplanted in South America (there are a few conflicting stories about when and how) and was propelled to fame by the Peterson family of Hacienda de Esmerelda in Panama. "Gesha sat in obscurity until about 2004, when the Peterson family separated this variety out and entered it in a cupping competition called the Best of Panama," recalls Allegro coffee buyer Christy Thorns. "An international panel of judges oversee these competitions, and this gesha blew them away. It immediately put both Esmerelda and the gesha variety on the map."
One of the reasons gesha is so prized is because it only thrives in certain microclimates, at challenging elevations and in very small quantities. "Since 2004, this coffee has won more competitions than any other coffee [at least 16], and it garners some of the highest prices in the industry," says Thorns. Known for its intense floral aromatics, complex structure and elegant fruity sweetness, special lots of gesha can fetch anywhere from $28 per bag to more than $100, depending on where it's grown and how those specific beans rank in professional cuppings.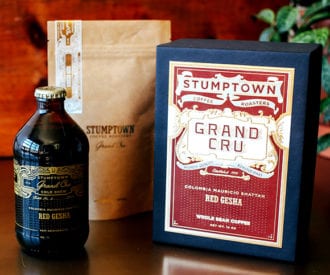 By now, most specialty roasters have dabbled in the style. This year Allegro released a batch of Gesha1500, which combines flavors of jasmine and orange peel. It comes from the same region as the original Esmeralda Special Auction Reserve but grows at altitudes between 4,500 and 4,750 feet (which helps bring the price down to $14.99 for an 8-ounce bag of beans). On the other end of the spectrum, Birch Coffee offered a geisha this year that fetches $95 for 12 ounces; it's split into individual 2-ounce packets and wrapped in a leather pouch. Meanwhile, Stumptown first released its Grand Cru gesha in bags of whole beans and sold large-format bottles of cold-brew last year for $32 per 750mL, and then again this year in stubby bottles that sell for $8 (for comparison, the company's everyday cold-brew stubby goes for $3.99).
With such high price points, gesha might seem like a tough sell, but not so, says Stumptown marketing director Josh Groff. "There are coffee enthusiasts looking for really unique coffees with an interesting story—they're willing to pay a little bit more for it."
But is it worth the splurge for casual coffee drinkers? "Even for people that may not be as versed in coffee, our red gesha is so different tasting," Groff says. "It has this bright, really sweet taste that I've never tasted before in a cup of coffee. Most people who taste it—regardless of whether they're big coffee enthusiasts and understand the differences in terms of sourcing and scarcity of that particular varietal or not—have been able to tell there's something special about it."
Schlader agrees. "It's worth the splurge if they're looking to expand their palates in a new and exciting way. Gesha is a departure from what most people expect a coffee to smell and taste like. It has a tea-like quality that leaves people looking for more."
This November, Stumptown will release the Finca el Injerto Gesha in whole-bean bags as well as a special dry-processed Inherto Gesha in 750mL cold-brew bottles.