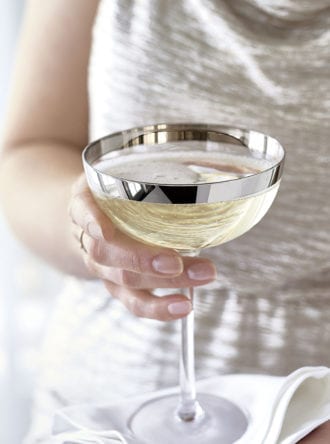 Baseless rumors linked to Marie Antoinette's bosom have long dogged the coupe's origins. In truth, the glass was created to ferry Champagne to awaiting lips. With its slender stem blooming into a shallow bowl, the coupe's delicate form signals opulence, and in homes and bars around the world, it has once again become a cocktail standard. Here are a few of our favorite coupes to stock up on for holiday parties this season.
Ripple Champagne Saucer
Copenhagen-based design company Ferm Living is behind these midcentury-inspired coupes that feature a square-redesign of the classically scooped base. Each glass is individually blown, resulting in distinct variations in the scalloped exterior that create gorgeous light play on whatever fills your cup. $55 for set of 2, burkedecor.com
Madison Coupe
Handmade in Europe, the Madison coupe from crystalware designer William Yeoward is fashioned in the likeness of Jazz Age barware. The elongated glass stands 7 inches high with a trio of cut and frosted stripes grazing the saucer, adding a modern vibe to the traditional form. $80 for 1, shopwhitedogwood.com
Leopold Coupe
Go back to basics with the classic Leopold coupe. Featuring a full, 6-ounce bowl that minimizes potential spillage while maximizing real estate for Champagne or cocktails, this tasteful glass proves simplicity will always be stylish. $33.99 for 6, cocktailkingdom.com
Pryce Gold Coupe (pictured)
Made from wooden molds by the Polish artisans at Krosno, a European glass collective that originated in 1923, the Pryce Coupe is resplendent in retro flair. A hand-painted gold band encircling the rim lends instant glitter to Champagne or cocktails. $12.95 for 1, crateandbarrel.com
Match Champagne / Cocktail Coupe
Founded by Rhode Island School of Design graduate David Reiss in 1995, Match works with the renowned metal artists of Northern Italy's family-owned pewter workshops for their home goods. With a sturdy pewter base topped by a crystal saucer, this coupe has a sophistication rooted in classic European design. $95 for 1, match1995.com
Vintage Etched Coupe
Inspired by vintage glassware owned by grandmothers the world over, this delicate yet durable (and dishwasher-safe) coupe is a cheery vessel for bubbles and mixed drinks. A hand-etched floral motif circles the cup's saucer while dainty dots neatly adorn its rim. $54.36 for 4, williams-sonoma.com
---
Did you enjoy this article? Get more of the best of liquid culture when you sign up for a print or digital subscription to Imbibe Magazine. Click here for special savings!