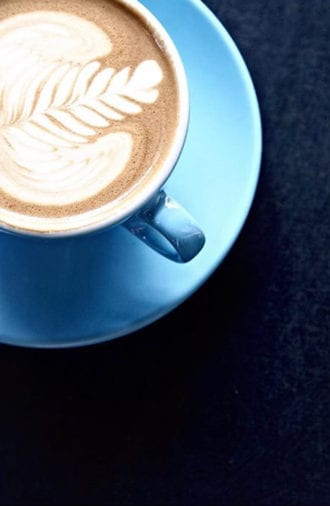 Few coffee drinks have sparked more conversation in the past few years than the flat white. Its origin story is murky—the drink is from Australia or New Zealand, depending on who you ask. And outside of being a milk and espresso-based drink, its parameters aren't universally agreed upon. Some simply consider it a cappuccino by another name.
Michelle Johnson, the Chocolate Barista (and one of our Imbibe 75 People to Watch in 2018) served plenty of flat whites in American cafés before moving to Melbourne, Australia, last year. She says a flat white should be about five ounces, with a single shot of espresso and velvety smooth foam (many insist that this microfoam is the drink's defining element). "They're just slightly milkier than a cappuccino (which comes with chocolate powder Down Under). They strike a perfect balance between the sharp, highly concentrated espresso shot (usually pulled as a ristretto) and sweet, warm milk."
Ask other coffee pros, and you'll often get slightly different answers. Allie Caran, director of education for Toby's Estate, says that's probably because there are discrepancies between how the drink is typically made in the U.S. versus in Australia. "In the U.S., espresso beverages tend to be larger in volume, thus creating a higher milk ratio," Caran says. But Americans also tend to use more espresso in the drink (a double shot rather than a split shot), so "in the U.S., a six-ounce flat white can have a stronger, more concentrated espresso flavor."
In The New Rules of Coffee, authors Jordan Michelman and Zachary Carlsen take a firm stance on the flat white, listing Rule #50 in the book as simply: "The flat white doesn't exist. It's just two ingredients put together to make a drink that goes by several names, with wildly varying volumes and ratios and milk textures served in an assortment of vessels. It exists only as a concept; it is not an actual beverage."
Despite the flat white's ambiguous status, both interest and sales have slowly been rising in America since Starbucks put the drink on it U.S. menus in 2015. In the last year alone, flat white sales in coffee shops have risen by 41%, according to a recent study conducted by Square and the Specialty Coffee Association. Is this simply the result of Starbucks marketing, or is something else at work?
Michelman points to the Starbucks effect first, because "when you get a big market influencer like Starbucks promoting and marketing any beverage, whether it's nitro cold brew or flat white, that's going to spike mainstream interest in the drink," he says. "I personally believe 95% of the reason why anything is 'a thing,' is because it looks cool or sounds cool. Flat white is kind of a phonetically pleasing phrase to say, the same way cappuccino is a pleasing thing to say."
The growing number of cafés owned and operated by Australians in the U.S. might also have something to do with the spike. "There seems to be an increasing awareness that Australia is the place for coffee, so I think folks are just getting curious and wanting to try something new," says Johnson. "Trying new coffee beverages can be a conduit to different places around the world when you think about it. It's a global taste experience and some people like to seek that out."
Nolan Hirte, owner of Proud Mary, a coffee roaster and retailer with locations in Melbourne and Portland, Oregon, agrees. "I think the flat white is gaining momentum because the Australian breakfast culture is gaining momentum globally. Melbourne is more and more regarded as one of the best coffee cities in the world, and its influence is starting to be felt in the U.S." he says. "It really is a very similar drink to the cappuccino in America, but can it really be a flat white if it's not delivered with an Australian accent?"
---
Did you enjoy this article? Get more of the best of liquid culture when you sign up for a print or digital subscription to Imbibe Magazine. Click here for special savings!