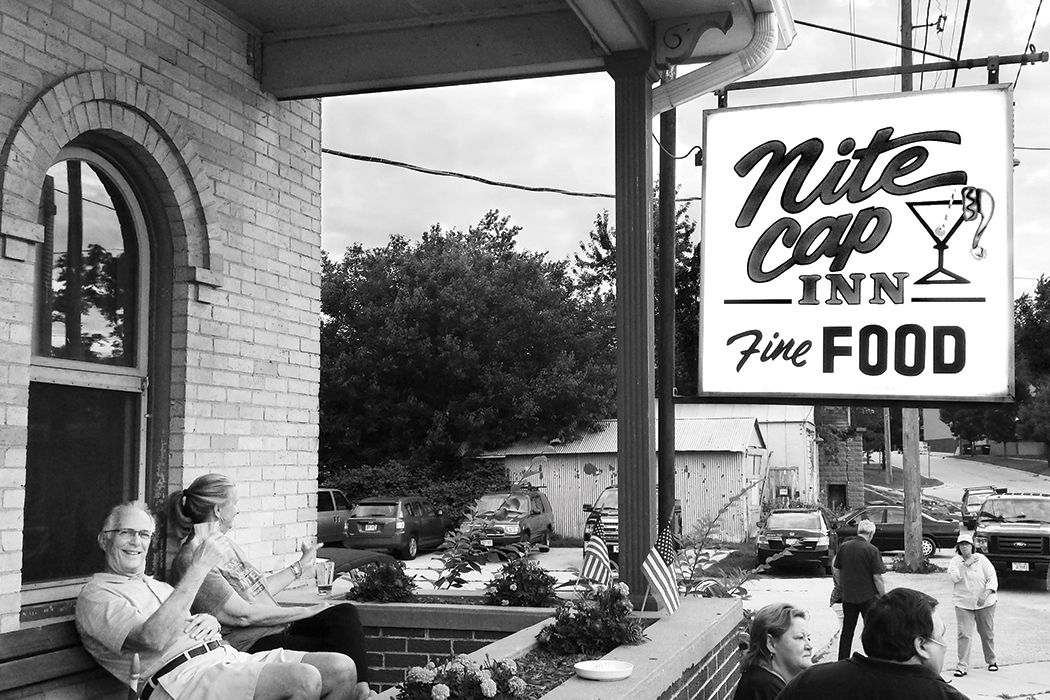 "Why did you go there?" asked Karin, my older sister, incredulous.
This was a number of years back, when my son was still small. I was visiting my home state of Wisconsin and my sister had offered to babysit, granting my wife and me a rare date night. We could have gone anywhere in Door County; as a tourist destination, it has a fair number of restaurants and bars. But we went to AC Tap, a roadside tavern on a lonely stretch of County Highway 57. I had a dirt-cheap Brandy Old Fashioned (the only cocktail you can order there without a fuss), and my wife had a dirt-cheap Miller High Life.
There's nothing to the right of AC Tap. There's nothing to the left. There's nothing opposite. There's only AC Tap, which could easily be mistaken for someone's house were it not for the old Pabst Blue Ribbon sign outside.
Once the sun set, the sign glowed ghostly white, a floating beacon of low-fi hospitality in the pitch-black rural night.
I didn't know how to answer Karin. It's difficult to describe the appeal of a place like AC Tap to those who don't immediately get it. The ceilings are low, and the walls are covered with metal beer and sports signs. The lights are too bright. There's a lot about it that appears commonplace at first glance. But stay a while and you notice other attractions. The drinks aren't fancy, but they're almost given away. The food menu is quite extensive: there are the requisite mozzarella sticks and fried cheese curds, but also bar pizza and fried perch plates. The clientele is devoted and mainly local, lending the place an insular, warm atmosphere that is easily joined with a few kind words.
I've been going to joints like AC Tap for 25 years, whenever I happen to be in the Midwest visiting family. My attachment to such places was seeded early on, when my parents took us kids out to eat at the Nite Cap Inn. Like the AC Tap, it was an isolated building incongruously surrounded by cars. To my young eyes, it was an achingly romantic sight, a mysterious, Brigadoon-like oasis.
Owing to its excellent fried perch baskets, the Nite Cap was the closest the village of Palmyra came to fine dining. The other six nights of the week, however, it was a tavern. And though literally located on the other side of the tracks, it was a much-beloved gathering place for the townsfolk.
Wisconsinites have a famously prodigious thirst. And there are a great number of bars to meet that thirst. Maybe that's why a saloon of minimal external attraction located well off the beaten path can handily survive. But parched throats can't be the whole story. These rural taverns still serve many of the same purposes they did in the 19th century. They foster community; many feature a multi- angled, "bump out" style of bar that creates human cul-de-sacs, forcing people to talk to one another. (I've never seen this style of bar outside the Midwest.) They also nourish, frequently offering a locally "famous" chili, pizza or fried fish. Perhaps most importantly of all, they are open at night in areas where the sidewalks roll up at 6. They are perfect examples of the concept of the "third place" in towns where there just aren't many places to go.
That they often look like regular houses goes back to an era when saloonkeepers lived in the same spaces where they did business. Today, though, at least to me, the familiar structures function symbolically. When you're in them, you're almost in a home. As well as being almost home.
This article originally appeared in the January/February 2016 issue.