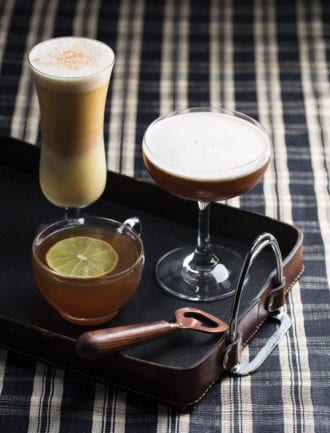 Lagers, IPAs and saisons have all found their way into bright, refreshing cocktails in recent years, but in the winter, beer cocktails often turn to the dark side. Rich stouts are a natural complement to aged spirits, and bartenders are proving that stout is a surprisingly versatile ingredient.
The line between porter and stout can be as opaque as the beers themselves, so it's best to think of them as part of one larger family. What they share is a reliance on dark-roasted malts that provide the beers with their distinctive color and flavor. But out of that darkness emerges a broad range of styles, from light-bodied and dry Irish stouts to velvety, high-ABV imperials. In addition to the obvious toasty, bittersweet notes, these beers can develop layered flavors of coffee, chocolate, stone fruit and sherry.
Dark beers have a long history in mixed drinks, particularly in old punch recipes like Blow My Skull and Uncle Toby Punch. Of the latter, Jerry Thomas wrote in 1864's How to Mix Drinks that "porter gives a richness, and to some a very pleasant flavor."
It's a tactic that Erick Castro from Polite Provisions in San Diego revived for his Abbey Street Punch, which combines Irish whiskey and Irish stout with the funkiness of Jamaican rum. He created the punch for a St. Patrick's Day party, but inspiration came from the Caribbean. "After hearing that Jamaica was one of the largest markets for Guinness, I knew that I had to add a little bit of rum," Castro says.
That Irish pairing also appears at Redbird in Los Angeles, where bar director Tobin Shea reduces Guinness before mixing it with sugar to create a deep-flavored syrup for his Kinsale King, named after a racing horse that consumed a daily dose of Guinness. Shea takes stout in an unexpected direction by shaking this syrup with whiskey, lemon and egg white to make a robust riff on the classic Whiskey Sour.
The beer's chocolate notes are right at home in after-dinner drinks, and it's in flips made with a whole egg that stouts find an ideal spot. In Portland, Oregon, Raven & Rose's David Shenaut was inspired to create a stout flip after working a guest bartending shift at PDT in New York City. "Seeing how fresh eggs impact the flip was life-changing for me," says Shenaut, whose restaurant is now supplied by more than 40 laying hens. With Cognac, rum, amaretto, chocolate stout and, of course, a local egg, his Black Heart Flip is the perfect way to cap a winter evening.
Abbey Street Punch
This party-size punch makes enough for 4-6 servings.
8 oz. Irish whiskey
8 oz. stout (Castro uses Guinness)
8 oz. sparkling water
6 oz. fresh lemon juice
6 oz. simple syrup (1:1)
4 oz. Jamaican rum
2 oz. allspice liqueur
Tools: punch bowl, grater
Glass: punch cups or glasses
Garnish: nutmeg, lime wheels
Combine all the ingredients in a punch bowl with 1 cup of crushed ice, then add a large block of ice. Grate nutmeg over the surface of the punch. Ladle into glasses and garnish with lime wheels.
Erick Castro, Polite Provisions, San Diego
Kinsale King
This simple variation on a Whiskey Sour uses a stout-based syrup for added depth.
1½ oz. Irish whiskey
¾ oz. stout syrup
½ oz. fresh lemon juice
¼ oz. simple syrup (1:1)
¾ oz. fresh egg white (pasteurized if you prefer)
2 dashes Fee Bros. barrel-aged bitters
Tools: shaker, strainer
Glass: coupe or Irish coffee
Shake all the ingredients without ice to incorporate the egg white, then again with ice. Strain into a chilled coupe.
Stout Syrup: Add 16 oz. of stout (Shea uses Guinness) to a small saucepan and simmer until reduced by two-thirds. Measure the amount of liquid (you should have about 5 ounces), and combine with an equal amount of sugar, stirring until dissolved. Let cool, then keep the remainder refrigerated for up to 2 weeks.
Tobin Shea, Redbird, Los Angeles
Black Heart Flip
Chocolate stout and a whole egg bolster this rich after-dinner drink.
¾ oz. Cognac
¾ oz. 151-proof Demerara rum
½ oz. amaretto
2 tsp. rich demerara syrup (2:1)
1 whole fresh egg (pasteurized
if you prefer)
3 oz. chocolate stout (Shenaut uses Samuel Smith)
Tools: shaker, strainer, grater
Glass: tulip
Garnish: nutmeg
Combine all the ingredients except the stout in a shaker and shake vigorously with ice. Strain into a tulip glass filled with fresh ice, then top with the stout. Garnish with a heavy dusting of grated nutmeg.
David Shenaut, Raven & Rose, Portland, Oregon
---
Did you enjoy this article? Get more of the best of liquid culture when you sign up for a print or digital subscription to Imbibe Magazine. Click here for special savings!