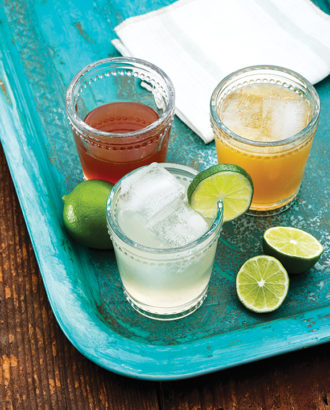 The Caribbean Islands are splayed in a disorderly arc across a topaz sea, peppered in dots and clusters between the bookends of Cuba and Trinidad. Here, in rum's ancestral home, each island has its own approach to this most freewheeling and summery of spirits. But perhaps the most distinctive—and, to some, the most charismatic—approach to rum is found in the French islands of Martinique, Guadeloupe and Marie-Galante.
Rather than molasses-based rum (rhum industriel), which makes up the lion's share of the rum category, these French islands make rhum agricole, or agricultural rum, a spirit that (as its name implies) retains a closer connection to the cane. In these islands, sugarcane is crushed and pressed immediately after harvest, and the fresh juice is then fermented and distilled. The young rhum blanc is grassy and herbaceous, with the aroma of peppers and wildflowers, and when aged—in barrels of French oak, or used bourbon casks, or in some combination—the rhum takes on an aloof allure, gaining a complexity akin to Cognac but with an ethereal softness that's distinctly island-style.
Long a rarity in American bars, rhum agricole is now an increasingly familiar sight. Martinique rhums such as Neisson, Rhum Clement and Rhum J.M. are among the prominent brands popping up in classic tiki drinks such as the Three Dots and a Dash, but in recent years these have been joined by Guadeloupe rhums from Damoiseau and Plantation, and by Batiste, from Marie-Galante. And far from the spirit's Caribbean home, distillers such as St. George Spirits in California and High Wire Distilling in South Carolina are crafting their own approaches to agricole.
Many bartenders hew close to the 'Ti Punch—a traditional preparation of rhum, lime and cane syrup—when mixing with agricole, as with the Tea Punch at Loyal Nine in Boston, which accents its approach to the drink with a syrup flavored with Darjeeling tea. San Francisco bartender Erik Adkins was an early agricole adopter, and variations on the spice-warmed Agricole Rhum Punch have long appeared on the menu at Slanted Door.
At the Portland Hunt + Alpine Club in Maine, agricole's distinctive flavor is deployed in the D.T. Sloe, a Daiquiri-esque preparation with the tart tang of sloe gin. "Rhum agricole has a bright, grassy note that's a good backbone for other flavors to play off of," says bar owner Andrew Volk. "It has a beginning, a middle and an end, with more flavors for other ingredients to grab onto. Bartenders are always looking for new flavors, and agricole has them."
D.T. Sloe
Rhum agricole lends a distinctive snap to a standard Daiquiri, and this riff adds the tangy bite of sloe gin to the mix.
1½ oz. rhum agricole blanc
1 oz. sloe gin
½ oz fresh lime juice
½ oz. rich simple syrup (2:1)
3 dashes Peychaud's bitters
Tools: shaker, strainer
Glass: tumbler
Combine ingredients in a shaker and shake with ice until chilled. Strain into chilled glass.
Christopher Buerkle, Portland Hunt + Alpine Club, Portland, Maine
Agricole Rhum Punch
Rhum agricole found early fans among San Francisco bartenders such as Erik Adkins, who uses the spirit in a simple punch enhanced with allspice.
2 oz. aged rhum agricole
1 oz. fresh lime juice
¾ oz. simple syrup (1:1)
⅛ oz. allspice liqueur
Tools: shaker
Glass: rocks
Garnish: fresh-grated nutmeg
Combine ingredients in a shaker and shake with ice. Pour, unstrained, into glass, and garnish.
Erik Adkins, Slanted Door, San Francisco