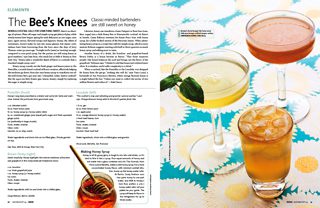 When a cocktail calls for something sweet, there's no shortage of options. Plain old sugar and simple syrup get plenty of play, while trendy menus have begun opting for such delicacies as raw sugar, cane juice, agave nectar, flavored syrups and liqueurs. Honey, the oldest of sweeteners, doesn't make its way into many glasses, but classic cocktailians have been borrowing from the bees since the days of Jerry Thomas, some 150 years ago. "It might not be [seen] as 'exciting' enough, compared to rose petal syrup, but the purists are still using honey in good numbers," says Sam Ross, who tends bar at Milk & Honey in New York City. "Honey adds a wonderful depth of flavor to cocktails that a standard simple syrup can't.
Honey syrup rounds out the fresh ginger and lemon juices in the Penicillin, a scotch-based cocktail of Ross's creation, effectively helping the medicine go down. Ross also uses honey syrup to transform run-of-the-mill drinks like a gin sour into "a beautiful, richer, darker cocktail" like the 1930s-era Bee's Knees (gin, lemon, honey), simply by replacing the sugar or simple syrup.
Likewise, honey can transform a basic Daiquiri or Rum Sour (rum, lime, sugar) into a lush Honey Bee or Honeysuckle cocktail. At Barrio in Seattle, Casey Robison sweetens his house Pisco Sour with honey syrup, for a fuller-bodied version of the Peruvian classic. When substituting honey syrup in a recipe that calls for simple syrup, which is more neutral, Robison suggests starting with half or three-quarters as much honey syrup and adding more to taste.
Another honey of a drink, the bourbon- and grapefruit-based Brown Derby, is a house favorite at Barrio. "That drink surprises people—the honey balances the acid and brings out the flavor of the grapefruit," Robison says. "I think it's odd that honey isn't utilized more often. It is timeless, and it adds complexity to a drink."
When a cocktail, like the Penicillin or the Lonsdale, was designed for honey from the get-go, "nothing else will do," says Vince Lund, a bartender at San Francisco's Beretta, where orange blossom honey is a staple behind the bar. "Unless you want to collect the nectar of two million flowers and reduce it."
Making Honey Syrup
Honey in all its gooey glory is tough to mix into cold drinks, so it's best to thin it into a syrup. Pour equal amounts of honey and hot water into a glass container and stir. This formula, from Vince Lund at Beretta, makes a mild honey syrup. For a more concentrated honey flavor, with minimal cocktail dilution, bump up the honey-water ratio. At Barrio, Casey Robison uses two parts honey to one part water, and Milk & Honey's Sam Ross prefers a 3-to-1 honey-water ratio. Let your palate be your guide. The syrup will keep its flavor in the refrigerator for up to three weeks.