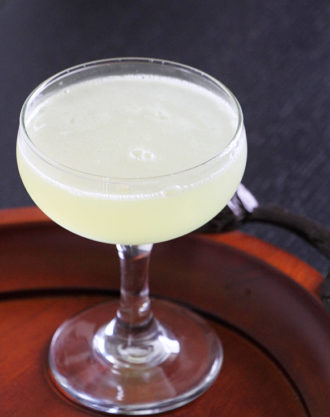 Reading the cocktail menu at Houston's Pastry War is a little like browsing the shelves of a Mexican market. Among the many regionally inspired ingredients featured on the bar's menu is Damiana—an earthy herb that's known in Aztec legend for its purported aphrodisiac properties (hence the drink's name). When dried, the leaves have a strong aromatic quality and flavors that oscillate between basil, mint and fig.
The herb is is most commonly found in American cocktails via the commercial liqueur, but during a shortage of the product, Pastry War bar manager Francisco Terrazas got resourceful and tried infusing it into honey for his Birds Chasing Bees cocktail. Turns out, he preferred his infusion. "The slow simmer of the honey keeps it from becoming too bitter, so you get the aromatics of the herb on the palate without it tasting like you're chewing on a plant," he says. "The savory notes work with the earthiness of the honey, and the floral qualities seem to linger longer than you would expect from a simple shaken, three-ingredient cocktail."
The bar staff at Pastry War use Damiana in a number of other ways. They grind the herb very finely and mix it with sugar to rim strawberry margaritas, and they mix the bottled liqueur with Cocchi Americano, bitters and sparkling wine for a summery spritz. Terrazas wagers it would also taste great in a toddy, as the Aztecs purportedly mixed the herb into tea, and at La Condesa in Austin, Damiana flavors the house Margarita. You can find dried Damiana at most Mexican markets or online at Mountain Rose Herbs.
Birds Chasing Bees
2 oz. white rum (Terrazas uses Plantation 3 Star)
¾ oz. fresh lemon juice
¾ oz. Damaina-infused honey
Tools: shaker, strainer
Glass: coupe
Shake all ingredients together in the shaker tin with ice. Strain into a chilled coupe.
For the Damiana honey, put ¼ cup of dried damiana leaves in a saucepan with 1 cup of honey and bring to simmer. Remove from heat and allow to cool.
Francisco Terrazas, Pastry War, Houston