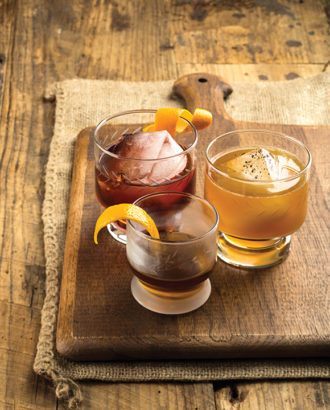 Not so long ago, coffee liqueur presented almost no options for variety, and its cocktail realm was ruled by the White Russian. But today, everything from Italian-style liqueurs to craft-distilled bottlings made with locally roasted beans are increasingly available, with profiles to satisfy every taste.
If any country has an early claim to coffee liqueur, it's Italy. When Venetian merchants first introduced coffee beans to Europe, Italy turned the process of brewing and enjoying coffee into an art form, and the beans inevitably made their way into the bottle. Today, this history continues through liqueurs such as Caffè Borghetti from Fratelli Branca, which is flavored with beans brewed to espresso-level concentration; and Galliano Ristretto, a dark and rich liqueur that similarly evokes the depth of flavor found in a fresh- pulled shot. "It has that bitter espresso flavor I love," says Gia St. George, beverage director at Tacoteca in Los Angeles, who uses the liqueur in her A Living Room Affair. "It complements mezcal very nicely."
In the U.S., a number of craft distillers have jumped enthusiastically into coffee liqueurs. At St. George Spirits in Alameda, California, distiller and blender Dave Smith drew influence from New Orleans, where he met his wife, by incorporating chicory into St. George's NOLA Coffee Liqueur. "When you're in New Orleans and go to Café du Monde and have a chicory coffee, all is right with the world," Smith says. In addition to French chicory root and a touch of vanilla, St. George uses Ethiopian Yirgacheffe beans from Bay Area roaster Jewel Box. 
At The Lexington House in Los Gatos, California, co-owner and bartender Jimmy Marino matches the delicate flavor of the St. George liqueur with rich rum, Campari and Punt e Mes to create the Coffeed Negroni. "It's not overly sweet—it's balanced," Marino says. "The chicory and slight earthiness shine great in this drink."
Other American coffee liqueurs include DRIP from Seattle's Rain City Spirits—which marries vodka with cold- brewed Caffe Vita Queen City Blend—and Leopold Bros. French press-Style American Coffee Liqueur, which brews a proprietary roast in a 25-liter waterpress before fortifying and sweetening the mix.
In Portland, Oregon, New Deal uses Water Avenue Coffee to flavor their coffee liqueur, and nearby, House Spirits founder Christian Krogstad turned to Stumptown Coffee for his distillery's liqueur. To balance the coffee's boldness, House Spirits double-distills Barbadian molasses to provide the liqueur's base. "We were experimenting and said, 'What goes better with coffee than a nice, rich, dark rum,' " says distiller Andrew Tice, who then sweetens the mixture with Demerara sugar syrup. "All those flavors work together synergistically.
This story originally appeared in the September/October 2015 print edition.