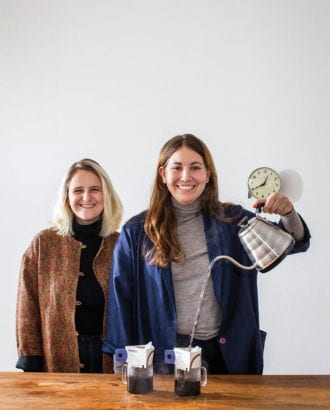 Simplicity doesn't come easy. Just ask Kara Cohen and Ilana Kruger, creators of DripKit and two of our People to Watch in the 2019 Imbibe 75 Issue. "We looked at a lot of potential options for how we could create a product, and really the only requirement for us was that it was an easy way to make a great cup of coffee, that it was portable and mostly self-contained," says Cohen.
Although "a lot" may be an understatement, as Cohen and Kruger went through more than 500 prototypes on their quest to create a method for portable pour-over coffee. It was an idea hatched by the two women not long after leaving the advertising agency where they had both worked to strike out on their own—consulting for start-ups and helping to build brands for others. "I was struggling to get good coffee at some of the offices I was working at, and Ilana had been traveling a lot around Europe and Israel and was having trouble getting a good cup of coffee when she woke in the morning in her Airbnb," says Cohen. "I think we both felt there had to be a way to solve this problem of making really good coffee portable."
Cohen and Kruger found their combined skill set in production, consumer products and branding put them in the perfect position to create their own product. They began initial testing with a similar product found in Asian markets called a Drip Bag, looking for the best ways to adapt the concept for an American market. "We did a pilot test with a group of about 100 people, and everyone really loved the idea of having high-quality coffee with you wherever you go," says Kruger. "But the actual user experience of the product was flawed in many ways."
Kruger and Cohen wanted to be able to brew a larger cup of coffee, shorten the brew time, and prevent the grounds from resting in the brewed coffee. "We wanted it to feel more familiar, more intuitive, and to not over-extract the coffee," says Kruger.
They were also targeting a new kind of coffee drinker. "We didn't picture the customer as a specific person so much as a specific lifestyle—someone who appreciates good coffee but perhaps doesn't have the more traditional routine," says Cohen. "It used to be that someone would make their pot of coffee in the morning, have a cup and then go to the office, and that's just not how people are drinking coffee anymore. We really wanted our customer to be the person who was missing their daily cup."
The development process spanned more than six months and hundreds of prototypes. They consulted with Cohen's brother, who studies packaging at Cal Poly, and hired some industrial product design students. At one point, they couldn't figure out why everyone who opened the package spilled the coffee grounds, until Cohen and Kruger (both left-handed) watched a right-handed person open it from the other side. "It was definitely one of those moments where we thought we had thought of everything," says Kruger.
Ultimately, they partnered with New York City industrial design firm Prime Studio, which helped create products like Harry's Razors and the Goby toothbrush, and they honed in on the design that became the DripKit—a cardboard tri-side that folds flat in the package but pops open to suspend a filter of pre-measured coffee grounds over any cup.
Then came the coffee. Wanting to use single-origin beans exclusively, Cohen and Kruger tapped Gabe Boscana of Máquina Coffee (a 2018 Imbibe 75 Person to Watch). "We really try to get coffees that are sweet and juicy and subtly delicious and delicate, but that you don't need to be a coffee connoisseur to enjoy," Kruger says. "Gabe is amazing at finding those coffees, and he also knows that we're excited about working with famers and cooperatives that are giving back to their communities."
DripKit officially launched in February of last year and has since seen praise in publications ranging from Fast Company to Oprah. Their next big goal is to move toward complete biodegradability, which proved cost-prohibitive in the beginning but which Cohen and Kruger believe they can accomplish within three years. "We're always looking for new ways to understand our customer and continue to evolve the product," says Cohen. "I think the first year is really about understanding the product and how people use it. It's about making specialty coffee as accessible as possible."
---
Did you enjoy this recipe? Sign up for our newsletter and get our favorite drink recipes of the moment in your inbox every month.