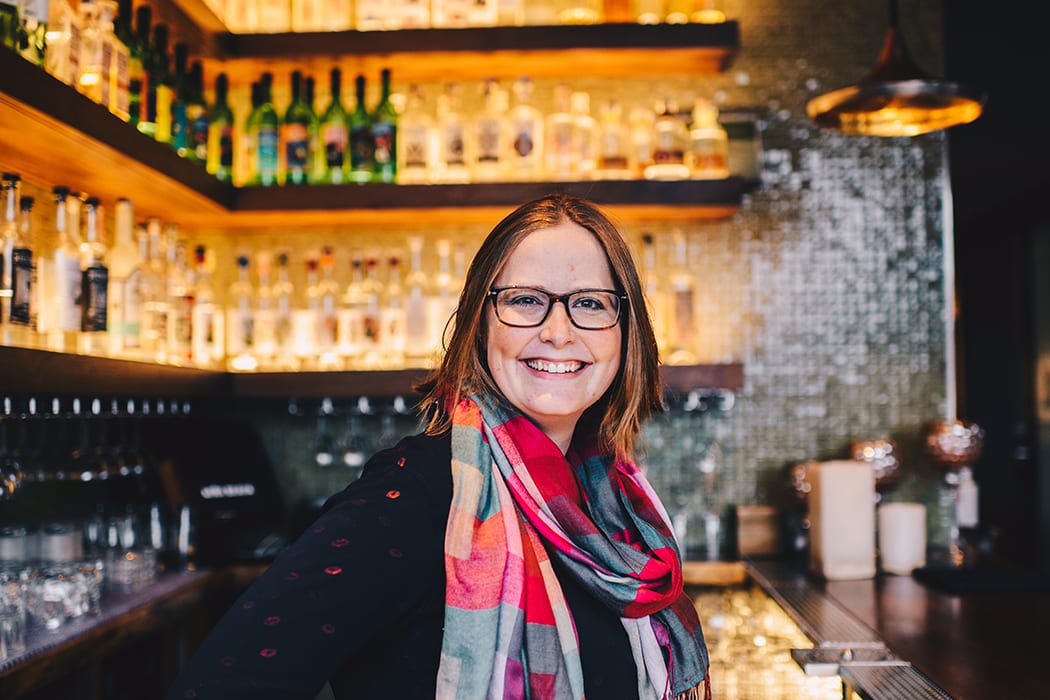 "I just got a text that this might be the last week for strawberries," laments Lanie Bayless as an electric pink cocktail lands between us on the bartop at Bar Sótano. It's 5 o'clock on a muggy summer Friday, and as doors open for service, the cool subterranean space comes alive with thirsty Chicagoans. "This is my favorite cocktail right now—it's essentially just a smash, with Bayless garden lemon verbena, tequila, lime and Aperol, but it's so good," she says. From the "fruit stand" section of the menu, the cocktail tastes as vibrant as it looks, with sweet late-season strawberries dancing off the herbaceous flavor of fresh-picked lemon verbena. Summer in liquid form.
As would happen in any of the best Mexican cocktail bars, fresh, seasonal fruits, veggies and herbs take top billing in the cocktails at Sótano, the lively bar tucked beneath James Beard award-winning Frontera Grill, fast-casual torta favorite Xoco and Michelin-starred Topolobampo. Bayless serves as spirits director for all four restaurants plus West Loop hotspots Cruz Blanca and Leña Brava, where she makes bold cocktails that blend flavors from South of the border with seasonal local ingredients. Drinks like the tequila-based Mango Chamoy, inspired by the popular street snacks consumed in Mexico, or the Poleo Negroni with mezcal, housemade Mexican herb vermouth and Campari, are examples of such prowess. I sip an Hoja Santa Spritz, from the "fresh and revitalizing" section of the drinks menu as Bayless shares her personal story.
The warm, bright-eyed 28-year-old was born and raised in Chicago, is a musical theater buff and confesses jokingly that she's a terrible cook, despite being the daughter of famed chef Rick Bayless. Yet, the spritz at Sótano—an earthy blend of mezcal, Angostura bitters, cava, Topo Chico and hoja santa (a dry Mexican herb with hints of peppery herbaceousness)—evinces her natural penchant for flavor development. After spending years in her family's restaurants and holidays in Oaxaca, sprucing up a whiskey cocktail with guajillo chiles or adding Mexican herbs to a summer spritz seems like second nature.
Yet despite growing up in such a food-centric family (mom Deann oversees the front-of-house for the Frontera family, and Lanie herself did a few front desk stints when she was a teenager), pursuing a career in the restaurant biz was not part of her original plan. Instead, she wanted to be an actress, so after high school, she packed her bags for New York City. "I had a whole other life in a different world," she says. "I was living in New York and doing theater school and was loving it. But I soon realized I was very lonely. I grew up always having a million people around, and I really missed that, so right away I went and worked in a restaurant. It made me realize hospitality was really what I loved and what I was meant to do."
Bayless worked as a hostess in restaurants like Daniel Boulud's DBGB, Hill Country BBQ, and Cosme in New York, until one day in 2015 when her parents visited her with an offer: They were opening a new restaurant in Chicago's booming West Loop called Leña Brava and wondered if she'd be interested in coming home to rejoin the family business. She had reservations. "There are so many kids who work for their family because it's easy," she says. "That's the opposite of who I am, to my core! I also don't love the spotlight, but I work every day to combat both of those."
The pull to get into a creative role within the family business proved too strong to ignore, so she moved back to the city with her now-husband Kevin Sullivan to open Leña Brava in 2016. She wanted to have the largest mezcal list in the city. "I've always had a soft spot for mezcal and Oaxaca in particular, as I've spent every Christmas of my life there," she says. "I remember going to palenques (or distilleries) when I was very, very young. I was lucky to come into the bar with first-hand knowledge."
These days, most restaurants and bars have a few mezcals on offer, but many don't vet those offerings for quality the way Bayless does. She knows many producers by name, has visited their homes and distilleries, and honors the most respected and traditional ones by putting their bottles on the menu. "One of the biggest things I want to get out to the general public is how long it takes to get to that bottle of mezcal. The time and energy and life," she says. "It's an incredible effort from start to finish." And the attention to quality doesn't stop at agave—sotol and lesser-known spirits like Oaxacan rum that are made with tradition in mind also have a home at her bars to further celebrate Mexico's indigenous spirits.
Managing all five of the Frontera family bars is a lot to juggle, but Bayless loves it all. From the education sessions (she'll teach 50 classes that run 90 minutes long each this year) to collaborating with bartenders on new cocktails, she has almost full creative freedom to experiment, "as long as each restaurant has something for every kind of drinker on the menu," she adds. From there, all the drinks must have one quality in common. "I do tastings of all of the cocktails with my parents, and, of course, I know all the questions [they're going to have] before we do the tastings. It's always: Why is that cocktail here? What's rooting it in our world? They're constantly hammering that home," she says. "So if it's an agave spirit, I can pull the flavors away from a traditional Mexican thing, but if we're using whiskey, vodka or gin we'll double down on the Mexican flavors to make up for having a non-Mexican spirit."
Bayless is tenacious about making her drink programs stand up to the legacy and quality of the food that put her family on the map. She's one of the first beverage directors in Chicago to feature mezcal as a serious pairing with formal tasting menus offered at Topolobampo, and she has plans to further illuminate the crossover between Mexican cuisine and cocktails on future menus at Sótano. Aiming for the stars with every vision or project, there's not a snobby bone in her body. Instead, she approaches her work with a clear Midwestern humility, quick to adapt when plans don't unfold as anticipated. "At Frontera I pushed so hard to have these interesting cocktails, pushing the boundaries with mezcal, and people don't want it. They want margaritas. So my vision for this year was how can we embrace the margarita and take it to the next level," she says. "I created a margarita that has tequila, mezcal and sotol—all three in a margarita! That's my way of saying I'm embracing what they want, but also pushing the envelope a bit."
It's clear to the outsider that Bayless is already leaving her mark on the family legacy with her cocktail and spirits selections, though it might take some convincing to get her to share that viewpoint. "I didn't come up through those bartender ranks. I can't win a bartending competition," she says. "But I paid my dues in a very different way—I spent a lot of my time where the things I love are made, and with those people."
With the grounded focus of someone much older than her 28 years, she adds: "I constantly work to prove that I know what I'm doing. I can balance flavors and create things in different styles. I don't feel like I've left my mark here yet in this part of the world, but I'll keep slugging away and doing what I'm doing until I do."
---
Did you enjoy this article? Get more of the best of liquid culture when you sign up for a print or digital subscription to Imbibe Magazine. Click here for special savings!