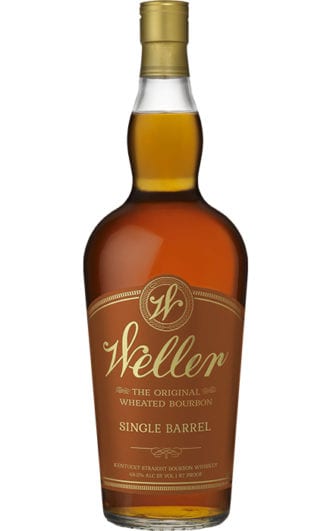 While we're all drinking at home for the foreseeable future, we thought it would be fitting to turn inward for our usual Drink of the Week column and share the drinks our staff is reaching for while inside. This week's entry comes from executive editor, Paul Clarke. We'd also love to hear from you, so tell us what you're drinking right now by using the #imbibegram #drinkoftheweek hashtags on twitter and instagram!
Once upon a time, way back about 17 years ago, I picked up a new-to-me bourbon in a local liquor store. I'd never before heard of the brand—W.L. Weller—though its 12-year age statement caught my attention, and its price of about $25 made it seem like a reasonable gamble. That day, I brought home a new friend.
Good luck finding ample displays of Weller 12-year-old on a store shelf these days, and the $25 price tag is ancient history. As Wayne Curtis wrote in a recent feature on the bourbon boom (get the May/June issue here), collectors and hoarders of premium bourbon long ago sussed out that the whiskies bearing the Weller imprint—in addition to the 12-year-old, there's Special Reserve, Antique 107, Full Proof, C.Y.P.B., and the super high-end William Larue Weller—share similar DNA with that most coveted of collector bourbons, Pappy Van Winkle.
The Van Winkle and Weller bourbons are all made at the Buffalo Trace Distillery in Frankfort, Kentucky, and share the same wheated mashbill. But unlike bottles of Pappy, which are now so rare and expensive as to seemingly exist on an alternate plane of reality, the Weller bourbons remained more approachably priced and somewhat widely available, at least until collectors started snapping them up in recent years.
This month, the distillers at Buffalo Trace gave bourbon lovers a present: a new extension of the brand, W.L. Weller Single Barrel Bourbon, intended as an annual release. As with spirits across the single-barrel spectrum, no two barrels will be exactly alike; but my initial taste of this initial 97-proof release revealed the telltale touches of the Weller style, with layers of custard and caramelized sugar on the nose, and a deep flavor of toasted baking spice, cocoa, and coffee, and a smoky-sweet finish that seemed to last longer than a week of quarantine.
At around $50, this bottle isn't quite the bargain that I remember from my first encounter with W.L. Weller. But with its soft, rich character and a taste profile that skews to liquid comfort food, the Single Barrel is proving to be the new friend I'm hanging out with this summer. For distribution, go to buffalotracedistillery.com.
---
Did you enjoy this article? Get more of the best of liquid culture when you sign up for a print or digital subscription to Imbibe Magazine. Click here for special savings!