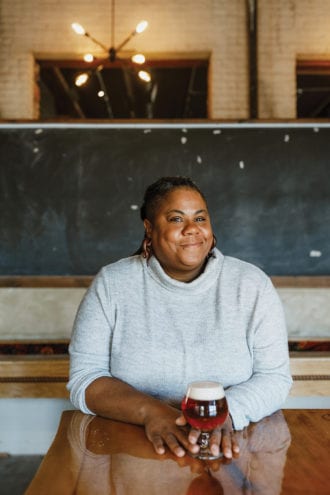 Dr. J. Nikol Jackson-Beckham was anticipating a spring full of upheaval and transformation. The educator had left Randolph College in Lynchburg, Virginia, and relocated to Richmond to focus on Craft Beer for All, her equity and inclusion consultancy. In tandem with her Craft x EDU nonprofit, which empowers people through tutelage and professional growth, she was eager to continue working toward her mission of making the beer world more diverse and inclusive.
Then came COVID-19. "Obviously, the timing couldn't have been worse," says Dr. Jackson-Beckham, who is also the diversity ambassador at the Brewers Association and Imbibe's 2020 Beer Person of the Year. She canceled the inaugural Craft x EDU opportunity fair and started dusting off her résumé, plans upended by the pandemic. "Places are worried about how to stay open," she says. "They're not worried about what I'm trying to help them with. I'm going to be a really unfortunate victim of that timing."
But in the wake of the police killing of George Floyd in Minneapolis, the national dialog shifted to another virulent disease, racism. Craft Beer for All's mission was urgently magnified. If breweries could pivot business models in a matter of weeks due to a global pandemic, she says, a deeper change was also possible. But how? "This question often comes from a place of helplessness, frustration and even guilt," she wrote recently in a viral Twitter thread. It laid out 15 potential courses of action to help fight racism and work toward social justice, including educating, healing, making art, civic engagement, and listening to other voices. Each act adds up, incrementally effecting change over time. "When I wrote that, I was really hoping to say that there's not one spectacular effort that's going to have some immediate meaningful, observable change," she says. "Do what you're good at and make it part of how you behave on a regular basis. Know that it will make a difference."
Dr. Jackson-Beckham is also taking this time to reevaluate how she can best effect change. A few months ago, she had a packed slate of speaking engagements across the country. A talk at a conference or seminar might reach a couple hundred people for an hour, temporarily jazzing people with possibility. "We've all been through that conference moment where you're just like, 'Yes!' " she says. "You're super-juiced, you're in a room full of your colleagues, there's great information being shared, and you're sucking it all up like a sponge. Then you head back to the brewery and the glycol chiller is messing up or a pallet of cans is lost. The realities of day-to-day business set in, and all that energy from the conference is more difficult to sustain."
Now, the former college professor is using her curriculum-building skills to create online courses for a wider audience. "One of the big lessons that COVID is teaching us is that many things could have been more accessible all along," she says. "For me, it's a real opportunity to better serve more people."
Moreover, she's launched a Patreon model to build out a connected community, offering access to downloadable monthly resources on equity, inclusion, and justice, as well as live Q&As, exclusive blog posts, and micro-consulting services. "I'm at the point where there are a lot of silver linings," Dr. Jackson-Beckham says.
She's also taking advantage of extra time at home to renovate her house, plant a garden, and homebrew beer, which has led her to revive an idea for a virtual homebrew club called Fermenting Respect and Equity Every Day Is Our Mission, a.k.a. FREEDOM. The idea is to advocate for positive social change while connecting homebrewers, both new and seasoned, in a safe virtual setting—social connection in the age of social distancing.
The brewing industry is geographically entwined with the majority of America, a common denominator in communities far and wide, of all size and socioeconomic makeup. When we can get together again, Dr. Jackson-Beckham hopes to roll out a robust event agenda, beer as a facilitator of face-to-face conversations. By providing resources, "we're making sure that we don't waste what is a critical bit of momentum," she says. "We want people to feel both inspired and empowered to have this conversation and make some change."