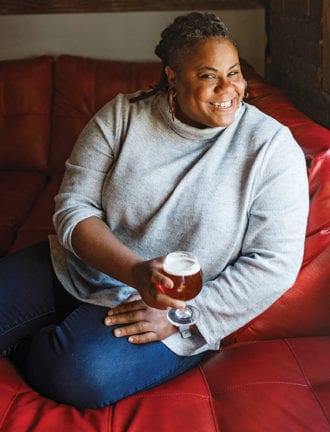 Twitter is a prime platform for amplifying outrage, turning angry sparks into flames. September 9 brought a potential conflagration when writer Chalonda White, a.k.a. Afro.Beer.Chick, posted a racist email she'd been sent that repugnantly claimed African Americans such as herself "do not belong" in beer.
Instead of responding with well-reasoned fury, Dr. J. Nikol Jackson-Beckham, the Brewers Association's diversity ambassador, tweeted a three-part call to positive action: Take a selfie, describe yourself, and tag the tweet #IAmCraftBeer. Who was craft beer? Everyone. "The hashtag gave people a vehicle for representation to speak about their identities and show the diversity that already exists in craft beer," says Jackson-Beckham, who retweeted every reply.
Craft beer can sometimes seem like a members-only club of bearded white men. Jackson-Beckham is doing the essential work to make the beer industry and culture more welcoming, equitable, and inclusive through her consultancy, Craft Beer for All. She keynotes conferences and works with state brewing guilds and breweries to "bring the diversity of craft beer to people, and the diversity of people to craft beer," as she puts it on her website.
It's an educational role custom suited to an academic—Jackson-Beckham is an assistant professor at Virginia's Randolph College—who's devoted her career to beer. She lived in San Diego during the early 2000s, attending beer festivals and dinners, and acquiring a homebrew hobby. While getting her Ph.D. at the University of North Carolina at Chapel Hill, she worked at a gardening and homebrew shop, teaching classes and digging into brewing's complex supply chains and historical arc. "That big-picture view caught my attention as an academic," she says. She wrote her dissertation on American beer culture, a move that arched eyebrows. "Everybody was like, 'Why the hell would you write a dissertation about beer?' " she recalls. "It seemed insane, but it's less insane now."
In spring 2018, the Brewers Association named her its first diversity ambassador, and the ensuing 18 months have been a blur of education, conversation, and lending considerate advice. "You don't just want to storm into a community and say, 'Hi, I'm here. I'm ready for diversity,' " she says.
This spring, Jackson-Beckham is leaving academia to tackle that challenge full-time. She'll focus on her consultancy and new nonprofit, Craft x EDU, which empowers people through
education and professional development. The organization will grant scholarships to defray costs of, say, studying for cicerone certification; create #IAmCraftBeer collaborative beers with breweries including Trillium in Boston and Revolution in Chicago; and host career expos highlighting opportunities in yeast labs, accounting, sales, distribution, machining, and more—beer jobs at arm's reach. "Craft brewing is an industry where we have good, career-oriented opportunities for people with GEDs or Ph.Ds.," he says. "We have an entry point for everyone."