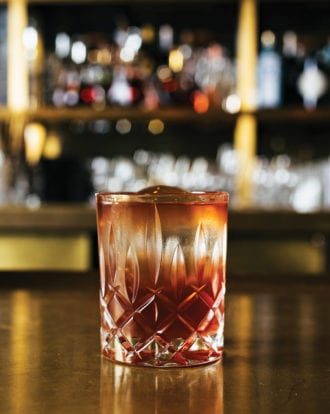 For Ryan Casey, beverage director at The Dewberry in Charleston, South Carolina, the classic Blood and Sand has always been a bit of a head-scratcher. "I've always struggled with the idea of orange juice in a scotch drink," says Casey. "Three ingredients that sound delicious together, and then orange juice in equal proportion? Why?"
Instead, Casey eliminates the juice altogether without sacrificing the citrus flavor. His Ichor and Glass cocktail (ichor being the blood of the gods, and glass the purest form of sand) is an all-spirit riff using dry curaçao and Compass Box Orangerie, an orange-infused scotch.
1 oz. blended scotch (Casey uses Compass Box Great King St. Glasgow Blend)
¾ oz. orange-infused scotch
¾ oz. Cherry Heering
½ oz. sweet vermouth
¼ oz. dry curaçao
Tools: barspoon
Glass: Old Fashioned
Garnish: lemon peel, orange peel
In a mixing glass with ice combine all ingredients. Stir and strain into an Old Fashioned glass over a large ice cube, then express and discard 1 lemon and 1 orange peel over the drink.
Orange-Infused Scotch: Combine the zest of 3 oranges with one 750 ml. bottle of blended scotch in a covered container; allow to infuse for 5 to 7 days, then remove the zest and rebottle for use.
Ryan Casey, The Dewberry, Charleston, South Carolina
---
Did you enjoy this recipe? Sign up for our newsletter and get our favorite drink recipes of the moment in your inbox every month.