Steve Luke was sitting pretty at Seattle's Elysian Brewing. As the experimental brewer at Elysian's stadium-district brewpub, he fermented whatever he wanted, playing with pineapples, habaneros, flowers and hard-to-get hops, creativity mattering more than cost. "I had a super-long leash," Luke says. "Whether the beer was a hit or a miss, we could sell it in the Elysian pubs."
Increasingly, Luke's small batches were huge smashes. Split Shot espresso milk stout and Space Dust IPA, sprinkled with tropical Citra hops, earned raves, graduating to national distribution. "Before the sale, I think I had the best brewing job in a city of brewing jobs," Luke says.
Oh, yes—the sale. On January 23, 2015, Anheuser-Busch InBev (ABI) bought Elysian—awkward timing, given that the company's Super Bowl Bud ad would soon mock craft beer with the jibe "Let them sip their pumpkin peach ale." Luke had in fact brewed Gourdgia on My Mind, a pumpkin peach ale. Maybe it was time to move on. "I never really made money off the beers at Elysian, but I could go to people and say, 'Those beers you're drinking? I made them,' " says Luke, who started raising capital for Cloudburst Brewing.
Luke left Elysian in July 2015, a few months after Dick Cantwell (the lone "no" vote on the sale among Elysian's trio of co-founders) flew the coop, and he opened Cloudburst by January, crafting highly dry-hopped IPAs and saisons laced with Pike Place Market produce. "This is kind of all of our dreams—to be your own boss in this industry," Luke says.
American brewing is experiencing seismic shifts. The industry's terra firma is crumbling and reshaping itself as conglomerates acquire established breweries, founders depart for new projects and legendary brewmasters go solo. In recent months, brewers Mitch Steele bid adieu to San Diego's Stone Brewing, and Todd Haug said sayonara to Surly in Minnesota, two of the growing number of well-known brewers who have left to find new homes or start their own ventures.
"It's time for the people who have been doing this for 25 years-plus to reap what they've sown," Haug says.
Starting over is never simple, but many experienced brewers are rowing into uncharted waters to navigate new channels. In the wake of Constellation Brands buying Ballast Point, head brewer Yuseff Cherney founded Cutwater Spirits in San Diego, while Terrapin co-founder John Cochran revisited his startup days by buying a small Asheville, North Carolina, brewery. Former Deschutes brewmaster Larry Sidor steers Bend, Oregon's Crux Fermentation Project, while Green Flash's Chuck Silva opened Silva Brewing in Paso Robles, California. Post-sale, Goose Island's former brewmaster Gregory Hall founded Virtue Cider, only to later sell his company to ABI—again. "It's fun getting into the whole start-up mode again, but sometimes you forget how challenging some of the challenges are," Hall says.
Matter of Age
In many ways, brewing is a youngster's game. The demands of lifting 50-pound barley sacks, climbing ladders and hauling kegs don't simplify with age, the aches compounding like bad interest. Time is relentless, and for some there's the nagging suspicion that it's running out. "I'm not getting any younger," says Tod Mott. "I've been in the industry for 27 years."
Mott devised Harpoon IPA in the early '90s before clocking in at Portsmouth Brewery for more than eight years and creating Kate the Great, one of America's most cultish imperial stouts. "Portsmouth Brewery was getting all the accolades," he says. "I'd done about all I could do there and it was time for me to leave."
He resigned in 2012 and, with wife Galen, he anchored Tributary Brewing in Kittery, Maine, located across the Piscataqua River from Portsmouth. They leased a former grocery store and mostly finished buildout before turning to Kickstarter, topping the $60,000 goal (for items like kegs, a washer and a delivery vehicle) in four weeks, his reputation a huge selling point. "People were really stoked that I was setting out on my own."
He opened Tributary in September 2014, free to brew whatever he fancied, be it an oyster stout, a kölsch or an ESB. "We don't need four seasonals and four flagship beers," says Mott, who rarely repeats recipes. "We can pick and choose what we want to put on tap. That keeps us crazy happy." (He kept the Kate the Great recipe, redeveloping it as Mott the Lesser.)
The list of veteran brewers turned owners includes Full Sail's John Harris, who shepherds Portland, Oregon's Ecliptic Brewing. Award-winning Pizza Port brewer Jeff Bagby runs SoCal's Bagby Beer Company. And Stone's Mitch Steele (Imbibe's Beer Person of the Year for 2017) is opening an Atlanta brewery later this year. "There was part of me that felt, okay, I'm getting kind of old, and if I pass on this opportunity I may not get another one," Steele says.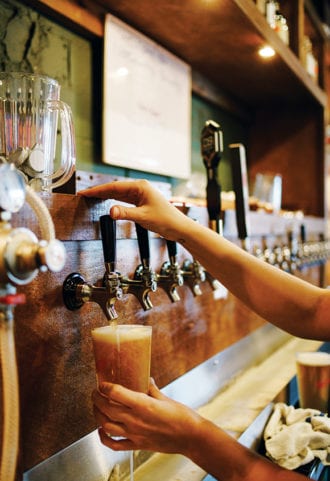 He has company in cutting the Stone cord. Late last year, Bill Sysak, Stone's craft-beer ambassador, left to launch San Marcos, California's Wild Barrel Brewing. The decision was aided by eight years of brewery experience. "It was like getting a real doctorate as far as front-of-the-house management," says Sysak, who's been involved with beer for nearly 40 years. Opening a brewery "was a no-brainer," he says. "I have the wherewithal, tools and knowledge base to start a new brewery and do it right."
His status as one of America's most refined beer palates easily sold investors. "They all used a pretty common theme: I bet on the jockey, not the horse," Sysak says. "They said, 'We know you have a good brewer and your business plan looks good, but we're investing in you.' " They were also investing in his connections: To actualize Wild Barrel's planned lineup of on-trend sours, IPAs and coffee stouts, Sysak can thumb through his fat Rolodex and tap top talent. "I know what to do, but I also know that I don't know everything," he says. "What's exciting is having those resources out there and using them."
Jeff O'Neil also banked on his résumé. "Much of my business plan was predicated on the fact that I've been doing this for nearly 20 years and people are excited," says O'Neil, who earned plaudits at New York's Ithaca Beer and Peekskill Brewing. He first pondered the project a decade earlier, but fantasies and reality are not always fine bedfellows. The challenges were kids—he has four—and his wife's calling as a scientist. "We had to identify places where we could both have careers," O'Neil says.
The family settled in Cold Spring, close to his wife's job just north of New York City. In nearby Garnerville he leased space in a pre–Civil War textile mill and designed it to his specs, from the intricate tiled floor to the overhead pipeline snaking from brewhouse to fermentation cellar. "What we built here is a great reflection of my aesthetic," O'Neil says of what became Industrial Arts. "There's not a detail in this place I'm not aware of. It's not somebody else's place I've inherited or someone else taking credit for successes and failures."
His clean-drinking beers are bright and expressive, be it the Tools of the Trade extra pale ale, revolving State of the Art IPAs and Wrench rye lager. Why rye? Why not. O'Neil only needs answer to himself. "It's nice to be able to say, 'No, we're going to do it my way this time,' " he declares. "When I need to say it, I can. It's not a luxury you can have when working for someone else."
Getting Intellectual
The brewing profession has been so fetishized and celebrated that you can forget it's just another job. Brewers fashion and fulfill recipes for an owner. Occasionally that leads to company equity, most notably with Firestone Walker's Matt Brynildson and Brooklyn Brewery's Garrett Oliver. However, the average brewer never snags a slice of the hoppy pie. "For me, it came down to my intellectual property being the property of the owners of the company I work for," says Haug, formerly Surly's head of brewing operations. "It doesn't matter if you're a chef or a brewer, you don't own the recipes."
Haug, a heavy metal guitarist with ample tattoos and a shaggy gray beard, started with Surly on day one, developing full-throttle beers like unrepentantly bitter Furious, Darkness imperial stout and Todd the Axe Man, his namesake IPA. Haug personified Surly, save for one small detail: He owned zilch.
The arrangement fractured last February after Surly fired Haug's wife, Linda (she ran the brewery's restaurant side). Job stability, even for an awarded brewer, no longer seemed a certainty. In October, right after the annual Darkness release, Haug tendered his resignation and took stock. Open a brewery? Nah. "I've done that already," he says. The job offer from metal-loving 3 Floyds in Indiana fit like a beloved band T-shirt. "We're going home to people who have mutual respect for each other," Haug says. He's helping with the brewery expansion and forthcoming distillery and designing recipes, while Linda consults on 3 Floyds' brewpub. "We're all super excited to join forces and kick ass."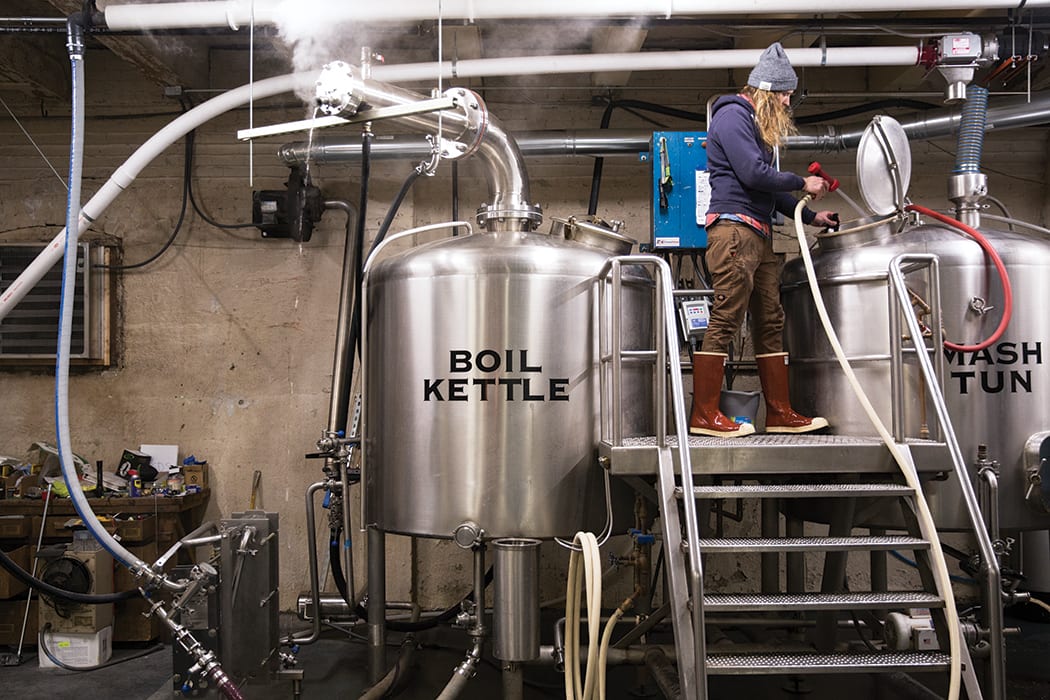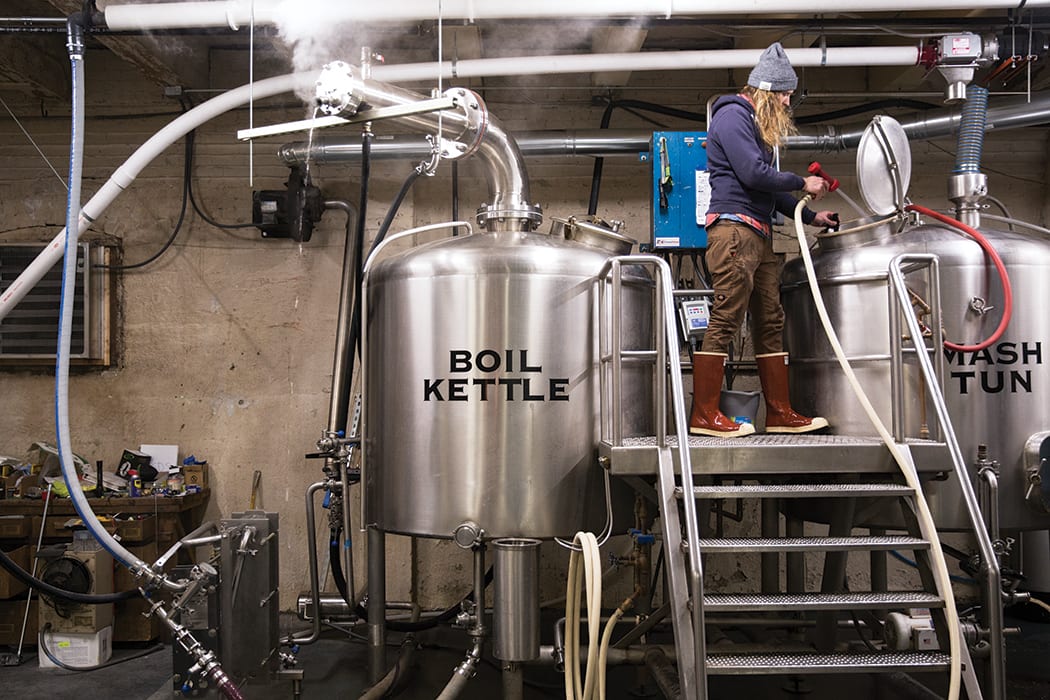 In Seattle, Luke knew where to corral the perfect crew to help staff Cloudburst. "I opened with seven former Elysian employees," he says. Each full-time ground-floor hire received equity. "They all get a little chunk for taking the risk on a startup and making my life easier," he says. "With real equity, at the end of the day they're owners of this brewery, too. It shows in their work."
John Cochran toiled to build Terrapin from a tiny Georgia outfit into a regional powerhouse beloved for Rye Pale Ale and chocolaty, nutty Liquid Bliss porter. After 14 years at Terrapin, the cofounder left last July when MillerCoors acquired a majority stake. "As the company got larger, I was less involved with day-to-day things," he says. He hungered to return to his roots, finding Asheville held fertile ground.
During a vacation there he visited Altamont Brewing and fell in love, buying it when the chance fortuitously arose. "This is an opportunity to get my hands dirty with the small stuff," says Cochran, who renamed the brewery UpCountry—a nod to the outdoorsy region. "I'm excited to get back and help another small place grow." Moreover, Cochran is excited to operate a brewery under more permissive alcohol laws. (Georgia still bans folks from buying beer directly from a brewery.) "I'm coming from one end of the extreme to the other," he says. "There's a saying that the grass is greener. Well, I figured I would go check it out."
Own Up
Brewery buyouts are now humdrum, as regular as Seattle rain. But there's no standard script for the fallout and aftermath. Take the story of Todd Usry. Breckenridge Brewery's president presided over last year's sale to ABI, which shook fans of Colorado's third-oldest craft brewery. "I got a person on Facebook who said, 'Fuck you, Mr. Usry,' " he recalls. "I'm positive I've never met that person."
Breckenridge sold, Usry says, because several partners wanted to move on. "People lose sight that we're all individuals and we have different goals and aspirations," he says. Instead of also leaving, Usry is shepherding the brewery through its evolution. "I wanted to make sure our culture was preserved and be here for people who had anxiety," he says. "It's kind of a protective role to stay and see things through." Integrating into a conglomerate isn't just someone else signing checks. "I tell people it's like we've moved from a Sailfish sailboat to an aircraft carrier in terms of complexity, layers of management and layers of departments," he says.
Then there's sales and distribution. Pre-purchase, only 18 percent of Breckenridge wholesalers were aligned with ABI; now, the number is nearly 70 percent, including a lot of folks who needed to be schooled on the brewery's portfolio. Usry signed a post-acquisition five-year contract, but his future is fuzzy. "It may go farther, but I just turned 53 last week," he says. "And while it's been my passion and my life, I might want to try something else for these latter years."
After ABI gobbled Chicago's Goose Island in 2011, brewmaster Gregory Hall headed out to pioneer another alcohol category. "When I told people I was leaving to make cider, the response was, 'That's great, my kids love cider. I put a box in their lunch,' " recalls Hall, who founded Michigan's Virtue. "I was like, 'No, that's juice. I'm going to make hard cider.' "
Therein lies the challenge. Hall and colleagues spent the late '80s and early '90s educating consumers about beer. "That work is now done, but with cider it's like starting over," he says. Additionally, Hall envisioned Virtue as a small farmstead cranking out artisanal ciders. Then Boston Beer's Angry Orchard flooded the marketplace, opening new retail avenues for mainstream cider. "I owe it to my employees and investors to take advantage of that and get more cider out there," Hall says.
But opportunity requires investment. And ABI had the right amount of capital and resources, bringing Virtue into the fold in 2015. "I've got a partner who has more money than an investment banker and has all these other assets," Hall says.
Now, Virtue packages its cider on Goose Island's Chicago line, operated by employees Hall hired decades earlier.
There's access to ABI's sales team and distribution channels and lower prices, though ABI's monetary blessing can be a retail curse. Not everyone is keen to sell corporate juice. "I don't hold that against them at all," Hall says. "If you only want to sell beer made by left-handed Scandinavian redheads, hey, it's your shop. Sell whatever you want."
That highlights a larger point. Going solo means brewing beer and selling it, too, two different skillsets. "The biggest challenge has been the logistics of self-distribution," says Industrial Arts' O'Neil. "We have about 200 accounts, and touching them every week is extremely difficult."
Running a top-down operation can be daunting, but it's a route more tenured brewers will likely take. We've topped 5,000 breweries nationwide—no one's certain how many America can support, or what difficulties are lurking as the market grows as congested as L.A. at rush hour. Beer is increasingly big business. And in business, hard work merits rewards. "It's not an uprising, it's not a middle-finger thing," Haug says. "What we're seeing now is that there's a tipping point. Why shouldn't a brewmaster in charge of recipe development for brands that go from 300 barrels to 300,000 barrels a year be taken care of?"
---
Like what you see? Get more of the best of liquid culture when you sign up for our bi-monthly magazine. Subscribe now and save up to 59%—it's just $21.95 for one year or $32.95 for two years. Click here for details.