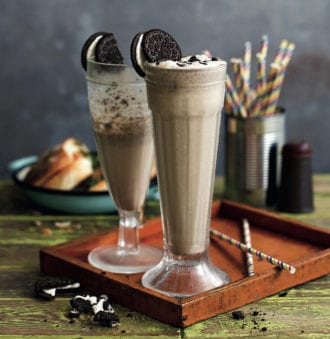 The nostalgic sweetness of this cookies-and-cream milkshake becomes even more decadent with a splash of Irish cream liqueur.
7 oz. Irish cream liqueur, such as Baileys
⅔ cup whole milk
8 scoops vanilla ice cream
8 chocolate sandwich cookies, plus 2 for garnish
Tools: blender
Glass: hurricane or other tall glasses
Garnish: chocolate sandwich cookies
Place the glasses in the freezer to chill for a few minutes. Add all ingredients (except for the 2 garnish cookies) in a blender and pulse until smooth and thick. Divide the milkshake between the chilled glasses and edge each glass with a cookie. Serves 2.
Recipe by Victoria Glass, reprinted with permission from 101 Hangover Recipes compiled by Dan Vaux-Nobes. Ryland Peters & Small, copyright 2016.