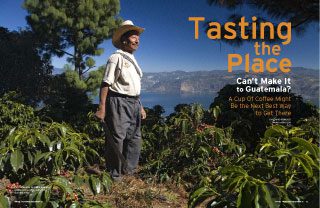 Peter Giuliano recalls his first visit to Ethiopia's Yirgacheffe region as a near religious experience. "It was cool, breezy, fragrant— a magical kind of place," he recalls of the legendary coffee origin. "It smelled like the best kind of bright forest you can imagine. The coffee plants were more compact than others—smaller, with delicate, bright green leaves. Some were flowering, and I found them much more potent than other coffee plants, with a strong jasmine characteristic." For Giuliano, director of coffee at North Carolina's Counter Culture Coffee, making the connection between the distinctive characteristics of a coffee's origin, or terroir (short for "taste of the soil" in French), and the flavor in the final cup is invigorating, and every time he samples a Yirgacheffe, he's transported back to that bright, cool place. Like other passionate coffee buyers, Giuliano has dedicated his career to understanding the relationship between the taste, body and aroma of coffees and the qualities of the soil, water, climate and conditions under which they're grown, and to sharing his findings with anyone within earshot. "People crave a connection with the stuff they're putting in their bodies," he says, "and a sense of where it comes from."
Coffee veteran George Howell is so fascinated by terroir—a term more commonly tossed around in wine circles—that he named his Massachusetts-based roasting company Terroir Select. He combs the planet for small lots of exquisite coffees and takes extraordinary care in storing and roasting them to showcase their unique qualities. At Terroir, you won't find "Colombian" coffee; you'll find El Lechal from Cauca, Colombia, a coffee grown by Omar Antonio Pérez Gómez on a 6.25-acre plot 5,900 feet above sea level. Howell describes the brewed cup as "medium-bodied and packed with honeyed citrus and pomegranate mingling with soft steaks of aromatic, ripe pear and a touch of chocolate truffle."
To the uninitiated, this kind of language may seem odd when describing coffee, but like quality wine, specialty coffee is just that: special. Especially when it comes from small farms and estates that sell their exquisitely cultivated coffees as single-origin coffee not destined for blending with beans from other countries or farms. These coffees truly reflect their origins in the final cup—the blueberry burst of African Harrar, the lemony zing of Yirgacheffe, the decadent chocolate of a Guatemala Antigua. But the wine-coffee terroir analogy is complicated by the significant effects of processing and roasting, and some people take issue with the analogy, saying we just can't know whether we're tasting the effects of the soil and climate, the processing or the roasting. But there's no argument that coffees grown in different areas offer an astonishing range of aromas, flavors and body.
Coffee is grown in about 50 countries that lie between the Tropic of Cancer and the Tropic of Capricorn, but some of the most celebrated coffees are grown in East Africa/Yemen, Latin America and the Asian/Pacific. We surveyed a dozen experts, asking them to define the flavors of some of their favorite coffees grown in these regions.
Africa
The arabica trees that are ancestors of all quality coffee trees originated in Ethiopia, so it's no surprise that most of our experts are especially passionate about East African coffees. These coffees, says Danny O'Neill of Kansas City's The Roasterie, can be defined in three words: "unique, complex and wild." To experience the amazing variety found in Ethiopia alone, Trish Skeie of Seattle's Zoka Coffee recommends trying a Harrar next to a Sidamo and a Yirgacheffe. They all come from the same country, she explains, "but the flavors cover the spectrum like no other single country. Harrar is rich cocoa and crazy berry sweetness; the Sidamo can be winey or citruslike with a heavy body; while the Yirgacheffe is lemony sweet fruit with a bouquet of flowers. Did my grandma just walk in the room wearing that tea-rose perfume? No, it's the coffee!"
Equally celebrated are coffees produced at high-altitude co-ops in Kenya, which are known for their dry, wine-like acidity and berry flavors. (In coffee circles, acidity translates as brightness and is very desirable.) The best Kenyan coffees are classified as AA. Try a good Kenyan AA, says O'Neill, and you'll find your taste buds challenged to "decipher all the flavors exploding in your mouth." Giuliano is particularly fond of Kenyans from the Nyeri region. "When great," he says, "these coffees possess a unique black currant fruitiness, perfect acidity and savory flavor that's like drinking a perfect Kir cocktail with a sirloin steak. It is, along with Yirgacheffe, perhaps the greatest coffee experience there is."
Another African origin getting a lot of attention is Rwanda, which has received significant U.S. funding to develop its coffee industry. Rwanda was cited by many of our panelists as an exciting emerging area, and Intelligentsia Coffee's Geoff Watts, who has traveled to Rwanda numerous times over the past few years, has been astonished by how much this coffee has improved. Watts buys Rwandan coffees from four small cooperatives and describes the general profile as "fruity in nature and tart in acidity." Intelligentsia sells a Rwanda coffee that includes beans from all of the origins but periodically offers beans from individual co-ops. He says coffees from the Rusenya area are fruitier and softer than those from the Nyakizu area, which produces coffees with "less berry and a brighter acidity."
Central America
Central American coffees are known for their bright, clean flavors. Our panel offered many recommendations, but Guatemala was a favorite. Jim Reynolds of the Bay Area's Peet's Coffee & Tea is drawn to Guatemalan coffees from the Antigua region because of their complexity, spicy character, good body and liveliness. "If I were on a desert island, that's the coffee I would take with me," he says. O'Neill favors Guatemalans from the Huehuetenango region, particularly those from the Huixoc Estate, which he says produces coffees that are "sweet, bright, floral, with fruit tones—sometimes apples and sometimes melon—and a lingering, balanced finish."
Another Central American coffee garnering lots of praise is from the Jaramillo plot of Hacienda la Esmeralda in Panama, which has won the Best of Panama coffee competition three years running. This year's crop commanded a record price of $51 a pound, and the roasted beans sold for more than $100 a pound. "Flowers with cinnamon and chocolate underneath filled the room as the coffee was ground," Jim Schulman of coffeecuppers.com wrote in a review. "In the taste, the florals and chocolate took a backseat to the cinnamon and a Granny Smith apple acidity as the cup cooled." The price may raise eyebrows, but Schulman points out that it comes out to about $2 per cup. "Coffees at this level of excellence drink like fine wines, which cost far more per glass," he says. "So my take is that the Jaramillo wasn't overpriced, but that most other superb coffees remain absurdly underpriced. My advice: grab them before the world wakes up."
Giuliano points to coffees from the Pluma area in Oaxaca, Mexico, as a perfect example of Central American terroir. "You can taste the sun in these coffees," he says, "but more than that, there is a wonderful spiced chocolate flavor," reminiscent of the spiced chocolate for which Oaxaca i
s famous. He also likes coffees grown on the Ilamantepec volcano in El Salvador. The volcano, he says, is covered with coffee. But it's the coffees grown on the leeward slope that capture his imagination. He believes that it's the cloud cover, along with the volcanic soil and the heirloom bourbon trees, that gives these coffees their unique complexity and sweetness. "A butter-rum sweetness and sunny acidity typify this coffee," he swoons.
South America
Brazil produces nearly a third of the world's coffee, but quantity doesn't necessarily equal quality, and traditionally, Brazil hasn't enjoyed the best reputation among serious coffee lovers. But that's changed in recent years as Brazilian farmers have developed a range of intriguing coffees. Andrew Barnett of Ecco Caffè in Santa Rosa, Calif., is a strong advocate of quality Brazilian beans. He says they have a gentle acidity and "a certain chocolate/caramel flavor that I've only tasted in Brazil." In particular, he points to Daterra Farm in the Cerrado region. "You can pick up almond and cocoa, marzipan, almond and a caramel finish. It's a very satisfying coffee."
Howell is fascinated by the potential of Andean coffees and says he's haunted by an Andean flavor profile he's encountered only twice, once in a Colombian and once in a Peruvian. These coffees, he says, had a "raw sugar cane taste, with huge body, almost an oily texture." Schulman is intrigued by Bolivian coffees, especially from the Canaproc Co-op, and his enthusiasm is shared by Tom Owen of Sweet Maria's Coffee. "The cup has light body and caramel-like sweetness, and very floral character," Owen says of the Canaproc beans he sells. "Drinking a cup of flowers, a floral infusion—that's what tasting this Bolivia is like."
Indonesia
Indonesian coffees can be problematic, because they are generally not grown or processed in a very sophisticated manner, so they can have a "swampy" off-taste. But a carefully chosen Sumatra—a nearly universal favorite among Asian coffees—can be a revelation. Several experts singled out one from the Lake Tawar region. "It has some good leathery qualities," says Scott Merle of Olympia, Wash.-based Batdorf & Bronson Coffee Roasters. "Great deep body, some fresh cedar qualities, kind of foresty."
Island Coffees
Papua New Guinea produces highly prized washed coffees, which Giuliano says can deliver "a deep, syrupy body along with a balancing, clean, gentle acidity. Flavors of ginger and tropical fruit sometimes accompany the clean, heavy body."
Two specialized island coffees that are familiar to many and command high prices are Kona and Jamaican Blue Mountain. Ironically, coffee experts are not big fans of these coffees. As one of our experts put it, "Most coffee people with broad experience find these coffees to be kind of indistinct." Still, what better example could we find of the magic of terroir? These are the only two coffee origins Americans routinely visit. They connect with the land and come away with a special connection to the coffees grown there, and who can argue with that?
Finding Your Source
If you're lucky enough to live near one of the roasters listed here, or if there's another quality-minded roaster in your area, you may be able to experience a coffee-tasting event designed to introduce coffee lovers to the world of terroir. You can also explore coffee varieties at home by ordering beans online. You may not find some of the particular estate coffees discussed here because the lots are generally small and sell out quickly, but you're sure to find equally intriguing offerings.
Batdorf & Bronson Coffee Roasters, Olympia, Wash. batdorfcoffee.com
Blue Bottle Coffee Co., Oakland, Calif. bluebottlecoffee.net
Counter Culture Coffee, Durham, N.C. counterculturecoffee.com
Ecco Caffè, Santa Rosa, Calif. eccocaffe.com
Intelligentsia Chicago, intelligentsiacoffee.com
The Roasterie, Kansas City, Mo. theroasterie.com
Stumptown Coffee, Portland, Ore. stumptowncoffee.com
Terroir Select, Acton, Mass. terroircoffee.com
Victrola Coffee Roasters, Seattle victrolacoffee.com
Zoka Coffee Roaster & Tea Co., Seattle zokacoffee.com