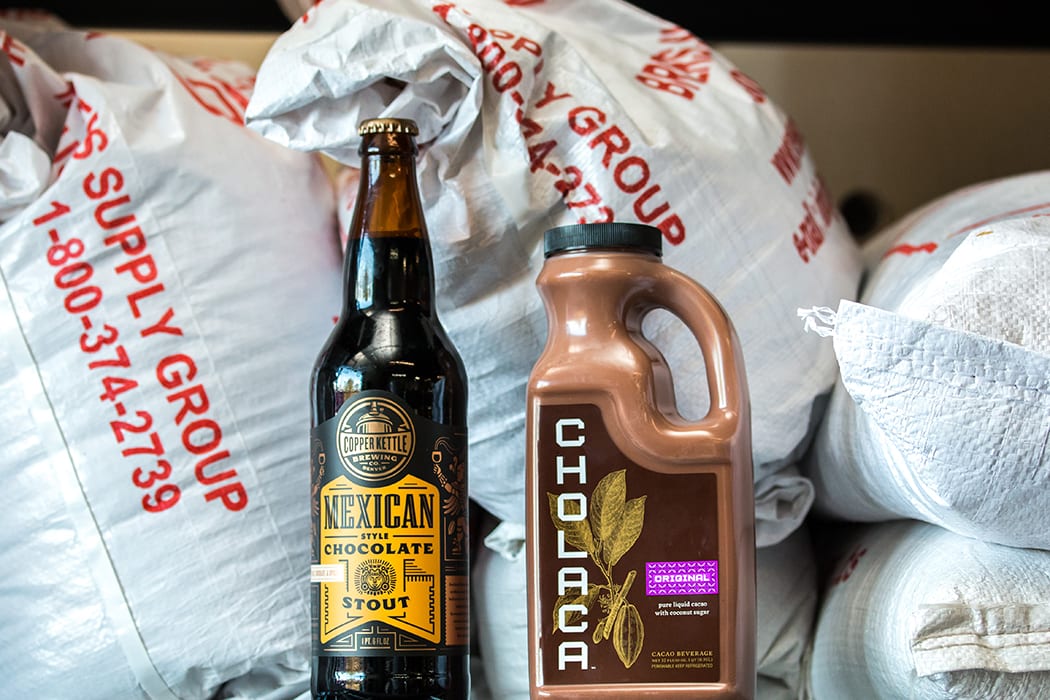 Brewers are getting increasingly creative when it comes to delivering chocolate in beer form, as cocoa-hinted stouts and porters are luxurious pours that play perfectly off beer's natural sweetness. However, as many brewers will admit, chocolate isn't the easiest ingredient to work with. Many brewers have historically relied on temperamental cacao nibs or chocolate powders and solids to inject chocolate flavor into their brews during fermentation—ingredients that can be messy and produce inconsistent results. Recognizing this challenge, Ira Leibtag created Cholaca—pure, liquid cacao that's lending chocolatey character to nearly 100 beers across the nation.
An award-winning concert pianist turned chef, Toronto-born Leibtag was working as a specialty foods purveyor in Boulder, Colorado when his appreciation for ethically sourced chocolate grew. And when a friend approached him about developing a cacao beverage in 2012, he was intrigued. Creating a cohesive product from water and cacao was tricky, like blending oil and water. But Leibtag persisted. "I closed my eyes and tried to visualize what the drink of kings and the food of the gods was. I came out a few days later with what we now know as Cholaca," he says.
Leibtag's process for emulsifying cacao in water initially landed Cholaca at Boulder's Ozo Coffee, where they use it in everything from mochas to straight Cholaca shots. Buzz grew quickly, and soon bottles were lining shelves of Colorado's natural grocers. Then, in 2014, came a call from Tim Matthews, head of brewing at Oskar Blues. As Leibtag tells it, Matthews had a train of workers on ladders moving 32-ounce bottles of Cholaca into brite tanks that were 50 feet high. The ability to layer the liquid chocolate with the beer was ideal, the quantity was not. "We adjusted our process and put our product into 50-gallon drums, and then we were off to the races," Leibtag says.
Cholaca can be added at any step during brewing, which increases control over the amount of chocolatey flavor that ends up in a finished beer. Oskar Blues' Death by Coconut porter—a favorite among beer enthusiasts—is made with Cholaca, and other breweries, including Ghostfish, Great Divide and Urban Artifact, have followed suit. Breckenridge Brewery released their Cholaca-laced Nitro Chocolate Orange Stout last fall. "When you add chocolate on the hot side, the brew house will smell like chocolate. It smells great, but that means the chocolate is in the brew house, not the beer," says head brewer Carl Heinz. "When the chocolate is added directly to the cold side, the beer picks up a lot more flavor," he says.
An added benefit? "With cocoa nibs, there's the risk of contaminants. They can contain pathogens such as Salmonella and E. coli," says Steven Brockwell, a brewer at Left Hand. "With Cholaca, you get this sanitary and easily scalable liquid to add chocolate flavor." Brockwell initially experimented with Cholaca using Left Hand's popular Milk Stout as the base and was impressed by the transformative and mess-free results. While chocolate solids left brewers scrubbing clogged pumps, Cholaca lends itself to easy maintenance. "All that's left at the end is a little bit of creamy chocolatey-ness, and at that point it's really easy to take care of," Brockwell says.
Despite Cholaca's growth (the company expects its sales for beer to increase by 500% this year as they partnered with national distributor Brewcraft USA), Leibtag maintains his commitment to sourcing sustainable, high-quality cacao. He and his team of permaculturists discourage farmers in Ecuador and Peru from destroying their jungle-like farmland for lucrative cattle grazing. Instead, they work directly with farmers and co-ops, educating them about pesticide-free techniques to yield quality cacao in a short timeframe. "Our whole concept is what we call a regenerative business model," says Leibtag. "Brewers love to tell that story. It's like, 'C'mon, drink more beer—you're saving rainforests!' " he says.
---
Like what you see? Get more of the best of liquid culture when you sign up for our bi-monthly magazine. Subscribe now and save up to 59%—it's just $21.95 for one year or $32.95 for two years. Click here for details.