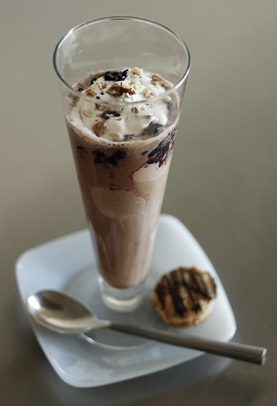 Get your coffee fix and satisfy your sweet tooth with this delicious summertime float.
6 oz. coffee, chilled
3 scoops dark chocolate ice cream
2 Tbsp. puréed blackberries (make sure the berries are nice and sweet)
3 Tbsp. fresh-whipped cream
1 Tbsp. chopped hazelnuts
Glass: parfait
Pour the chilled coffee into a glass and add the ice cream. Spoon on the blackberry purée, then top with whipped cream and nuts. Makes 1 serving (or 2 if you feel like sharing!).
For the whipped cream, whip a cup of heavy cream with a teaspoon of vanilla extract and a tablespoon of sugar until the cream forms a velvety, cloud-like texture.