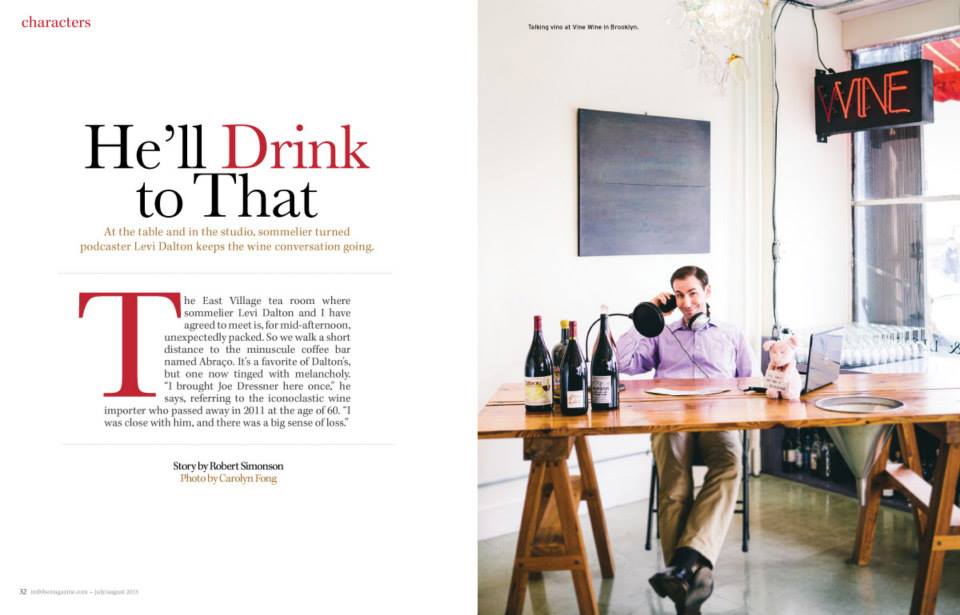 The East Village tea room where sommelier Levi Dalton and I have agreed to meet is, for mid-afternoon, unexpectedly packed. So we walk a short distance to the minuscule coffee bar named Abraço. It's a favorite of Dalton's, but one now tinged with melancholy. "I brought Joe Dressner here once," he says, referring to the iconoclastic wine importer who passed away in 2011 at the age of 60. "I was close with him, and there was a big sense of loss."
Dressner figures tangentially in the strange, and dramatic, turn Dalton's career has taken since he lost his perch as head sommelier of Alto. That high-end Italian restaurant in Midtown Manhattan shuttered suddenly in spring 2011. Dalton responded to the reversal of fortune with a surprising second act. He launched "I'll Drink to That!," a twice-weekly podcast in which he draws the wine world's most prominent figures—sommeliers, importers and critics—into long, free-wheeling conversations. "I think probably, in the beginning, a lot of my reason for doing it was that Joe had died," says Dalton. "I didn't know that at the time. You see, no one had ever gotten him to write the book. All those stories died with him. And those were great stories!"
Now, wine folks who survived Dressner are getting their stories on the record, thanks to Dalton. Among his prominent guests have been winemakers Randall Grahm and Eric Texier, wine importer Michael Skurnik, and critics Alice Feiring and Eric Asimov. The podcasts quickly grew from an industry secret to a widely followed phenomenon. The program gets between 700 and 800 downloads a day, and people quote lines from the interviews back to Dalton. Its success led Eater New York, the food blog, to offer him the position of Wine Editor.
All this makes Dalton an anomaly. Bartenders are notorious for dabbling in journalism; sommeliers, not so much. "Sommeliers are very hidden people," says Dalton, 36. "They don't want to be exposed for who they really are." Dalton, meanwhile, does. Smart, witty and voluble, he has a well-earned reputation as one of the most outspoken and opinionated wine pros in New York. "Levi is not shy to say what he feels," says Patrick Cappiello, wine director and managing partner at the Manhattan restaurant Pearl & Ash.
Still, Dalton didn't create "I'll Drink to That!" as a forum for solo sounding-off. "I wanted to create a place where people could talk," he says. "The wine world was getting at loggerheads. Cold War stuff, West Side Story stuff. Very Outsiders. Super-Balkanized."
That ping-ponging quote, with its jumbled-up references to European politics, Leonard Bernstein and Francis Ford Coppola, gives you an idea of what an "I'll Drink to That!" podcast is like. Wine journalism has a reputation for being bone-dry. A Levi Dalton interview is not that. The discussions can be probing one moment, goofy the next. A stretch of seriously wonky technical talk will be interrupted by an off-the-wall pop-culture reference. After Aldo Sohm, sommelier at Le Bernardin, told a story about saving a food critic from setting himself on fire while decanting a wine, Dalton deadpanned, "Would you say 'Stop, Drop and Roll' is advice you'd give young sommeliers?" While interviewing spirits importer Nicolas Palazzi, he turned a chance mention of Hollywood tough guy Steven Seagal into a running joke. And when David Bowler commented, "Passionate is an overused word. It should be banned," Dalton responded, "I agree. I'm over passion."
Dalton's humor makes him stand out among sommeliers. A line of provocative observations on the wine biz will more than likely be punctuated by a stand-up-worthy punchline. He even looks a bit like a Borscht Belt comic—tall and thin with a long face and expressive eyebrows. "One thing I've always loved about him when he was working the floor is he had a talent for anecdotes and storytelling," says wine writer Talia Baiocchi. "It's tricky to get people interested in wine while they're dining and not preach. He always found a way, because he has this particular sense of humor."
Three years ago, Dalton was playing a much more conventional wine role. As sommelier at Alto, he was one of the most visible members of Manhattan's sommelier community. Then partners Chris Cannon and chef Michael White split, with Cannon retaining ownership of Alto and sister restaurant Convivio. In March 2011, however, Cannon abruptly shuttered both restaurants. Suddenly, Dalton was unemployed.
He did not expect to be out of work long. He had a name, after all. But the phone stayed stubbornly silent. "That was also a tough realization," he confesses. "Suddenly, I thought, 'Oh, that's not going to happen.' "
"Restaurants with larger wine programs aren't opening in the amount they were," he continues. "And as a result there are less openings for sommeliers in the job market."
After a few months, Dalton signed on at Bar Boulud. It was familiar territory; he'd worked at various restaurants run by chef Daniel Boulud. But the gig lasted only 12 months. "His views on wine are so specific," theorizes Baiocchi. "Being an agent of someone else's wine agenda isn't his MO. He can't do that."
Dalton was honest enough with himself to see the writing on the wall. "Once you say you're not going to work for Daniel Boulud and you're not going to work for Michael White, and Danny Meyer didn't hire you, where are you going to go?"
So Dalton became a writer. Or, rather, an interviewer. Prompted by friend Matt Duckor, who is an assistant editor at Bon Appétit, "I'll Drink to That!" debuted on June 27, 2012 (Duckor signed on as producer). Early episodes were taped at Bar Boulud, until that proved to be too noisy an environment. Since then, the podcasts have been recorded in a variety of locations—in Dalton's words, a "traveling caravan of fun."
"As a sommelier, for years I felt like I wasn't getting the questions I wanted," says Dalton. "People would come in and ask me the same dumb things all the time. What would you pair for Valentine's Day? What's your desert-island wine? They wouldn't give you the platform to give a good interview. That was a big impetus to do the podcasts. 'I can ask questions. I know smart people. We can just talk!' "
He quickly learned something, however, that journalists know well—people don't always want to talk about what you want them to talk about. "I thought we'd chat about big ideas," he says. "Turns out, people don't do the big-idea chats. What you can do, though, is do that story by talking about their life. What they say incidentally paints that picture."
And so, against all odds, Dalton has succeeded in creating an invigorating, rolling conversation about wine, its people and its challenges that combines his "off-beat humor with his insane knowledge," in Duckor's words. Baiocchi considers that quite a trick. "It's a topic that's been covered ad nauseam for a long, long time," she says. "It's really hard for writers to have new ideas on a topic this old. He's quirky, and it totally works."
As this story went to press, Dalton was still working on his Eater "voice" and wondering how much more interviewee material there was left for "I'll Drink to That!" What he wasn't doing was pouring wine. Dalton hopes to return to that work at some point, but he's not in a hurry. "I would like to go back. But it's like scripts—the scripts I'm getting are for the movies I don't want to make," he says. Plus, those scripts take a big bite out of the day. "Being a sommelier consumes your whole life. It's 80 hours a week. And look at me! I'm talking to you in the middle of the day, and having a coffee."