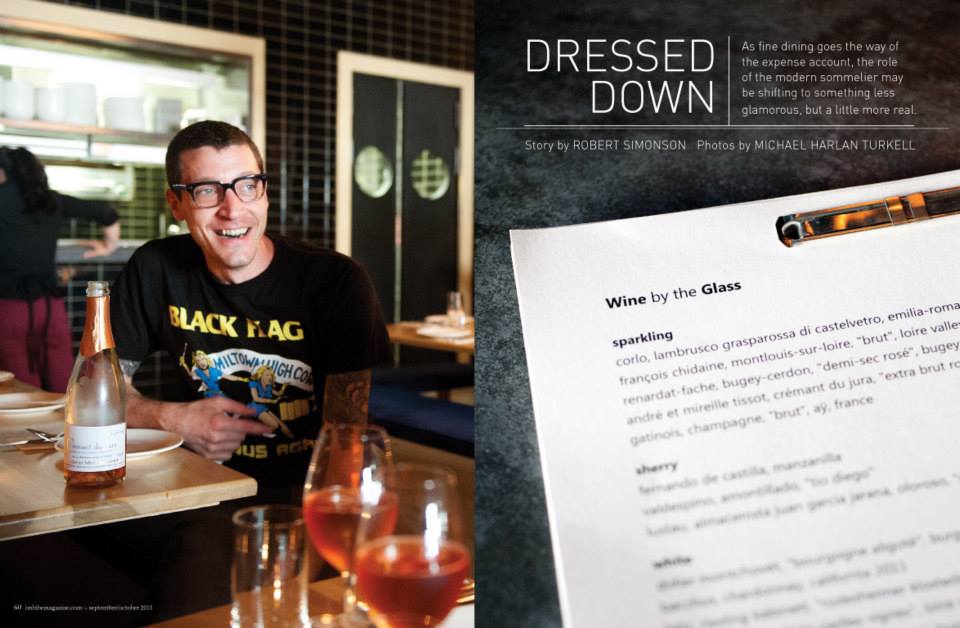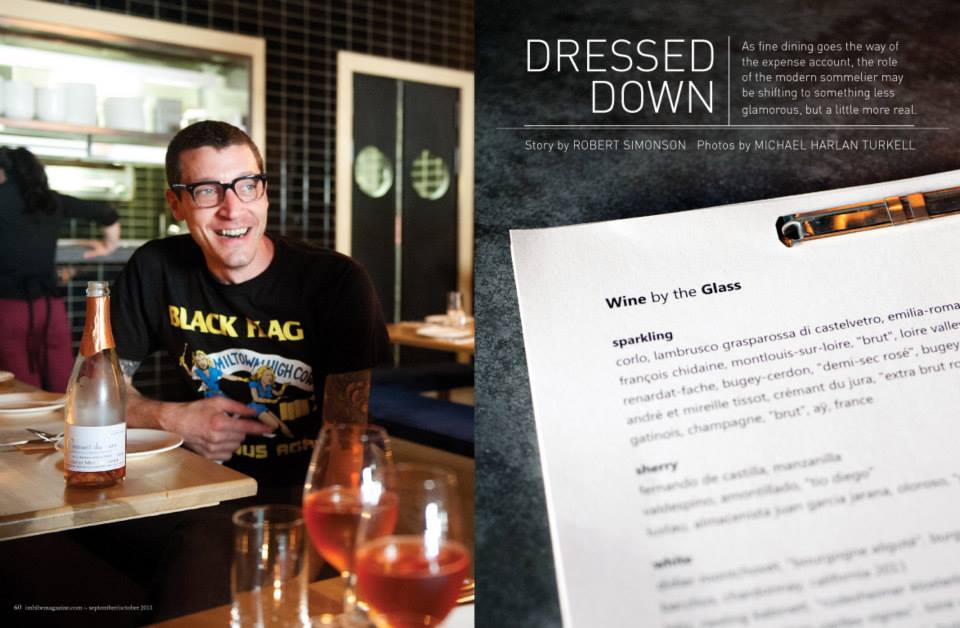 I met someone who blamed it all on Paul Grieco," says Belinda Chang, the sommelier whose stellar resume includes stints at Charlie Trotter in Chicago and The Modern and The Monkey Bar in New York.
Grieco is the outspoken Riesling apostle whose very personal wine philosophy is embodied by his trailblazing chain of Terroir bars spread over Manhattan and Brooklyn. "He was the first one, when he was at Gramercy Tavern," continues Chang, "that was so brilliant he could run the bar program and wine program and be a manager at the same time."
The "It" that Chang's acquaintance was blaming Grieco for is the dramatically shifting employment landscape for sommeliers in the second decade of the 21st century. What was once a wide-open seller's market has become a buyer's market. In the heady days of the early 2000s, when vino-centric restaurants like Cru and Veritas characterized the Manhattan scene and talented wine-director teams of three or four confidently roamed the white-tableclothed dining rooms of the nation's great cities, a fresh-faced graduate of somm school could expect to be handed a job at a top-tier eatery the moment they doffed their mortarboard. Restaurants were thirsty for sommeliers and their oenophilic knowledge, and the salaries they paid to secure them were good. A strong cellar meant you were a serious dining destination, and a restaurateur needed a visionary wine wizard to make that happen.
That world is gone or, at least, vanishing. Today, the job field is teeming with skilled sommeliers, and, since the economic crash of 2008, there are fewer fine-dining spots where they can ply their trade. Cru is long gone. Charlie Trotter closed in Chicago in 2012. L'Atelier de Joel Robuchon in the Four Seasons Hotel in New York folded that same year, and Alain Ducasse's Adour in the St. Regis Hotel followed suit a year later. Manhattan's Alto and Convivio shuttered simultaneously.
The restaurants that have risen up to take their place—intimate, scruffy spots mainly in lower Manhattan and Brooklyn—are reflective of today's belt-tightening times. The food is still excellent, and the chefs equally inventive. But the atmosphere is more casual, and the bibulous focus is strikingly tighter. Lists soaring into the hundreds and thousands of bottles have been replaced by tightly curated collections of a few dozen selections, and the selling of these wines has been reassigned to waiters. Charlie Bird, a Greenwich Village restaurant opened in the spring by Robert Bohr, boasts a wine list a mere 100 labels long, all priced under $200. It's a far cry from the wine-stained-Platinum-Card dealing that was a daily occurrence at Cru, where Bohr was a partner.
Ask any sommelier and they'll tell you there are fewer and fewer gigs. Fine dining is being eclipsed, replaced by more modest restaurants that aren't budgeting for big wine programs. The new destination spots in downtown Manhattan and Brooklyn keep overhead low with wine lists that barely break the 20-bottle level. That's where the Paul Griecos of the wine world come in. Grieco has never operated as solely a wine man. He's been a waiter, a general manager, an owner. And that's the cost-saving model restaurants are looking for these days. "When I started in 1997 at Charlie Trotter, you would absolutely have a wine director and a team," recalls Chang. "I think a lot of those people are now in dual roles. Many places employ a wine director who is also a spirits director, or also a general manager. To do just wine is a huge luxury. Most everyone has to round out their skill set and learn to do more."
And sommeliers who stick to their guns about handling only wine can find a long wait in front of them. John Slover was part of the team that worked at the fabled Cru and founded innovative half-bottle programs at Bar Henry and Ciano. He left a position under Aldo Sohm at Le Bernardin this past winter and was still looking for a new post that suited his desires when interviewed by The Wall Street Journal in March. "I want a place that's serious about wine on a long-term basis, with a sizeable wine list," he told the Journal.
Meanwhile, other sommeliers who have scaled the heights of their profession are willingly downsizing. Before settling in for a six-year turn at Blue Hill at Stone Barns, New York sommelier Thomas Carter put in time at Mario Batali's Otto, and the fine-dining meccas Le Bernardin and Alain Ducasse in the Essex House. At each house, all he did was pour red, white and bubbly. Last June, he chucked it all to open a small eatery on Houston Street in Nolita called Estela. The wine list is a compact 200 bottles. "I've been in a certain environment for a long time," says Carter, explaining his career shift. "I have a certain approach to wine. I'm looking for minimal intervention in wine and purity. As far as service and food, it's going to follow suit. I'm less interested in the makeup of dining, and more in the focus of it. I want a really great wine list and good food in an atmosphere where there's no pretense. I want people to enjoy themselves. I feel you can give the same quality in any of these environments. Look at Patrick at Pearl & Ash."
Patrick is Patrick Cappiello, the wine director and managing partner at Pearl & Ash, a small restaurant nestled among the grungy lighting and restaurant equipment stores of The Bowery that has been a sensation since opening in February. Like Carter, Cappiello has fine-dining bona fides to burn. Upon arriving in New York in 2001, during the rosy days of wine-heavy restaurants, he went to work at Tribeca Grill under wine director David Gordon. During his time there, the wine list grew from 800 to 1,800 bottles. He then moved to Veritas, where he regularly opened legendary labels like Petrus for the boîte's deep-pocketed patrons. In 2009, he became wine director at the appropriately named Gilt inside the New York Palace hotel. He bulked up the wine list there until it was 3,500 selections strong, and won a Wine Spectator Award.
When Gilt closed, Cappiello turned his gaze downtown, accepting a gig as consultant at Pearl & Ash, where the chairs have no backs and the small plates range from $11 to $15. The restaurant opened with a 200-bottle wine list. Then, a funny thing happened. The New York Times' restaurant critic, Pete Wells, began his two-star review with a five-paragraph exultation of the wine program. Cappiello is now a partner, and Pearl & Ash built a new wine cellar filled with 1,000 selections.
This makes Cappiello that rare sommelier in New York's less economically brave new world of modestly calibrated dining whose fingers touch only corkscrews. "Fewer and fewer restaurants want to pay the money for a wine professional," he says. "They want to make someone beverage manager who's 22 and just out of  hospitality school and doesn't know anything, and who are then led by whoever influences them."
This is a shame, he says, because veterans are worth the price. "I guarantee you they bring a lot more to the table than a kid who bought wine for a restaurant in Bushwick for six months."
Erin Scala, who was the beverage director at Public in the Nolita neighborhood of Manhattan and now works at the New Zealand-focused restaurant The Musket Room, agrees. "When you take dedicated sommeliers out of the equation, you get lower-quality wine service," she says. "But, unfortunately, many restaurants—especially under economic pressures—would rather shave labor costs off their bottom line than splurge on paying extra people to provide this service."
Some of the displaced sommeliers who aren't finding the salaries they believe their experience merits are leaving the floor altogether and heading into the affiliated worlds of wine importing and distribution. "Most guys my age have checked out and gone to a retail environment or in the distribution side, or they're running many more restaurants and don't wait on tables," says Cappiello, who is 41.
There are myriad other factors beyond economics that have altered the job horizons for smart sommeliers. For one thing, there are simply more smart sommeliers. "There's always been a limited number of positions, but maybe now there's just a bigger pool of people," argues Chang. "I remember there being 17 master sommeliers in the United States," and now we're talking about more than 100. That's a large labor force to all be in the top echelon of restaurant jobs. At any given point, there aren't 100 ultra-prestigious wine director positions to be filled."
Additionally, more and more celebrity chefs or restaurateurs, as they expand their dining empires, are handing over wine duties to a single, all-powerful overseer. John Ragan, formerly wine director only at Eleven Madison Park, for instance, is now wine director for Danny Meyer's entire sprawling Union Square Hospitality Group. "Guys like Gabe Stulman of Little Wisco," says Chang, speaking of the New York mogul whose restaurants include Fedora and Perla. "He doesn't have a somm in each restaurant. He has one, Jenn Sgobbo, looking over all of them, and then a manager more focused on beverage working the floor every night."
Erin Scala believes technology has also played a role in squeezing jobs from the market. "It was once a full-time job to keep track of which purveyors and importers sold which wines," she says. "You needed organized binders of paper catalogs, contact sheets for wine purveyors, indexed winery contact information, pricing sheets, etc. Now, all of this is available at your fingertips with a quick internet search. What this means is that the wine director has more time to do other things, such as absorb the duties of what might have once been a second sommelier."
Arguably, these changes, which are stressful to some sommeliers, offer new opportunities to the average eater who has a thirst for good wine but a modest bankroll. Sommeliers like Cappiello, Carter and Bohr, who once worked behind the moneyed walls of high-end restaurants, have now brought their experience and taste to smaller, more affordable restaurants. The wine lists at Pearl & Ash, Estela and Charlie Bird may not be as broad as those at the city's four-star eateries. But you can bet that not a single bad bottle finds a place on the lists and that the value-to-price ratio has markedly improved from a decade ago. "It doesn't need to be a Michelin three-star place," says Chang, who is looking to return to the floor soon. "I've done all that."
So what's an ambitious young sommelier fresh on the scene to do? "Diversify!" says Carter without hesitation. "You can't compartmentalize yourself anymore. If you're setting out to just get a position in wine, you might also have to hang back and do some management. The tastevin and suit, it's nostalgic and cool, but I don't know how realistic it is anymore."