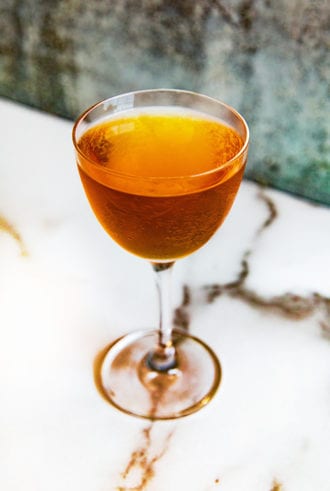 In step with the tradition of naming cocktails after neighborhoods (think Brooklyn, Bronx, Manhattan), the Century City cocktail is an homage to Los Angeles but takes its structure from the classic Vieux Carré. In the drink, mezcal replaces whiskey, and Bénédictine steps aside for Ancho Reyes, a spicy chili liqueur.
1 oz. mezcal
1 oz. Cognac
¾ oz. sweet vermouth
¼ oz. Ancho Reyes
2 dashes orange bitters
Tools: mixing glass, barspoon
Glass: Nick & Nora
Add the ingredients to mixing glass with ice. Stir the cocktail until chilled (about 10 seconds), then strain into a chilled glass.
CJ Catalano, Fairmont Century Plaza, Los Angeles
---
Did you enjoy this recipe? Sign up for our newsletter and get weekly recipes and articles in your inbox.