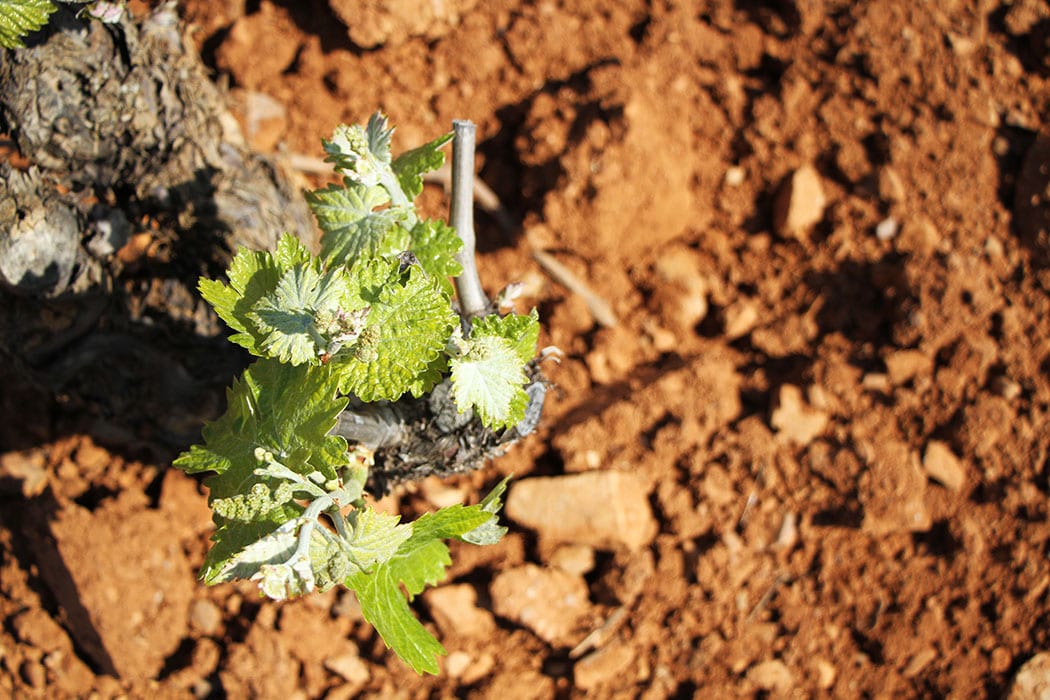 On the sun-soaked side of one of the rolling hills that define the Cariñena region of Spain, a small patch of leathery 100-year-old Garnacha vines is overrun with weeds and wild herbs. Less than half of the crop used to make wine for Bodegas San Valero is dedicated to old vine plantings, but neglect is not a common sight—or at least not one typically showcased to visitors. In fact, most of San Valero's fields are manicured to a picture-perfect state.
But this lot is unique—grass shoots up between the rough mix of clay and stone soil, bugs pick at the leaves, and the blustery cierzo winds kick up dust as the ancient vines wait for pruning. San Valero viticulturalist Mamen Chicote explains that the aging grower who owns the plot fell ill last year and hasn't been able to tend to his crop. She uncorks a bottle of Garnacha made from the grapes grown right there in the field, before it was left to rot. The texture is silky and rich, and the flavors burst with bright red fruit and undertones of leather and lavender. Many of the sommeliers I'm traveling with remark that it's some of the best they've tasted—a juxtaposition that's not lost on anyone. "It's an often-told, yet heartbreaking tale," says Seattle-based sommelier Martin Beally. "Here are these gnarled 100-year-old vines that are producing some of the most amazing Garnacha I've ever had—on par with many pricier Châteauneuf-du-Papes—and yet the vineyard is being abandoned because the viticultor cannot find someone in the next generation to farm the land. Sometimes the best things in life only come the hard way."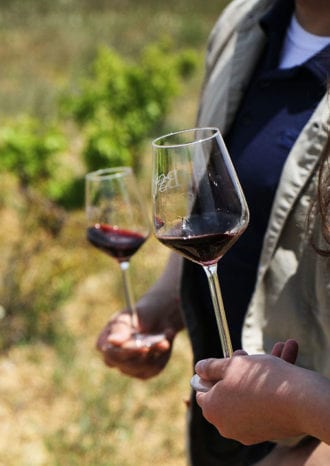 Bodegas San Valero's history reaches back to 1944, but Cariñena's winemaking roots extend back to Roman times—the area was Spain's second region to be named a Denomination of Origin in 1932, eventually graduating to a "protected" denomination of origin (DOP) in 2011. Today, almost every family in the area is employed by one of the local wineries. The rugged terrain is so much a defining characteristic of the region that in 2012 winemakers dubbed their goods, "the wine of the Stones." And this isn't hyperbole; trying to traverse the rocky vineyards with their unique mix of sinking clay and jagged slate, it's a wonder how anything as delicate as a grape could emerge from such challenging conditions.
But "the hard way" is exactly how many grapes prefer to grow, and that's the appeal of wine from Cariñena. Stubborn grapes make for expressive wines, and here, the soil isn't the only hardship to overcome. Located in the northeastern part of Aragón, which borders the French Pyrenees to the North and Catalunya to the East, extreme winds test vine stability, altitudes range from 1,300 to 2,600 feet, and temperatures fluctuate between extremes from day to night—conditions that when combined create a perfect storm of terroir that makes the wide diversity of indigenous wines produced in the region just as expressive and nuanced as those from Spain's better known Rioja area.
Garnacha Rising
Traveling through the vineyards of Cariñena, it's most common to see fields of Tempranillo, Syrah, Cabernet and even some Merlot thriving, but the region's most buzzed-about variety is Garnacha. Known as Grenache in France, it's a versatile grape with smooth tannins, generous, bright fruits and an often underlying savory character that helps set it apart from other Spanish reds.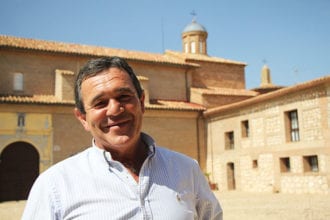 Cariñena is one of five protected denominations of origin for the grape, which has historically been used as a workhorse to add complexity to blends. Now, producers are fusing modern techniques and traditions to produce 100% single varietal bottlings. "Garnacha works so well as a single varietal, because the grape adapts perfectly to the climate of Cariñena," says Bodegas San Valero's Winemaker, Javier Domeque Sanz. "The grape ripens late, so it needs hot, dry conditions; it is resistant to the strong contrast of temperatures, and the cierzo winds, resulting in deeply colored, fruit-forward wines with well-structured and balanced tannins."
Javier Domeque Sanz used to be a bullfighter. His sun-kissed wrinkles deepen when he laughs—which he does often—and his calloused hands are almost always stained a deep maroon color thanks to constant contact with the juice. The effort is well-placed, as Bodegas San Valero makes some of the best Garnacha in the region. The formerly mentioned 2012 Particular Old Vine sings with ripe cherries, subtle herbal hints and an almost balsamic-like acidity on the finish. The younger, more table-friendly Garnacha Joven tastes clean and lively, with abundant violet flavors and ripe red fruit.
Back at Wild Ginger in Seattle, Martin Beally says that while Spanish Garnacha still has a ways to go to gain the same recognition as the more ubiquitous Tempranillo in stateside bars and restaurants, he recommends the wine for its unique character and value. "Garnacha is a transparent grape. It shows where it comes from, and the personality of the winemaker who made it. Whether it's high or low altitude, using more modern techniques vs. more traditional ones, how they barrel-age—it all shows very transparently in the final product," he says. "The sheer number of old vines that are going into the entry level wines in the region is also amazing; you are getting crazy value out of everyday wines."
Rewriting History
The indigenous Cariñena grape is another expressive variety gaining traction in the region. Also historically used in blends due to its late-ripening nature, Cariñena is experiencing a renaissance at many bodegas, including Grandes Vinos y Viñedos, a younger co-op winery responsible for a wide swath of respected bottlings. There, the grape is used to add color, acidity and intense tannins to blends, like in the Corona de Aragón Special Selection—an equal parts blend of Cariñena and Garnacha—which has a robust body and beautiful balance of raspberry fruitiness and lingering smoke.
The winery is also showcasing the grape's merits in the 100% Cariñena bottling called 3C. "As a monovarietal wine, 3C is not only a tribute to the variety, but also a tribute to our land and all of our vine growers and their families. For generations, they have worked to perfect the Cariñena varietal with great effort, enthusiasm and affection, making wine their livelihood and spreading the Cariñena name all over the world," winemaker Marcelo Morales says, adding that the grape is painstakingly treated to produce an intense freshness, acidity and abundant aroma.
"To have a native variety from our appellation gives the Cariñena region a genuine identity hard to find in other regions. This variety has been linked to the territory and its people for hundreds of years."
In a time when people are increasingly searching for authentic, indigenous flavors in the wine world, Cariñena offers a deep sense of place with flavors that tread the line between Tempranillo and Garnacha.
At the Table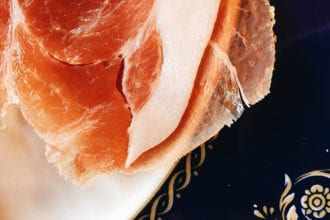 More than anything, Cariñena wines are a perfect match for Spanish food, and in the region, there's hardly a meal that's consumed without uncorking a bottle (or three). In the village of Paniza, Bodegas Paniza employs almost the entire population of the tiny 800-person town. Terraza el Paradero is one of a small handful of places to eat in the village, run by locals, for locals. Our group stopped in for lunch after morning of visiting grape vines at the foot of the Sistema Iberico Mountain range.
Welcomed by plates heaped with pan y tomate, jamon and boquerones, the restaurant owner explained the specials of the day as bottle after bottle of the winery's best Garnacha circulated around the table. In such a jovial scene, it's impossible to not appreciate how entrenched the wine is in the community, scraping up bits of salt cod and goat raised a few miles from the village's only lunch spot.
In fact, every meal in Spain is accompanied by wine, whether it's tapas or a 12-course meal. Rich gamey meats pair splendidly with high-acidity Garnacha, and decadent chocolate brings out the floral character of 100% Cariñena wines. At Grandes Vinos, our group paused for a homemade breakfast of migas, or fried bread crumbs with jamon and fresh grapes. Snappy rosé helped cut the fattyness of the dish, and it's simplicity helped make the pairing especially memorable. "The cuisine of Aragón is deeply intertwined with the wines of Aragón," says Beally. "The lunch we had with migas, eggs, grapes and Garnacha was one of the simplest and most perfect meals I've had in a long time."