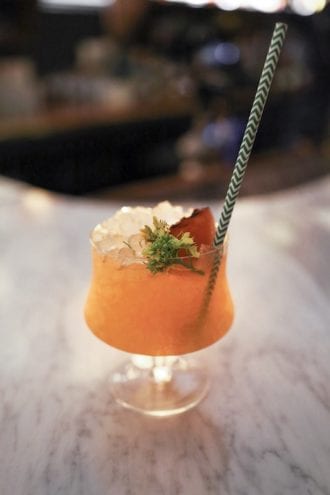 At the whisky-centric Scotch Lodge in Portland, Oregon, a classic sherry cobbler gets bolstered by a pour of Japanese whisky and the caramelized sweetness of "burnt" orange juice.
1½ oz. fino sherry
1 oz. Japanese whisky
1 oz. burnt orange juice
¼ oz. lemon juice
¼ oz. rich demerara syrup (2:1)
Tool: barspoon
Glass: goblet
Garnish: grilled orange slice and edible flowers
Add all of the ingredients, plus a slice of the grilled orange hull, to a large goblet filled with crushed ice. Swizzle the mixture briefly, then top with more ice and garnish with another grilled orange slice and edible flowers.
Burnt Orange Juice: Halve an orange and place the cut-side down on a grill over low heat, grilling until the sugars have begun to caramelize and grill marks appear. Juice the orange and save the hulls.
Jessica Braasch, Scotch Lodge, Portland Oregon
---
Did you enjoy this recipe? Sign up for our newsletter and get weekly recipes and articles in your inbox.